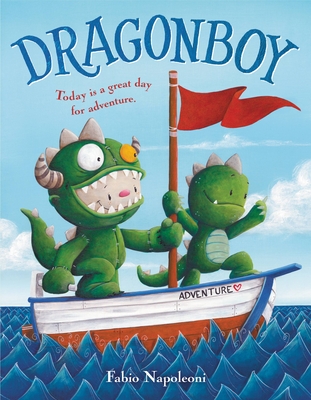 Other Books in Series
This is book number 1 in the Dragonboy series.
Staff Reviews
---
Dragonboy is a lovely story about a boy with a powerful imagination and a bunch of stuffed animal friends. Every day is a great day for exploring, Dragonboy says, and he and his friends set off on adventures near and far. The adorable illustrations will pull you in, but Dragonboy's empathy and huge heart will leave a lasting impression. — From Cortney's Picks
Description
---
Reminiscent of Pete the Cat and Llama Llama, Dragonboy begins a new series about a curious, imaginative, playful little boy and his band of lovable stuffed animal friends.

Dragonboy is curious. He is playful, pensive, and kind. More than anything, he is himself: an imaginative little boy who loves to be a dragon. His stuffed animal friends—Darwin, Yellow Kitty, Simon, and Drako—are always by his side as he explores and discovers something new. Because the best part of an adventure is being with the ones who know you best.

The first in a new series, Dragonboy is the friend every child has been waiting for, a little boy full of empathy and joy who's ready to discover anything and everything our wonderful world has to offer.
About the Author
---
Fine artist Fabio Napoleoni is best known for creating Marcenivo, a character he began drawing during the many months his infant daughter was battling a life-threatening heart condition, as well as his long-adored Dragonboy, a character based on his son. Fabio has also used his art in his seven years working with troubled and abused children before becoming a full-time artist. He has long been inspired by the multicultural street graffiti of New York City, as well as the colorful landscapes of Maine, and he invites you to visit him online at fabionapoleoni.com and on Instagram @fabionapoleoni. Born in Puerto Rico, he now lives in Florida.
Praise For…
---
A Barnes & Noble Best Picture Book of 2021
A Wyoming Buckaroo Book Award Nominee

"A charming journey of discovery, friendship, and acceptance."—Kirkus Reviews

"Lush acrylic paints on wood panels illustrate these adorable characters, and the rich vocabulary will stimulate discussion.... The group realizes that they may all sometimes feel sad or scared, but they all enjoy discovering new things. The underlying message: each of us is exactly as we are supposed to be."—Booklist

"The debut author-illustrator's acrylic-on-wood-panel illustrations have a sweet-natured theatricality (the sea's waves are pointy and layered, like a Victorian stage set) and conjure up a green and sunny world, where even a dark forest of twisty trees looks inviting and there's all the time in the world to count the daisies."—Publishers Weekly

A charmingly rendered costumed Dragonboy and his plushy pals journey to find adventure–and, ultimately, themselves.—Maureen Lee Lenker, Entertainment Weekly

 "A charmingly rendered costumed Dragonboy and his plushy pals journey to find adventure—and, ultimately, themselves."—Entertainment Weekly