The Latecomers (Hardcover)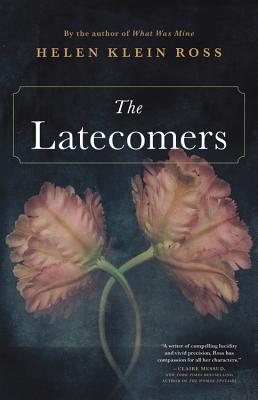 Description
---
From the bestselling author of What Was Mine-a deeply moving family drama about a young Irish immigrant, an ancestral home in New England and a dark secret that lay hidden in its walls for five generations.

In 1908, sixteen-year-old Bridey runs away from her small town in Ireland with her same-age sweetheart Thom. But when Thom dies suddenly of ship fever on their ocean crossing, Bridey finds herself alone and pregnant in a strange new world.

Forced by circumstance to give up the baby for adoption, Bridey finds work as a maid for the Hollingworth family at a lavish, sprawling estate. It's the dawn of a new century: innovative technologies are emerging, women's roles are changing, and Bridey is emboldened by the promise of a fresh start. She cares for the Hollingworth children as if they were her own, until a mysterious death changes Bridey and the household forever. For decades, the terrible secrets of Bridey's past continue to haunt the family. And in the present day, the youngest Hollingworth makes a connection that finally brings these dark ghost stories into the light.

Told in interweaving timelines and rich with detailed history, romance and dark secrets, Helen Klein Ross' The Latecomers spans a century of America life and reminds us all that we can never truly leave the past behind.
About the Author
---
Helen Klein Ross is the author of two novels: What Was Mine and Making It: A Novel Of Madison Avenue and creator of The Traveler's Vade Mecum, an anthology of new poems titled by old telegrams. Her poetry, essays and fiction have appeared in The New Yorker, The New York Times, and literary journals.

Helen spent decades as a writer/creative director at global ad agencies on both coasts. She graduated from Cornell University and received an MFA from The New School. She lives with her husband in New York City and Salisbury, CT.
Praise For…
---
"
The Latecomers
is an excellent blend of equal parts historical fiction and family drama, with just a hint of a mystery thrown in. It is a brilliant examination of friendship, family, and the ties that bind us together—
BookBrowse
"Fans of historical fiction will find much to enjoy-a reprise of the well-loved immigrant narrative and a meticulous depiction of early-20th-century life."
—
Kirkus
"[A]
satisfying blend of historical and familial drama"
—
Publisher's Weekly
"A born story-teller, a brilliant writer, a century of American history, and an old house that has witnessed secrets, betrayals, love and death, read the first page and I dare you to stop. With
The Latecomers,
Helen Klein Ross has outdone herself."—
Abigail Thomas, author of A Three Dog Life and What Comes Nextand How to Like It
"Ross' moving family saga is perfect for fans of
Brooklyn
and
Downton Abbey."
—
Real Simple, "The BestBooks of 2018"
"A triumph of storytelling,
The Latecomers
is a brilliantly researched and masterly told chronicle of the decades and generations in one immigrant's journey-and the deeply guarded alliances and secrets kept along the way. Ross has written a novel brimming with historical resonance, a riveting read infused with subtle wit and great intelligence."—
Kate Walbert, author of His Favorites and A Short History of Women
"Skillfully constructed
and rich in detail, Helen Klein Ross's THE LATECOMERS showcases a gallery of
vivid characters-Bridey is a particularly sympathetic heroine-and covers a
significant span of Irish-American history, unfolding brilliantly from the
story of an adoption."
—
Mary Norris, author of Between You & Me: Confessions of a CommaQueen
"A pair of devastating secrets twists and turns through this riveting, multigenerational novel of a wealthy east coast family and the Irish maid who served them.
The Latecomers
is about money, identity, and desire-but above all, it's about the lengths to which people will go to protect the ones they love."—
Dawn Raffel,author of The Strange Case of Dr. Couney
"For me, the best kind of historical fiction so expertly immerses you in the story and characters that you don't realize that you're receiving an education in the time and place. Helen Klein Ross does just this in
The Latecomers
. Her eye for accurate, interesting detail pertaining to the lives of women both upstairs and down in early twentieth century New York City and Connecticut, and her ear for the nuances of human behavior make for an engrossingly rich, unforgettable read. The breadth of her research in this novel astonishes me. I couldn't put it down."—
Lynn Cullen, author of Mrs. Poe and Twain's End
"Ross gives the
novel an epic sweep of history... But the power of the story comes from the
interlocking narratives of the family drama."
—
Minneapolis Star Tribune