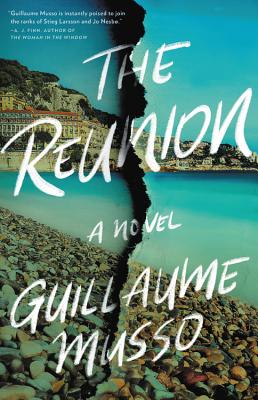 $28.00
Email or call for price.
Description
---
A glamorous prep school girl goes missing after a love affair with a teacher in this "immensely satisfying" thriller from France's #1 bestselling novelist (Harlan Coben).
Twenty-five years ago, on a campus paralyzed by a snowstorm, beautiful 19-year-old Vinca Rockwell ran away with her philosophy teacher after they began a secret affair. For Vinca, "love is everything or nothing."
She is never seen again.
The once inseparable Manon, Thomas and Maxime -- Vinca's best friends -- have not spoken since graduation. Twenty-five years earlier, under terrible circumstances, the three of them committed a murder and buried the body in the gymnasium wall, the same wall that is about to be demolished to make way for an ultramodern new building.
Now, the three friends are about to meet again at their reunion. Will decades of lies unravel to reveal what really happened on that deadly winter night?
Taut, suspenseful, and addictive, The Reunion will grip you until its haunting final page.
About the Author
---
Guillaume Musso is the #1 bestselling author in France. He has written fifteen previous novels, including the thriller Afterwards, which was made into a feature film starring John Malkovich and Evangeline Lilly. He lives in Paris.
Praise For…
---
"This immensely satisfying thriller about a prep school scandal and three friends' buried secrets had me turning the pages well into the night. The Reunion has everything a masterful thriller should: gut-wrenching suspense, a twisting story with blindsiding surprises, and a narrator with a mysterious past. It's no wonder that Guillaume Musso is one of France's most loved, bestselling authors."—Harlan Coben

"The French call it a coup de foudre: a strike of lightning. That's how The Reunion zapped me, electrified me. For almost a decade, Guillaume Musso has reigned supreme as France's most popular author, and with this, his American debut, he's instantly poised to join the ranks of Stieg Larsson and Jo Nesbo. The Reunion zigzags so nimbly -- between past and present, from intrigue to terror, amid possible suspects and potential victims -- that you're at very real risk of whiplash. Witty, elegant, and peopled with complex characters, it's one of the most sheerly suspenseful novels I've read in years -- and among the most enjoyable, too."—A.J. Finn, bestselling author of The Woman in the Window

"A fast-paced thriller, set on the Cote d'Azur, packed with a glamorous missing girl, a dead body, and enough references to Twin Peaks and raves and Belle and Sebastian to tickle anybody who came of age in the 1990s...Musso is not just a popular author but the number one bestselling novelist in France. So you're bound to emerge more branché than those people you see on the beach reading home-grown potboilers."
—Lauren Mechling, Vanity Fair

"In Musso's masterful plotting, Thomas faces fresh dangers at every turn. The atmospheric finale--which unfolds at Villa Fitzgerald and along Smugglers Way, the coastal path near some of the most lavish properties on the Côte d'Azur--brings shocking revelations."
—Jane Ciabattari, BBC.com (The 10 Smartest Beach Reads of 2019)

"A multi-layered thriller that's fueled by urgency and drama. Guillaume Musso adds a menacing quality to the glamorous Côte d'Azur. With plot twists unleashed at a furious pace, The Reunion is a nightmare set in privileged utopia."
—Frank Brasile, Shelf Awareness

"Despite the ticking-clock premise, Musso takes time to set the atmosphere, with lush details that transport the reader to a locale that's at once glamorous and also laced with a deep, abiding sadness."
—CrimeReads

"A fine tale of suspense from France's best-selling author."
—Michele Leber, Booklist

"Long-buried secrets will give way to the truth in this tragic, riveting, French-Riviera-set story."
—Becky Toyne, Globe and Mail

"Intense nostalgia and simmering guilt drive this evocative mystery...Musso moves effortlessly between the violent past and the increasingly dangerous present as complicated relationships and tragic misunderstandings unfold...Readers interested in the dark side of the good life on the Cote d'Azur will be satisfied."
—Publishers Weekly