Chimes of a Lost Cathedral (Revolution of Marina M. #2) (Hardcover)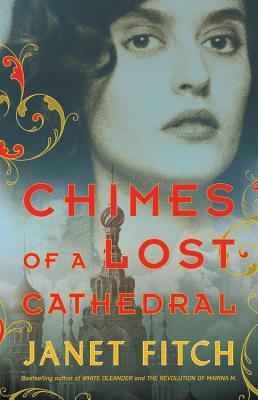 $30.00
Not Available In-Store - Usually Ships from Warehouse in 1-5 Days
Description
---
The story of The Revolution of Marina M. continues in bestselling author Janet Fitch's sweeping epic about a young woman's coming into her own against the backdrop of the Russian Revolution.
After the events of
The Revolution of Marina M.
, the young Marina Makarova finds herself on her own amid the devastation of the Russian Civil War---pregnant and adrift in the Russian countryside, forced onto her own resourcefulness to find a place to wait out the birth of her child. She finds new strength and self-reliance to fortify her in her sojourn, and to prepare her for the hardships and dilemmas still to come.
When she finally returns to Petrograd, the city almost unrecognizable after two years of revolution, the haunted, half-emptied, starving Capital of Once Had Been, she finds the streets teeming with homeless children, victims of war. Now fully a woman, she takes on the challenge of caring for these civil war orphans, until they become the tool of tragedy from an unexpected direction.
But despite the ordeal of war and revolution, betrayal and privation and unimaginable loss, Marina at last emerges as the poet she was always meant to be.
Chimes of a Lost Cathedral finishes the epic story of Marina's journey through some of the most dramatic events of the last century---as a woman and an artist, entering her full power, passion, and creativity just as her revolution reveals its true direction for the future.
About the Author
---
Janet Fitch's first novel, White Oleander, a #1 bestseller and Oprah's Book Club selection, has been translated into twenty-eight languages and was made into a feature film. Her second novel, Paint It Black, hit bestseller lists across the country and has also been made into a film. Her third novel, The Revolution of Marina M., begins an epic journey through the Russian Revolution. She lives with her husband in Los Angeles.
Praise For…
---
"Fitch's transporting sequel to
The Revolution of Marina M.
(2017) is even better than the first book. Ceaselessly entertaining... In this
full-blooded feminine epic, Marina narrates her dramatic life with striking
visual detail... Fitch's tale channels the woman's vibrant spirit
throughout. Historical-fiction fans should devour this."
—
Booklist (starred review)
"Like a 19th-century avatar,
Fitch gives a 360-degree view of the suffering caused by the Bolsheviks'
consolidation of power and tells a long and sweeping story without wasting a
word."
—
Library Journal
"We
first met Fitch's passionate, independent Marina Makarova in her earlier novel,
The Revolution of Marina M...Fitch's darker, equally compelling sequel tracks
Marina's perilous journey from 1919 to 1921. She endures grinding labour, the
continual threat of arrest or execution, the struggle to survive as a new
mother and a nightmarish period of deprivations and violence while working in a
desolate orphanage in Petrograd."
—
BBC.com
"[A] passionate re-creation... of the Bolshevik Revolution and
the timeless literary culture it produced."
—
Kirkus review
PRAISE FOR THE REVOLUTION OF MARINA M.:
"Sprawling, immersive...There is plenty of action and drama...It's a pleasure to see Marina develop, her core character strengthening as she tries on new roles."
—
Steph Cha
,
USA Today
"Shimmers with vital energy...The novel luxuriates in exotic period details...
The Revolution of Marina M.
is hard to put down."—
Trine Tsouderos
,
Chicago Tribune
"Resplendent...Marina, a passionate, impressionable poet from an aristocratic family, gets swept up in young love and the Bolshevik movement."—
Oprah.com
"
The Revolution of Marina M.
takes us deep inside the Russian Revolution and lets us witness it through a pair of remarkable eyes. Marina is a female Zhivago - a poet who uses her intelligence, her passion, and her love of language to interpret and survive the political turmoil around her. Janet Fitch is a wonderful writer and this might be her best book."—
David Ebershoff
,
author of The Danish Girl and The 19th Wife
"Marina's unlikely bildungsroman proves so gripping that it's hard to put down...Fitch depicts [the Revolution] with devastating accuracy and imaginative power...sprawling, majestic."
—
Ani Kokobobo
,
LA Review of Books
"A big, immersive novel for fans of Amor Towles's
A Gentleman in Moscow
."—
Huffington Post
"This is Fitch's most powerful narrative, beautifully and propulsively written...The reading experience genuinely does share the opulence and intimacy of the great Russian masterpieces."—
Steve Donoghue
,
Christian Science Monitor
"An epic tale...In this relatable coming-of-age novel, Marina grapples with a changing world and struggles to find her place in it."—
Nora Horvath
,
Real Simple
"Fitch's first-person narrative is intensely intimate...As Marina comes of age, she is thrust into the spilled blood on the streets and the plight of the workers and artists...The author's passion seems to reside with Russia itself, exploring its intricate history and soul in good light and bad...Marina's identity changes and she becomes free to blaze into the future."—
Erin Lewenauer
,
Minneapolis Star Tribune
"Stunning and heartbreaking...When I finished reading, my heart ached. I'd fallen head-over-heels with Marina, with her stubborn will to live, with her wild desire and impractical decision making. I hurt when she hurt; I was in love when she was. This is the perfect cold-weather novel to lose yourself in...Just be sure to brace yourself, because your heart might break, too."—
Angela Lashbrook
,
Nylon
"Fitch narrows the Russian Revolution to one woman's perspective, crafting a gorgeous epic that's a must-read for historical fiction fans."—
Frannie Jackson
,
Paste Magazine
"Fitch penetrates the heart and soul of her characters. Like Marina herself, Fitch is a poet, and one of the glories of her new novel is the shimmering beauty of language...Above all, Fitch is faithful to the Tolstoyan traditions of the Russian novel, writing about heroic events on an equally heroic scale. Remarkably, she catches and holds our interest...rewarding us with rich and provocative stories, compelling characters, and literary prose of the very highest order."—
Jonathan Kirsch
,
Jewish Journal
"Janet Fitch presents this tumultuous epoch from the viewpoint of a passionate, resilient young woman...With heightened immediacy, Fitch's novel presents a richly described, on-the-street view of the revolution's transformative, often violent throes...The momentum rarely slackens. Fitch's cinematic storytelling and Marina's vibrant personality are standout elements in this dramatic novel."—
Sarah Johnson
,
Booklist
"A captivating novel starring an unforgettable heroine,
The Revolution of Marina M.
shows you a side to the Russian Revolution you've never seen before."—
Sadie Trombetta
,
Bustle
"An extraordinary coming-of-age tale...Marina is by turns adventurous, foolish, romantic, self-destructive, and courageous."—
Jane Ciabattari
,
BBC.com
"Fitch captures the epic grandeur of Russian novelist Leo Tolstoy, situating her characters in the pages of authentic history. Yet she also infuses her characters with transgressive sexual energy...Readers of Tolstoy, Boris Pasternak, and Margaret Mitchell will thrill to this narrative of women in love during the cataclysm of war."—
Barbara Conaty
,
Library Journal
"Incandescent...The brilliant Janet Fitch has written yet another powerful, kaleidoscopic novel."—
Cynthia Bond
,
author of Ruby
"There's brilliance in this book: concept, structure, style...Read this novel for the passion of the main character, a girl becoming woman and poet with ten times the vitality and intellect of Scarlett O'Hara."—
Sena Jeter Naslund
,
author of Ahab's Wife and Abundance, a Novel of Marie-Antoinette
"Ambitious, vivid, engrossing. Fitch puts flesh and bones on one of the most tumultuous times in human history, a vast canvas filled with the rising up the oppressed, naïve hope, abrupt reversals and crushing betrayals. The novel is a virtuoso rendition of the time, buoyed by Fitch's impeccable research and her bold, unforgettable prose."—
Susan Sherman
,
author of If You Are There and The Little Russian
"A story of the insurgent politics of a woman's heart -- of whom and how she loves, of what governs, betrays, or becomes her. The beauty of this book broke me open. Janet Fitch is stunningly, startlingly talented."—
Jill Alexander Essbaum
,
author of Hausfrau
"In this lusty and intelligent novel, Fitch brilliantly entwines the blooming of a teenage girl with the bursting of a country, and tells their story with such intensity and urgency you can nearly hear the thundering hoofbeats of time and feel the shaking through the pages. This is an epic deserving comparison to the Russian masterworks -- not for its size, but for its scope, not for its subject, but for the sweep with which it meets it. Rarely have I ever known history to come so fully, fiercely alive."—
Josh Weil
,
author of The Great Glass Sea