Scaffolding Language, Scaffolding Learning: Teaching Second Language Learners in the Mainstream Classroom (Paperback)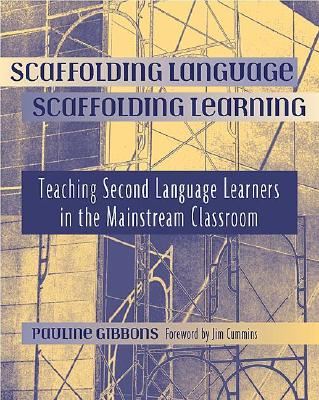 Description
---
How does a mainstream elementary classroom teacher with little or no specialized ESL training meet the challenge of teaching linguistically diverse students? Pauline Gibbons suggests how: integrate the teaching of English with the content areas of the regular curriculum. What's more, she shows how in this practical resource book.
Gibbons begins with a strong theoretical underpinning for her practice, drawing on a functional model of language, sociocultural theories of learning, and current research on second-language development. After supporting her view that the regular curriculum offers the best language-learning environment for young ESL students, Gibbons demonstrates the ways in which content areas provide a context for the teaching of English, from speaking and listening to reading and writing. These in turn are treated not as discrete skills, but as ones that can also be integrated in the learning of diverse subjects. Gibbons illustrates this with a wide range of teaching and learning activities across the curriculum, supplemented with programming and assessment formats and checklists.
Language learning is not a simple linear process, but involves the ongoing development of skills for a range of purposes. Gibbons sees this development as largely the result of the social contexts and interactions in which learning occurs. By focusing on the ways in which teachers can "scaffold" language and learning in the content areas, she takes a holistic approach-one that appreciates the struggle of students learning a new language, while simultaneously developing subject knowledge in it, and the challenge for teachers to address these needs.
Given today's culturally and linguistically diverse classrooms, ESL students can no longer be thought of as a group apart from the mainstream-they are. the mainstream. This book describes the ways to ensure that ESL learners become full members of the school community with the language and content skills they need for success.