Ruin: Star Wars Legends: Dark Tide, Book II (Star Wars: The New Jedi Order - Legends #3) (Mass Market)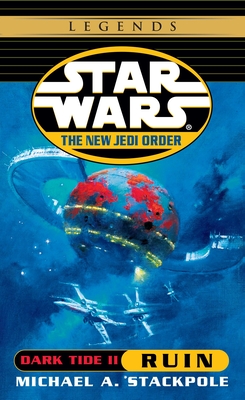 Description
---
New York Times bestselling author Michael A. Stackpole continues The New Jedi Order epic with Dark Tide II: Ruin, a thrilling Star Wars adventure in which the Jedi Knights must fight their most treacherous battle—against an unrelenting evil intent on devouring the galaxy. . . .

The alien Yuuzhan Vong have launched an attack on the worlds of the Outer Rim.  They are merciless, without regard for life—and they stand utterly outside the Force.  Their ever-changing tactics stump the New Republic military. Even the Jedi, once the greatest guardians of peace in the galaxy, are rendered helpless by this impervious foe—and their solidarity has begun to unravel.

While Luke struggles to keep the Jedi together, Knights Jacen Solo and Corran Horn set off on a reconnaissance mission to the planet Garqi, an occupied world. There, at last, they uncover a secret that might be used to undermine the enemy—if only they can stay alive long enough to use it!
About the Author
---
Michael A. Stackpole is the author of the New York Times bestselling Star Wars X-wing novels. Dark Tide: Onslaught is the first of two new Star Wars novels he is writing. When not chained to a desk madly fighting deadlines, he plays indoor soccer, rides a mountain bike, and reads, but not all at the same time. He lives in Arizona with Liz Danforth and a small pack of Welsh Cardigan Corgis.