Perdido Street Station (Bas-Lag #1) (Paperback)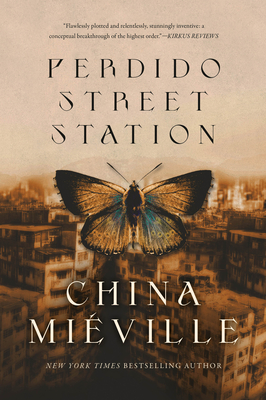 $20.00

Not Available In-Store - Usually Ships from Warehouse in 1-5 Days
Other Books in Series
This is book number 1 in the Bas-Lag series.
Staff Reviews
---
This book is an absolutely bonkers steampunk/fantasy extravaganza and I can't recommend it enough! China Mieville likes to write extremely weird and this book is no exception, so get ready for a book that'll stomp all expectations you have of how a story should go. The world building is second to none, the characters are bizarre yet engaging, and the fusion of magic with steampunk technology is so flipping awesome! I can guarantee you've read nothing like this before, but if you're up for a whole lot of delightful madness then pick up this book. — From Liam's Picks
Description
---
Beneath the towering bleached ribs of a dead, ancient beast lies New Crobuzon, a squalid city where humans, Re-mades, and arcane races live in perpetual fear of Parliament and its brutal militia. The air and rivers are thick with factory pollutants and the strange effluents of alchemy, and the ghettos contain a vast mix of workers, artists, spies, junkies, and whores. In New Crobuzon, the unsavory deal is stranger to none—not even to Isaac, a brilliant scientist with a penchant for Crisis Theory.

Isaac has spent a lifetime quietly carrying out his unique research. But when a half-bird, half-human creature known as the Garuda comes to him from afar, Isaac is faced with challenges he has never before fathomed. Though the Garuda's request is scientifically daunting, Isaac is sparked by his own curiosity and an uncanny reverence for this curious stranger.

While Isaac's experiments for the Garuda turn into an obsession, one of his lab specimens demands attention: a brilliantly colored caterpillar that feeds on nothing but a hallucinatory drug and grows larger—and more consuming—by the day. What finally emerges from the silken cocoon will permeate every fiber of New Crobuzon—and not even the Ambassador of Hell will challenge the malignant terror it invokes . . .

A magnificent fantasy rife with scientific splendor, magical intrigue, and wonderfully realized characters, told in a storytelling style in which Charles Dickens meets Neal Stephenson, Perdido Street Station offers an eerie, voluptuously crafted world that will plumb the depths of every reader's imagination.

Praise for Perdido Street Station

"[A] phantasmagoric masterpiece . . . The book left me breathless with admiration."—Brian Stableford

"China Miéville's cool style has conjured up a triumphantly macabre technoslip metropolis with a unique atmosphere of horror and fascination."—Peter Hamilton

"It is the best steampunk novel since Gibson and Sterling's."—John Clute
About the Author
---
China Miéville is the author of numerous books, including This Census-Taker, Three Moments of an Explosion, Railsea, Embassytown, Kraken, The City & The City, and Perdido Street Station. His works have won the World Fantasy Award, the Hugo Award, and the Arthur C. Clarke Award (three times). He lives and works in London.
Praise For…
---
"[A] phantasmagoric masterpiece . . . The book left me breathless with admiration."—Brian Stableford

"China Miéville's cool style has conjured up a triumphantly macabre technoslip metropolis with a unique atmosphere of horror and fascination."—Peter Hamilton

"It is the best steampunk novel since Gibson and Sterling's."—John Clute