Shadow Games: Star Wars Legends (Star Wars - Legends) (Mass Market)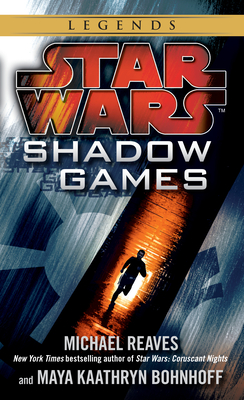 $7.99

Not Available In-Store - Usually Ships from Warehouse in 1-5 Days
Description
---
SOME GAMES ARE PLAYED FOR LIFE OR DEATH.
 
Javul Charn is the most famous pop star in the galaxy—and the runaway bride of a violent lieutenant in Black Sun, the crime syndicate commanded by Prince Xizor. Or so Javul says. Soon after Dash Rendar, broke and desperate, agrees to be Javul's bodyguard, he realizes that openness is not her strong suit—and that murder is stalking her tour. Between the discovery of dead bodies in a cargo hold and an attack by an unidentified warship, Dash and co-pilot Eaden Vrill desperately try to understand who is terrorizing Javul's tour and why. When Han Solo suddenly joins Javul's road show, the stakes are raised even higher. Now Dash, who has a history with Han and an even worse history with Prince Xizor, follows his instincts, his discoveries, and Javul herself—straight into a world that may be too dangerous to survive.
About the Author
---
Michael Reaves received an Emmy Award for his work on the Batman television animated series. He has worked for Spielberg's DreamWorks, among other studios, and has written fantasy novels and supernatural thrillers. Reaves is the New York Times bestselling author of three Star Wars: Coruscant Nights novels—Jedi Twilight, Street of Shadows, and Patterns of Force—and Star Wars: Darth Maul: Shadow Hunter, as well as the co-writer (with Steve Perry) of Star Wars: Death Star and two Star Wars: MedStar novels: Battle Surgeons and Jedi Healer. He lives in the Los Angeles area.
 
Maya Kaathryn Bohnhoff is the author of the novels The Meri, Taminy, The Crystal Rose, and The Spirit Gate, and the co-author of Magic Time: Angelfire, and she has contributed a plenitude of short speculative fiction to such magazines as Analog, Amazing Stories, Realms of Fantasy, Paradox, and Interzone. Her short fiction has been nominated for the Nebula and British Science Fiction awards. She lives in San Jose, California.