Opium Fiend: A 21st Century Slave to a 19th Century Addiction (Hardcover)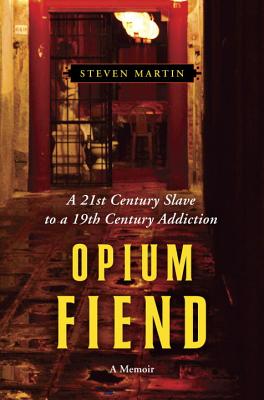 $26.00

Special Order - Subject to Availability
Staff Reviews
---
Opium Fiend opens with one of the most harrowing chapters you're likely to read this year: a graphic description of Steven Martin's attempt to kick his thirty-pipe-a-day opium habit cold turkey. I challenge you to read it and not feel compelled to continue. Martin, the world's foremost authority on opium antiques, goes on to detail how his compulsion to collect the accouterments of this once pervasive drug—pure chandu, not lesser and, in Martin's view, more barbaric opiates like heroin—led to his nearly lethal detox attempt, from which he was rescued by Jean Cocteau's advice from 1930: "Do not persist. If you delay too long, you will no longer be able to take your equipment and roll your pipe. Smoke. Your body is waiting only for a sign." It wouldn't be Martin's last relapse. Along the way we learn much about the British Opium Wars, opium in nineteenth-century America, opium eradication efforts worldwide, and Martin's single-minded passion as a collector, which allowed him to assemble one of the most exquisite collections of opium accessories in the world. In some ways it's easy to romanticize the exotic world Martin conjures for us. But looming over his tale of travel, adventure, lavish opium dens, and paraphernalia of ivory, hammered silver, jade, and precious gems, is the stark reality of addiction, social isolation, and a yearning for an idealized past that slowly morphs into a hellish present. Also recommended: Martin's first book, The Art of Opium Antiques.
—
Brandon
Description
---
"NEW YORK TIMES "BESTSELLER
A renowned authority on the secret world of opium recounts his descent into ruinous obsession with one of the world's oldest and most seductive drugs, in this harrowing memoir of addiction and recovery.
A natural-born collector with a nose for exotic adventure, San Diego-born Steven Martin followed his bliss to Southeast Asia, where he found work as a freelance journalist. While researching an article about the vanishing culture of opium smoking, he was inspired to begin collecting rare nineteenth-century opium-smoking equipment. Over time, he amassed a valuable assortment of exquisite pipes, antique lamps, and other opium-related accessories--and began putting it all to use by smoking an extremely potent form of the drug called "chandu." But what started out as recreational use grew into a thirty-pipe-a-day habit that consumed Martin's every waking hour, left him incapable of work, and exacted a frightful physical and financial toll. In passages that will send a chill up the spine of anyone who has ever lived in the shadow of substance abuse, Martin chronicles his efforts to control and then conquer his addiction--from quitting cold turkey to taking "the cure" at a Buddhist monastery in the Thai countryside.
At once a powerful personal story and a fascinating historical survey, "Opium Fiend" brims with anecdotes and lore surrounding the drug that some have called the methamphetamine of the nineteenth-century. It recalls the heyday of opium smoking in the United States and Europe and takes us inside the befogged opium dens of China, Thailand, Vietnam, and Laos. The drug's beguiling effects are described in vivid detail--as are the excruciating pains of withdrawal--and there are intoxicating tales of pipes shared with an eclectic collection of opium aficionados, from Dutch dilettantes to hard-core addicts to world-weary foreign correspondents.
A compelling tale of one man's transformation from respected scholar to hapless drug slave, "Opium Fiend" puts us under opium's spell alongside its protagonist, allowing contemporary readers to experience anew the insidious allure of a diabolical vice that the world has all but forgotten.
About the Author
---
Steven Martin was born and raised in San Diego. After four years in the U.S. Navy, he moved to Thailand. A freelance writer, he has written articles for the Associated Press, Agence France-Presse, and the Asian edition of "Time." He has also contributed to guidebooks for Lonely Planet and Rough Guides. Martin has gathered one of the world's largest, most diverse collection of antique opium-smoking paraphernalia, and has written an illustrated book on the subject, "The Art of Opium Antiques." His expertise has led to consulting work for museums and films, most recently for HBO's period drama "Boardwalk Empire."
Praise For…
---
Advance praise for Opium Fiend
 
"Steven Martin's fascinating memoir runs so much deeper than the standard literature about drugs. Whereas most writers never move beyond obsessive descriptions of physical effects, Martin's true interests are cultural and intellectual: He connects the urge of the drug addict with the compulsion of the art collector. By the end of this book you'll have a new sympathy for both kinds of fiend."—Peter Hessler, author of River Town and Country Driving
 
"Steven Martin writes with a wit and style every bit as intoxicating as his subject.  Entwining endlessly fascinating exotic detail with soul-searing personal revelation, this remarkable author has produced a driving, powerful autobiography unlike any of the countless narco-memoirs cluttering the shelves today. One warning to potential readers: Opium Fiend is the kind of book that makes the rest of the world disappear. It draws you in from the very first page, until you stagger out, blinking at the sun, not sure you ever wanted it to end. Dim the lights, lock the doors, and prepare to be addicted. The kick's a bitch, but the high is like nothing else in the world."—Jerry Stahl, author of Permanent Midnight
 
"Opium Fiend is the most engaging memoir of the year. What begins as Steven Martin's search into the lost history of opium—whose trade was once as consequential to empires as oil is today—becomes a harrowing exploration of the liberating, enlightening, and enslaving ecstasies of a forbidden pipe. It's a tale not so much of addiction but of self-immolating obsession. While crafting a spellbinding literary read, Martin never loses focus on his original aim. Opium Fiend stands as a fascinating, never-before-told social history of the poppy blossom's central place in the rise and fall of nations. As addictive as its subject matter, Opium Fiend should come with a warning that it may lead to lost nights and weekends of intensely pleasurable reading."—Evan Wright, author of Generation Kill and Hella Nation
 
"This is a beautiful book. Opium Fiend is clear and honest. I don't know that I have ever been invested in anything with the intellectual and emotional intensity that Martin has for his subject, and there is great romance and literary truth in how the object of his desire is also his undoing."—Karl Taro Greenfeld, author of Speed Tribes, Boy Alone, and Triburbia