American Heiress: The Wild Saga of the Kidnapping, Crimes and Trial of Patty Hearst (Paperback)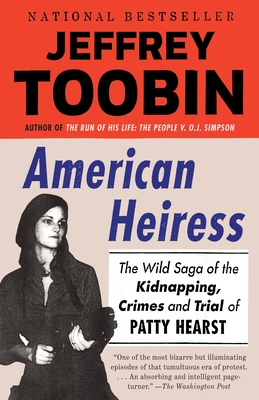 $16.95
Not Available In-Store - Usually Ships from Warehouse in 1-5 Days
Staff Reviews
---
The iconic photograph of the heiress Patty Hearst posed with an automatic rifle in front of the 7-headed cobra symbolic of the Symbionese Liberation Army always mystified Jeffrey Toobin: is she bemused, frightened or just staring into space? Her kidnapping by the SLA, an often-feckless but always-vicious group of self-styled radicals in the 1970's, and her subsequent participation in their deadly crimes, led eventually to her capture, trial, and conviction. The question of whether she participated willingly, or was too traumatized to refuse, remains unclear, and is central to Toobin's marvelously fine-grained,compellingly readable book. Not at all debatable, he concludes, is the fact that the eventual commutation of her sentence, and later presidential pardon, were a product of her families wealth and power. We all understand the unfairness of that.
—
Georgeann
Description
---
A National Bestseller

From New Yorker staff writer and bestselling author of The Nine and The Run of His Life: The People v. O. J. Simpson, the definitive account of the kidnapping and trial that defined an insane era in American history

On February 4, 1974, Patty Hearst, a sophomore in college and heiress to the Hearst Family fortune, was kidnapped by a ragtag group of self-styled revolutionaries calling itself the Symbonese Liberation Army. The weird turns that followed in this already sensational take are truly astonishing--the Hearst family tried to secure Patty's release by feeding the people of Oakland and San Francisco for free; bank security cameras captured "Tania" wielding a machine gun during a roberry; the LAPD engaged in the largest police shoot-out in American history; the first breaking news event was broadcast live on telelvision stations across the country; and then there was Patty's circuslike trial, filled with theatrical courtroom confrontations and a dramatic last-minute reversal, after which the term "Stockholm syndrome" entered the lexicon. 

Ultimately, the saga highlighted a decade in which America seemed to be suffering a collective nervous breakdown. American Heiress portrays the electrifying lunacy of the time and the toxic mic of sex, politics, and violence that swept up Patty Hearst and captivated the nation.
About the Author
---
JEFFREY TOOBIN is the bestselling author of The Nine, for which he won the J. Anthony Lukas Book Prize, The Oath, Too Close to Call, A Vast Conspiracy, and The Run of His Life, which was made into the critically acclaimed FX series The People v. O. J. Simpson: American Crime Story. He is a staff writer at The New Yorker and the senior legal analyst at CNN.
Praise For…
---
A New York Times Bestseller

"The abduction and subsequent radicalization of Patricia Hearst is one of the most bizarre but illuminating episodes of that tumultuous era of protest...and in American Heiress Jeffrey Toobin retells the story with a full-blown narrative treatment that may astonish readers too young to remember it themselves...Toobin spins this complex chapter of recent history into an absorbing and intelligent page-turner."
—The Washington Post 

"[A] clever companion piece to The Run of His Life (1996), his book about the O. J. Simpson case. Mr. Toobin has used the same winning formula of delving deeply into an American crime story that had tremendous notoriety in its day and retelling it with new resonance. Ms. Hearst's tale is much more bizarre than Mr. Simpson's... [I]n an age of terrorism, the chronicle of how a sedate heiress named Patricia morphed into a gun-toting, invective-spouting revolutionary calling herself Tania holds a definite fascination."
—Janet Maslin, The New York Times 

"[R]iveting… American Heiress is a page-turner certainly, but Toobin, a gifted writer, infuses it with much more…Even if he ridicules the ideas and condemns the violent deeds of this ragtag group of revolutionary wannabes, they emerge not as cardboard villains but flesh and blood protagonists."
—The Boston Globe

"Toobin has crafted a book for the expert and the uninitiated alike, a smart page-turner that boasts a cache of never-before-published details...Toobin's book successfully captures the unrivaled spectacle of the Hearst drama."
—San Francisco Chronicle 

"Terrifically engrossing…Toobin uses his knowledge of the justice system and his examination of the evidence to pierce the veil of spectacle…As for Patty Hearst herself, Toobin treats her as a person, not a tabloid phantasm.
—New York Times Book Review

"[A] spell-binding retelling … In the end the real test of a writer's worth is…how well they can tell a story that's already been told many times before by many different people, including — in this case — by some of the main characters themselves. By that standard Toobin gets an A-plus for American Heiress… Everything about this book feels right: the structure, the style and the tone, which is the New Yorker meets Raymond Chandler. As always with great writing, it comes down to a strong, distinctive narrative voice spiced with the judicious use of juicy details.
—LA Weekly