Silence Once Begun: A Novel (Vintage Contemporaries) (Paperback)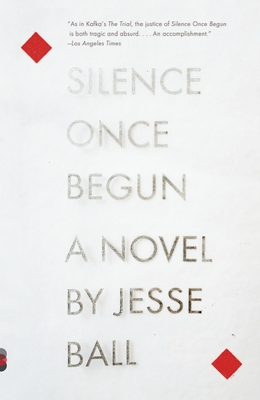 $16.95
Not Available In-Store - Usually Ships from Warehouse in 1-5 Days
Staff Reviews
---
Jesse Ball has put an intriguing spin on a murder-mystery story with Silence Once Begun. After a string of people vanish from the same Japanese village, a fictional caricature of the author travels as a journalist to investigate the man who has confessed to committing these mysterious crimes. Although the true identity and nature of the crimes comes out in the text within, the story of Oda Sotatsu, the man who wrongly confessed, is where the real mystery lies. After turning in his signed confession, Oda took a vow of silence and would not speak even to his own family or legal aids. Through a series of police interrogations, family interviews and a handful of photographs, Jesse Ball has uncovered how far this peculiar man would go to keep his word.
—
Jeremy's Staff Picks
Description
---
Over the course of several months, eight people vanish from their homes in the same Japanese town, a single playing card found on each door. Known as "the Narito Disappearances," the crime has authorities baffled—until a confession appears on the police's doorstep, signed by one Oda Sotatsu, a thread salesman.
 
Sotatsu is arrested, jailed, and interrogated, but he refuses to speak. Even as his family comes to visit, even as his execution looms, and even as a young woman named Jito Joo enters his cell, he maintains his vow of silence. And as a journalist's obsession uncovers more to the story, Jesse Ball spins a wildly inventive and emotionally powerful take of unjust conviction and lost love.
About the Author
---
Jesse Ball is the author of three previous novels, including Samedi the Deafness, and several books of verse, bestiaries, and sketchbooks. His awards include the 2008 Paris Review Plimpton Prize; his verse has been included in the Best American Poetry series. He gives classes on lucid dreaming and lying at the School of the Art Institute of Chicago.
Praise For…
---
A New York Times Book Review Editors' Choice

"As in Kafka's The Trial, the justice of Silence Once Begun is both tragic and absurd…. Genuinely surprising. . . . An accomplishment." —Los Angeles Times 
  
"Absorbing, finely wrought. . . . Causes a reader to go carefully, not wanting to miss a word." —Helen Oyeyemi, The New York Times Book Review
 
 "Rashomon-like. . . . A graceful and multifaceted fable on the nature of truth and identity." —Sam Sacks, The Wall Street Journal 
 
"Beguiling. . . . Ball enjoys borrowing some of the conventions of crime writing but in order to use them rather than to be used by them…. Appealingly funny." —James Wood, The New Yorker  
 
"The closest contemporary American writer we have to Italo Calvino in ear and mind." —Interview
"One of the triumphs of Silence Once Begun is the way that Ball enriches his metafictional restlessness with [a] humane curiosity . . . The language seems aware of the charged space around it, as if one were praying aloud in a darkened, empty church." —James Wood, The New Yorker

"Remarkable. . .   A perfection of [Ball's] style . . . realism distilled to its barest essentials." —The New York Observer
 
"A great page-turner. . . . Think Camus's The Stranger, but with bonus material, like interviews from some of Meursault's closest confidants. Or think Kafka—only a version where the agents of power will pull up a chair and tell you exactly what was at stake in the trial. . . . [A] daring and beautiful little book." —The Chicago Reader

"Silence Once Begun kept me up two nights running. It felt more real than the news and most documentaries and memoirs. Once again, Ball has extended the reach of the novel—of the love story, even—into menacing, freaky new places." —James McManus, author of Positively Fifth Street

"Daring. . . . Silence Once Begun is a wondrous and provocatively strange reading experience that places Jesse Ball among our most compelling and daring writers today." —The Los Angeles Review of Books


"Silence Once Begun expands the meditative, eerie ground [Ball]'s already established. . . . An  extremely refreshing presence in American writing, and one that provides more than it requires." —Vice


"Silence Once Begun creates and maintains an atmosphere of mystery and melancholy like no other. . . . Lyrical and heartfelt." —Bookslut


"I can think of only a handful of mystery novels that have used intrigue and suspense as efficiently in the first hundred pages." —Full Stop


"With echoes of Franz Kafka, Paul Auster, and Kobo Abe, Ball creates an elegantly chilling and provocatively metaphysical tale." —Booklist


"Ball's calculated use of silence is masterful, and the novel haunts us, like any unsolved crime." —BookPage


"A wonderful, chaotic, engrossing exploration of what drives people to do what they do and how lives intersect." —The Wichita Eagle


"Haunting and original, Ball succeeds in re-imagining what a novel can be." —Cedar Rapids Gazette