Levels of Life (Vintage International) (Paperback)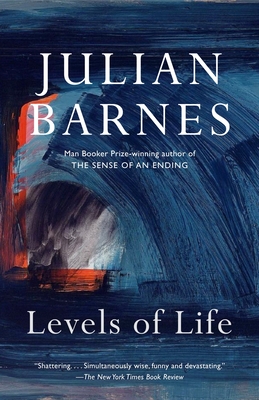 Staff Reviews
---
The first part of this memoir is curious--a history of sorts mixed with imaginary scenes involving a pioneer balloonist and the legendary French actress Sarah Bernhardt. It felt like the script for a docu-drama on the History Channel--which I probably would have abandoned if the writing wasn't so exceptional. Then in a moment, it became something thoroughly engaging--engrossing, something altogether different--in the present and real, yet connected intricately to the earlier story. The reader has been set up, caught with his defenses down and swept away by a tsunami of feelings. That's all I'm saying.
—
Bob's Staff Picks
Description
---
An NPR Best Book of the Year

In this elegant triptych of history, fiction, and memoir, Julian Barnes has written about ballooning and photography, love and grief; about putting two things, and two people, together, and tearing them apart; and enduring after the incomprehensible loss of a loved one. Powerfully rendered, exquisitely crafted in Barnes's erudite style, this searing work confirms the author as an unparalleled magus of the heart.
About the Author
---
Julian Barnes was born in Leicester and moved to London in 1946. He is the author of twenty books, and in 2011 won the Man Booker Prize for The Sense of an Ending. He met Pat Kavanagh in 1978.
 
Pat Kavanagh was born in South Africa and moved to London in 1964. She worked in advertising and then, for forty years, as a literary agent. She married Julian Barnes in 1979, and died in 2008. 
Praise For…
---
"Shattering. . . . Simultaneously wise, funny and devastating. . . . A fascinating discourse on love and sorrow." —The New York Times Book Review

"Elegant. . . . Deeply stirring. . . . Barnes's account of his grief [has] a fierce and fiery kind of momentum. Within a few pages it is aloft." —The Boston Globe

"Levels of Life would seem to pull off the impossible: to recreate, on the page, what it is like to be alive in the world." —The Guardian (London)
 
"Wonderful. . . . Not a grief memoir so much as a grief meditation. . . . Short, crisp, measured, and deeply felt." —The New York Review of Books

"A rumination on grief and the alchemical power of love." —O, the Oprah Magazine

"This is the most inventive and honest portrayal of grief we've read. . . . Barnes approaches memoir, a genre that too often errs on the side of sentimental, with complete grace." —The Huffington Post

"Powerful. . . . 'Sorrow is a kind of rust of the soul,' Barnes quotes Samuel Johnson. Levels of Life boldly and beautifully buffs the corrosion." —NPR

"Artistically exquisite. . . . A penetrating, absorbing and deeply moving study of love, heartbreak and the process of mourning." —Minneapolis Star Tribune

"A powerful dirge and slender but shapely work of art." —The Daily Beast

"Evocative and moving. . . . Levels of Life is a magically sad work, a record of loss that is also a record of life, whose shared stories heighten one another." —The Brooklyn Rail

"Stunning. . . . Deceptively compact but takes us deep. . . . Still grieving, still longing himself, Barnes, like Nadar from above in his hot air balloon, has given us a perspective never seen before." —The Miami Herald

"A tour-de-force masterwork." —Richmond Times-Dispatch

"Spare and beautiful. . . . A book of rare intimacy and honesty about love and grief. To read it is a privilege. To have written it is astonishing." —The Times (London)

"Eloquent. . . . A precisely composed, often deeply moving hybrid of non-fiction, 'fabulation,' and straightforward reminiscence and contemplation, is a gifted writer's response to the incomprehensible." —The Times Literary Supplement (London)

"Profound. . . . Harrowing. . . . Anyone who has loved and lost can't fail to be moved by this devastating book." —The Independent (London)

"Arresting. . . . Barnes writes with astonishing precision about mourning and grief, those areas of human experience so often camouflaged with evasion and silence." —The Daily Telegraph (London)

"High art, essential reading. It is as powerful and well-articulated as Joan Didion's harrowing and classic discussion of losing her husband, The Year of Magical Thinking. Barnes manages to be moving precisely because he leaves so much unsaid. His silences are eloquent." —Daily Mail

"Moving, heartfelt, exact and telling. . . . A remarkable narrative that is as raw in its emotion as it is characteristically elegant in its execution." —The Irish Times

"At times unbearably sad, but it is also exquisite: a paean of love, and on love, and a book unexpectedly full of life. . . . In time [this] may come to be viewed as the hardest test and finest vindication of [Barnes's] literary powers." —The Herald (Scotland)