Dept. of Speculation (Vintage Contemporaries) (Paperback)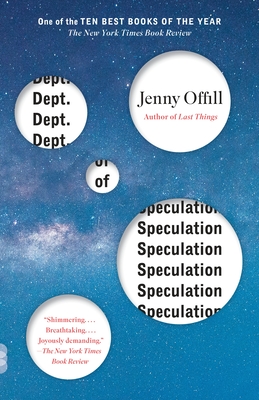 $16.00

Not Available In-Store - Usually Ships from Warehouse in 1-5 Days
Staff Reviews
---
This novel is the story of a marriage. Almost from the first moment the author captures the fragility of the marital relationship: the quiet juxtaposition of hope and fear, love and duty, the little things that become big things. Her dialogue is stunning in the way she can express the humanity of the relationship, without blame or pity, but so startling in it's accuracy it can almost make you gasp at times. The story, shrouded at times in hurt and anger, shimmers in the end with nature: sun, and cracking leaves, and snow, and the age-old promise of rebirth.
—
Kathy M.
February 2014 Indie Next List
---
"I found myself gasping at the sheer beauty and conciseness of Offill's sentences in this portrait of a marriage. Dept. of Speculation can be devoured quickly, or readers can linger in it over many sittings. Covering the topics of love, loneliness, grief, joy, fidelity, beauty, depression, mania, motherhood, and writing, the shifting points of view are subtle yet profound, and despite the darkness and sadness of the story, when I closed the book I was left more alert and attentive, and feeling more alive. Highly recommended!"
— Janet Geddis, Avid Bookshop, Athens, GA
Description
---
From the acclaimed author of Weather comes a slim, stunning portrait of a marriage--a beguiling rumination on the mysteries of intimacy, trust, faith, knowledge, and the condition of universal shipwreck that unites us all.

ONE OF THE 10 BEST BOOKS OF THE YEAR - THE NEW YORK TIMES BOOK REVIEW

A Best Book of the Year: The New Yorker, The Boston Globe, Minneapolis Star Tribune, Vogue.com, Electric Literature, Buzzfeed

In the beginning, it was easy to imagine their future. They were young and giddy, sure of themselves and of their love for each other. "Dept. of Speculation" was their code name for all the thrilling uncertainties that lay ahead. Then they got married, had a child and navigated the familiar calamities of family life—a colicky baby, a faltering relationship, stalled ambitions.

When their marriage reaches a sudden breaking point, the wife tries to retrace the steps that have led them to this place, invoking everything from Kafka to the Stoics to doomed Russian cosmonauts as she analyzes what is lost and what remains. In language that shimmers with rage and longing and wit, Offill has created a brilliantly suspenseful love story—a novel to read in one sitting, even as its piercing meditations linger long after the last page.
About the Author
---
Jenny Offill is the author of the novel Last Things, which was chosen as a Notable Book of the Year by The New York Times and was a finalist for the Los Angeles Times First Book Award. She teaches in the writing programs at Queens University, Brooklyn College, and Columbia University.
Praise For…
---
"Shimmering. . . . Breathtaking. . . . Joyously demanding." —The New York Times Book Review

"Slender, quietly smashing. . . . A book so radiant, so sparkling with sunlight and sorrow, that it almost makes a person gasp." —The Boston Globe

"Powerful. . . . Exquisite. . . . A novel that's wonderfully hard to encapsulate, because it faces in many directions at the same time, and glitters with different emotional colors." —The New Yorker
 
"A startling feat of storytelling . . . Each line a dazzling, perfectly chiseled arrowhead aimed at your heart." —Vanity Fair

"Dept. of Speculation resembles no book I've read before. If I tell you that it's funny, and moving, and true; that it's as compact and mysterious as a neutron; that it tells a profound story of love and parenthood while invoking (among others) Keats, Kafka, Einstein, Russian cosmonauts, and advice for the housewife of 1897, will you please simply believe me, and read it?" —Michael Cunningham

"You can read Jenny Offill's new novel in about two hours. It's short and funny and absorbing, an effortless-seeming downhill ride that picks up astonishing narrative speed as it goes." —The New York Review of Books

 "Gorgeous, funny, a profound and profoundly moving work of art. Jenny Offill is a master of form and feeling, and she gets life on the page in new, startling ways." —Sam Lipsyte

"Introspective and resonant. . . . Offill uses her novel to explore the question of how to be an artist as well as a wife and mother, when these states can feel impossibly contradictory." —San Francisco Chronicle

"Absorbing and highly readable. . . . Intriguing, beautifully written, sly, and often profound." —NPR

"Audacious . . . Hilarious . . . . An account of matrimony and motherhood that breaks free of the all-too-limiting traditional stories of wives and mothers. . . . It may be difficult to truly know what happens between two people, but Offill gets alarmingly close." —The Atlantic

"Piercingly honest. . . . A series of wry vignettes that deepen movingly." —Vogue

"Dept. of Speculation is a riposte to the notion that domestic fiction is humdrum and unambitious. . . . A shattered novel that stabs and sparkles at the same time. It is the kind of book that you will be quoting over and over to friends who don't quite understand, until they give in and read it too. . . . A book this sad shouldn't be so much fun to read. " —The Guardian (London)

"Whip-smart, defying description, will bring your walls down around you." —Flavorwire

 "[A] mini marvel of a novel. . . . Unfolds in tart, tiny chapters suffused with pithy philosophical musings, scientific tidbits, and poetic sayings that collectively guide a brainy, beleaguered couple through the tricky emotional terrain of their once wondrous, now wobbly union." —Elle

Coverage from NPR