The Conductors (A Murder & Magic Novel) (CD-Audio)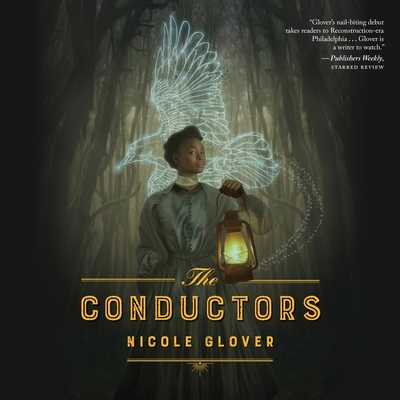 $15.99

Special Order - Subject to Availability
Description
---
A compelling debut by a new voice in fantasy fiction, The Conductors features the magic and mystery of Jim Butcher's Dresden Files series written with the sensibility and historical setting of Octavia Butler's Kindred. Meet Hetty Rhodes, a magic-user and former conductor on the Underground Railroad who now solves crimes in post–Civil War Philadelphia.

As a conductor on the Underground Railroad, Hetty Rhodes helped usher dozens of people north with her wits and magic. Now that the Civil War is over, Hetty and her husband, Benjy, have settled in Philadelphia, solving murders and mysteries that the white authorities won't touch. When they find one of their friends slain in an alley, Hetty and Benjy bury the body and set off to find answers. But the secrets and intricate lies of the elites of Black Philadelphia only serve to dredge up more questions. To solve this mystery, they will have to face ugly truths all around them, including the ones about each other.

In this vibrant and original novel, Nicole Glover joins a roster of contemporary fantasy writers, such as Victor LaValle and Zen Cho, who use speculative fiction to delve into important historical and cultural threads.
 
About the Author
---
NICOLE GLOVER works as a UX researcher in Virginia. She believes libraries are magical places and problems seem smaller with a cup of tea in hand. Her life outside of books include bicycles, video games, and baking the perfect banana bread. The Conductors is her debut novel. She can be found at nicole-glover.com.
Praise For…
---
"The Conductors is a seamless blending of magic, mystery, and history, creating power and wonder with its rarefied glimpse of Black life in the late 1800s. The Vigilance Society and the magic-wielding couple at the core of this story are a welcome addition to the growing chorus of voices in Black speculative fiction. Glover's worldbuilding, characters, and attention to historical detail create a delightfully genre-bending debut!"
 —Tananarive Due, American Book Award winner, author of Ghost Summer: Stories
 
"Community dynamics mixed with a magical alternate Reconstruction-era mystery. The Conductors has all the elements I was looking for in a good story."
 —Mary Robinette Kowal, Hugo Award–winning author of The Calculating Stars

"An Underground Railroad—but with magic. With compelling characters and wondrous worldbuilding, Glover weaves a tangled mystery of murder, spellwork, and freedom amid the remnants of slavery's lingering memories."
 —P. Djèlí Clark, Nebula Award–winning author of Ring Shout
 
"Nicole Glover blends historical detail and magical elements into an unforgettable debut. The Conductors is a wholly original and thoroughly riveting story. This is no doubt the first of many brilliant books to come."
 —Deanna Raybourn, New York Times best-selling author of A Murderous Relation

"With The Conductors, Nicole Glover creates a fascinating world where even magic is segregated. She effortlessly weaves both the constellation-based magical system and the real life struggles of being Black in post–Civil War America. The characters, led by former Underground Railroad conductors Hetty and Benjy Rhodes, are as intriguing as the mystery. It's hard to believe this is Glover's first book. I found it as enchanting as one of Hetty's spells."
—Kellye Garrett, winner of the Anthony, Agatha, and Lefty awards and author of Hollywood Homicide and Hollywood Ending

"The Conductors is a conjured novel. Reimagining a past that helps us navigate our present, it weaves a rich tapestry of history and magic to create a story of resilience and resistance through the power of Black girl magic. It's the perfect book for our times."
—Maurice Broaddus, author of Pimp My Airship

"The Conductors is a wildly inventive alternate history that combines compelling characters, a propulsive plot, and lots of intrigue. It is also radical as hell. Thought-provoking and powerful, Glover's novel is a must-read." 
—Cadwell Turnbull, author of The Lesson   
  "Inventively mixing mystery, magic, and alternate history, Glover's nail-biting debut takes readers to Reconstruction era Philadelphia…Glover is a writer to watch."
—Publishers Weekly (starred review)