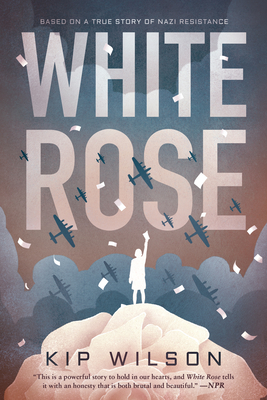 $15.99

Not Available In-Store - Usually Ships from Warehouse in 1-5 Days
Description
---
"In a searing indictment of silent complicity, White Rose shines a light on one remarkable young woman's insistence on the power of truth, no matter the cost. A timely call to resistance." – Joy McCullough, author of Blood Water Paint

"White Rose is a resonant testament to courage. In a time of horrific brutality, young people found a nonviolent way to resist. Told in the form of poetry, the story of their hopes is honored and brought back to life, still relevant today, when regimes that spread hatred are once again thriving, and words are our most powerful defensive weapon."  – Margarita Engle, author of Newbery Honoree The Surrender Tree and 2017-2019 Young People's Poet Laureate.

"Both heart-wrenching and inspiring, Sophie Scholl's story, as retold by Kip Wilson in White Rose, is a stunning reminder to stand against evil, even when you stand alone. This is the kind of book that sticks in your heart long after you've finished. An incredible story of heroism incredibly told." – Mackenzi Lee, author of New York Times Bestseller The Gentleman's Guide to Vice & Virtue

"White Rose is a deftly plotted, absorbing read. A bold tribute to a brave hero of the German resistance during World War II. Wilson's debut is a triumph!"
—Melanie Crowder, author of National Jewish Book Award finalist Audacity

"A graceful, moving portrait of a heroic young woman's defiant refusal to remain complicit with Nazi oppression." – Julie Berry, Printz Honor author of The Passion of Dolssa
 A gorgeous and timely novel based on the incredible story of Sophie Scholl, a young German college student who challenged the Nazi regime during World War II as part of The White Rose, a non-violent resistance group.

Disillusioned by the propaganda of Nazi Germany, Sophie Scholl, her brother, and his fellow soldiers formed the White Rose, a group that wrote and distributed anonymous letters criticizing the Nazi regime and calling for action from their fellow German citizens. The following year, Sophie and her brother were arrested for treason and interrogated for information about their collaborators. This debut novel recounts the lives of Sophie and her friends and highlights their brave stand against fascism in Nazi Germany.
About the Author
---
Kip Wilson is the author of White Rose, which won the Malka Penn Award for Human Rights in Children's Literature, and the Poetry Editor of the Young Adult Review Network. She has a Ph.D. in German Literature. She is also the winner of the PEN/New England Susan P. Bloom Discovery Award and her work has appeared in several children's literary magazines. She lives in Boston, MA. Find her online at www.kipwilsonwrites.com, on Twitter @kiperoo, and on Instagram @kipwilsonwrites.
Praise For…
---
? "Real events made deeply personal in an intense, bone-chilling reading experience." —Kirkus, STARRED review ? "[T]imely and relevant....This tale based on the real life of a young activist, supported by extensive back matter, belongs in all collections serving young teens." —School Library Journal, STARRED review ? "[M]oving and inspiring....this is a model of well-researched and riveting historical fiction." —Booklist, STARRED review "[C]andid and absorbing present-tense free verse....[a] strong addition to the canon of WWII fiction." —Publishers Weekly "Wilson does an exceptional job revealing Sophie's inner thoughts and feelings....simultaneously uplifting and heartbreaking."—The Horn Book "The verses pack an emotional punch....This will be a highly accessible pathway into conversations about the role of women in war and resistance and... an insightful addition to any curriculum about resistance in World War II." –The Bulletin of the Center for Children's Books "In a searing indictment of silent complicity, White Rose shines a light on one remarkable young woman's insistence on the power of truth, no matter the cost. A timely call to resistance." – Joy McCullough, author of Blood Water Paint "White Rose is a resonant testament to courage. In a time of horrific brutality, young people found a nonviolent way to resist. Told in the form of poetry, the story of their hopes is honored and brought back to life, still relevant today, when regimes that spread hatred are once again thriving, and words are our most powerful defensive weapon."  – Margarita Engle, author of Newbery Honoree The Surrender Tree and 2017-2019 Young People's Poet Laureate. "Both heart-wrenching and inspiring, Sophie Scholl's story, as retold by Kip Wilson in White Rose, is a stunning reminder to stand against evil, even when you stand alone. This is the kind of book that sticks in your heart long after you've finished. An incredible story of heroism incredibly told." – Mackenzi Lee, author of New York Times Bestseller The Gentleman's Guide to Vice & Virtue "White Rose is a deftly plotted, absorbing read. A bold tribute to a brave hero of the German resistance during World War II. Wilson's debut is a triumph!" – Melanie Crowder, author of National Jewish Book Award finalist Audacity "A graceful, moving portrait of a heroic young woman's defiant refusal to remain complicit with Nazi oppression." – Julie Berry, Printz Honor author of The Passion of Dolssa "This deeply thought-provoking debut is an important addition to the canon of Holocaust Literature for young people; it is sure to inspire discussion and leave a long-standing impact on its readers."  – Padma Venkatraman, award-winning author of A Time to Dance —