I'm So Effing Tired: A Proven Plan to Beat Burnout, Boost Your Energy, and Reclaim Your Life (Hardcover)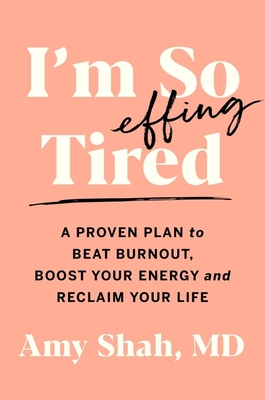 $27.00
Coming Soon - Available for Pre-Order Now
Description
---
A guide to conquering burnout and increasing your energy from a leading medical doctor and nutrition expert
EXHAUSTION DOESNT HAVE TO BE YOUR NEW NORMAL
Does it feel like your life is too busy, your days are too short, and you're feeling overworked, overstressed, and overtired? Chances are youve asked your doctor for help, only to be told that its because of your age, or your workload, or, worse, that its just normal.
If so, youre not alone. Women of all ages are suffering from an epidemic of fatigue and burnout. But exhaustion doesnt have to be your new normal. Inspired by her personal wellness journey, integrative medical doctor Amy Shah has created this program so that you can regain your energy and reclaim your life.
The key is tapping into the powerful energy trifecta: the complex relationship between your gut, your immune system, and your hormones. Drawing on the latest science and her work helping thousands of clients, Dr. Shah explains how to transform your life by changing:
What You Eat: Increase your vegetable intake and sip Dr. Shahs hormone-balance tea to tamp down inflammation and heal your gut, without giving up your wine and chocolate!
When You Eat: Changing when you eat and practicing intermittent fastingthe right waywill help you feel energized all day long.
How you manage stress: Simple, stress-busting exercises and herbs like Ashwagandha and Amla berry help calm the Adrenal system and ease anxiety.
In just two weeks, youll feel your energy surge. In three months, youll feel like a whole new person. Its time to regain the energy youve lost, so you can get back to the life you want to live.
About the Author
---
AMY SHAH, MD, is a double board certified medical doctor and nutrition expert with training fromCornell, Columbia, and HarvardUniversities. Drawing from her background in internal medicine andallergy/immunology, as well as her own wellness journey, she has dedicated her practice to helping her patients feel better and live healthier through her integrative and holistic approach to wellness.She was named one of mindbodygreens Top 100 Women in Wellness to Watch in 2015 and appears regularly on national television shows, podcasts, and in national magazines. She lives in Arizona with her family. To learn more, visit her on Instagram at @FastingMD or online at www.amymdwellness.com.

Praise For…
---
Dr. Shah provides a plan to reinvigorate your everyday through a healthy lifestyle, which has given me more energy and confidence than imaginable. This book is an absolute must for anyone looking to live a vibrant and manageable life even if it seems impossible.
--Bobbi Brown

"If youve ever found yourself saying these words, then this is the book for you! Dr. Shahs program is remarkably effective and will leave you feeling recharged, renewed, and revitalized. --Sara Gottfried, MD, New York Times bestselling author of The Hormone Cure and Assistant Professor, Dept. Integrative Medicine and Nutritional Sciences, Thomas Jefferson University

"Dr. Shah's program is a game changer for anyone suffering from burnout and exhaustion. And that's most of us!
--Jillian Michaels, New York Times bestselling author, and health and wellness expert

As a physician and womens health advocate, Im always looking for more tools to help my female patients. This book is an easy to understand, yet comprehensive science-backed solution to mitigate the epidemic of fatigue and burnout. Its a must read for busy women today!
--Dr. Taz, MD, Integrative Health Expert

Im So Effing Tired is a fresh and empowering approach to reversing symptoms that all too many women face today. Dr. Amy Shah shows us how fatigue, weight gain, and hormonal imbalance can be reversed just by tapping into our bodies natural circadian rhythms and effortlessly incorporating fasting into our daily lives. If you are ready to reclaim your mojo, sleep like a baby, lose that belly fat, and feel fantastic, buy this book and grab a copy for your best friend too!"
--Heather Moday, MD, Founder of The Moday Center and author of The Immunotype Breakthrough