The Carnivore Code Cookbook: Reclaim Your Health, Strength, and Vitality with 100+ Delicious Recipes (Paperback)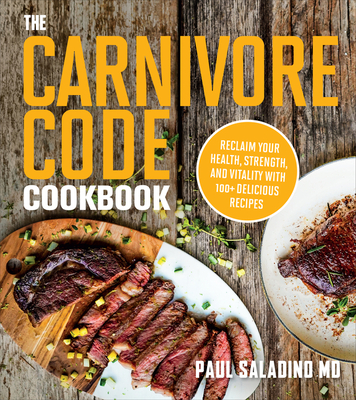 Description
---
The essential companion to the best-selling The Carnivore Code, featuring more than 100 delicious recipes to help readers reap the incredible benefits of an animal-based diet.

In The Carnivore Code, Dr. Paul Saladino revealed the surprising healing properties of a primarily animal-based diet. The carnivore diet is proven to help people lose weight, decrease inflammation, and heal from chronic disease. This essential cookbook makes it even more delicious to reap the benefits of the carnivore diet. Featuring satisfying mains like One-Pan Honey-Glazed Brisket and Grilled Mediterranean Lamb Chops, recipes for every craving like the Real Meat-Lover's Pizza, White-Sauce Zucchini Lasagna, and Carnivore Waffles, and even decadent desserts like Yogurt Cheesecake with Blueberry-Lemon Compote, this cookbook is sure to please every palate.

Coming complete with a pantry guide to help readers rid their kitchens of toxic plants and so-called health foods, while stocking up on the least toxic fruits and vegetables (like squash, peaches, strawberries, and apples), this cookbook will be an essential resource for anyone interested in transforming their health with the carnivore diet.
About the Author
---
Paul Saladino, MD, is the leading authority on the carnivore diet. In addition to hosting the podcast Fundamental Health, he has been featured on The Doctors and numerous podcasts, including The Joe Rogan Experience, The Minimalists, The Model Health Show, Bulletproof Radio, The Dr. Gundry Podcast, The Ben Greenfield Fitness Podcast, and many media outlets. He lives in Austin, TX. 
Praise For…
---
"If you are looking for a book that can explain why you always fail at diets, read The Carnivore Code Cookbook. Paul shows you which plants are the most important to avoid, and how to create incredibly delicious, nutrient-rich meals with meat, organs, and the least toxic plant foods. Grass-fed animals are the future, and so is this book!"  -Dave Asprey, New York Times bestselling author and founder of Bulletproof    "Dr. Paul Saladino's new The Carnivore Code Cookbook helps to make carnivore-style eating appealing and convenient for everyone. It provides an easy-to-understand overview of the carnivore approach, … and some incredibly delicious recipes that feature the most nutrient-dense foods on earth. I've made a significant long-term shift in my eating style thanks to Dr. Saladino's work."  -Mark Sisson, New York Times bestselling author and founder of Mark's Daily Apple    "In the years since I've known the brilliant Paul Saladino, I have witnessed him help thousands of people recover from autoimmune illnesses, inflammatory conditions, and chronic diseases, while also teaching people how to enjoy meat in a natural and healthy way. He is well-versed at providing ancestrally proven ways of eating that are delicious, nutrient-rich, and powerfully healing. If you are looking to start a carnivore or animal-based diet, and you want to do it the right way, this cookbook will be an invaluable, and quite tasty, resource."  -Ben Greenfield, New York Times bestselling author and leading biohacker  —