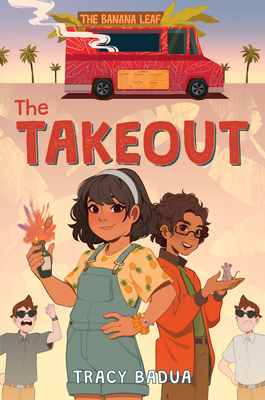 Description
---
When a celebrity chef's new restaurant threatens Mila's family's food truck, she plans to expose them for the recipe thieves they are—even if that means dabbling in the Filipino folk magic she's tried to avoid. Fans of Tae Keller and Lily LaMotte will cheer for this charming story about food, family, and finding the place you belong.
Mila may have moved to Coral Beach months ago, but it still doesn't feel like home. A few awkward incidents with her new friends make her wonder if she'll ever neatly fit into the super-samey small town.
The only place she can be herself is at her dad's Filipino-Indian food truck, The Banana Leaf. But when celebrity chef twins the Fab Foodie Brothers open a restaurant nearby, it turns out the food they are serving is exactly the same as The Banana Leaf's--right down to the recipes!
Mila realizes that she needs to take the Fab Foodie Brothers down before they run her family's tiny truck out of town. But that means dabbling in the Filipino magic that she has shied away from her whole life . . . as well as alienating her new friends.  
Does Mila have to choose between her family and fitting in? Or, like the best recipes, will a blend of the traditional and the unexpected mix into something truly special?
Also by Tracy Badua:
Freddie vs. The Family Curse
About the Author
---
Tracy Badua is a Filipino American author of books full of humor, magic, and young people with sunny hearts in a sometimes-stormy world. By day, she is an attorney who works in national policy and programs, and by night, she squeezes in writing, family time, and bites of her secret candy stash. She lives in San Diego, California, with her family and photogenic Maltese.
tracybadua.com
Twitter: tracybwrites
Instagram: tracybaduawrites
Praise For…
---
"A magical and delicious read that's filled with love." — Kirkus Reviews
"Badua's latest novel is a fusion of magic and cooking with a dash of humor. . . . This story that explores the struggle of fitting in also touches on the challenge some children of immigrant parents deal with when one parent must live temporarily overseas." — Booklist
"Both Mila and Ajay are enterprising protagonists whose teamwork and dedication to their families add heart to this briskly paced magical adventure. Through Mila's cheeky first-person narration, Badua tackles themes of family, identity, and perseverance." — Publishers Weekly