Trauma-Responsive Practices for Early Childhood Leaders: Creating and Sustaining Healing Engaged Organizations (Paperback)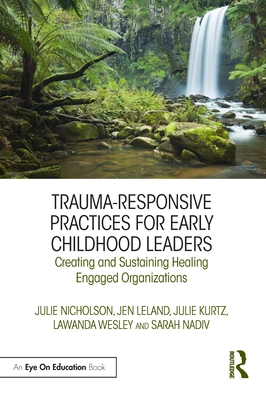 Description
---
Specifically designed for administrators and leaders working in early childhood education, this practical guide offers comprehensive resources for creating trauma-responsive organizations and systems. Throughout this book, you'll find:
Exercises and tools for identifying the strengths and areas in need of change within your program, school or agency.
Reflection questions and sample conversations.
Rich vignettes from programs already striving to create healthier, trauma-responsive environments.
The guidance in this book is explained with simple, easy-to-implement strategies you can apply immediately to your own practice and is accompanied by brainstorming questions to help educational leaders both new to and experienced with trauma-informed practices succeed.
About the Author
---
Julie Nicholson is Professor of Practice in the School of Education at Mills College and Co-Director at the Center for Equity in Early Childhood Education.Jen Leland is Director of Partnerships for Trauma Transformed (TT), a seven county trauma-informed regional system of care.Julie Kurtz is CEO at the Center for Optimal Brain Integration(R). She coaches and trains on trauma-responsive and resilience building practices and social-emotional skills across the lifespan. She also operates a small private practice in California.LaWanda Wesley is Director of Quality Enhancement & Professional Development at the Early Childhood Education Department, Oakland Unified School District and Co-Director at the Center for Equity in Early Childhood Education.Sarah Nadiv is CEO at Global Health and Education Strategies.