Exercise Medicine for the Frailty Syndrome (Hardcover)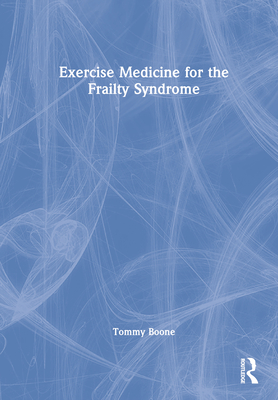 Description
---
Frailty is a clinical syndrome caused by multiple chronic conditions that makes it difficult to maintain homeostasis. In part, it is the result of the body's inability to regulate normal inflammatory responses that lead to muscle loss, decrease in strength, and independence. Regular exercise helps to optimize physiological performance. It is a profound influence, especially in the presence of physical inactivity, where the lack of exercise leads to poor health and decreased longevity. Unfortunately, a high percentage of Americans fail to engage in daily exercise with the older population becoming increasingly frail, which is a syndrome characterized by declines in musculoskeletal and physiologic reserve and function. It has been documented that exercise is medicine and can be better than the effects induced by drugs. Exercise physiologists are healthcare professionals. They are key professionals in developing and applying an exercise medicine prescription for frail adults.
Exercise Medicine for the Frailty Syndrome speaks to the benefits of exercise medicine as the best therapy to prevent or reverse the age-related muscle loss and functional deficits that are predictive of an increase in falls, hospitalization, institutionalization, and mortality. This book is a proactive step to help increase the functional independence of older frail adults. It highlights Board Certification by the American Society of Exercise Physiologists as the professional qualification to improve society's understanding of the biological treatment and complexity of the frailty syndrome and is key reading for Exercise Physiologists.
About the Author
---
Tommy Boone, PhD, MPH, MAM, MBA, FASEP, EPC, is a founding member and first President of the American Society of Exercise Physiologists (ASEP).