The Borgarthing Law and the Eidsivathing Law: The Laws of Eastern Norway (Routledge Medieval Translations) (Paperback)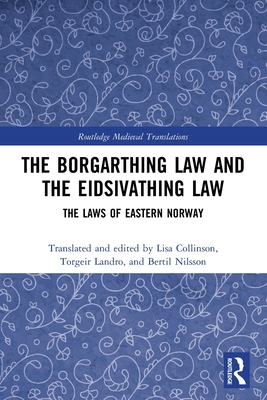 Description
---
The Borgarthing Law and the Eidsivathing Law is dedicated to two closely linked medieval laws which were intended to cover adjacent legal provinces in eastern Norway, around and beyond the modern capital, Oslo.
The core of this book consists of new translations of the two laws, based on the recent editions and translations into modern Norwegian by Eyvind Fjeld Halvorsen and Magnus Rindal. Individual rules cover subjects such as Church rites, prohibitions, property, and payments, and shed light on medieval ideas relating to matters as diverse as disability, sexual relations, witchcraft, and forbidden foods. The volume contains a general introduction by Torgeir Landro and Bertil Nilsson, in addition to a translator's introduction by Lisa Collinson, summarizing in English some of the information on manuscripts and relevant linguistic studies outlined by Halvorsen and Rindal. The translated texts in English are also supplemented by footnotes, supplying key readings from the original, in some cases with significant variants from relevant manuscripts.
With a commentary on the individual chapters after each translation, drawing on recent scholarship on medieval law, Church history, and other relevant historical fields, this book is an ideal resource for students and scholars of medieval Norwegian legal history.
About the Author
---
Lisa Collinson is Research Lead for Museums and Special Collections, University of Aberdeen. Her previous work has examined the legal and literary history of medieval Scandinavia and the British Isles.Torgeir Landro is Associate Professor at NLA University College, Norway. His previous publications deal with the reception of canon law in medieval Norway.Bertil Nilsson is Professor Emeritus of History of Christianity at the University of Gothenburg, Sweden. His previous publications deal with medieval canon law as well as the way in which the encounter between religions developed during the process of Christianization in the Scandinavian kingdoms.