40 Classic Crude Oil Trades: Real-Life Examples of Innovative Trading (Hardcover)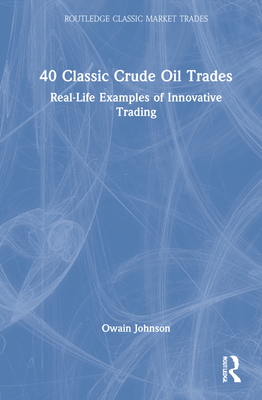 Description
---
The day-to-day world of crude oil traders is not usually open to outsiders. Few non-specialists appreciate how oil traders approach the markets, what their backgrounds are and how they make money.
This book brings the oil trading world to vivid life by introducing the reader to 40 real-life trades or strategies that were carried out by named market participants. The 40 chapters cover different geographies and different crude oil markets, providing an unparalleled insight into how crude oil traders work and think. Oil trading developed in its current form in the 1980s and the chapters cover these early beginnings through to the present day. The trades have been grouped in sections that relate to the nature of each trade and its broader use as an example of a successful trading style. Sections cover approaches to arbitrage trading; the impact of geopolitics; logistics and storage plays; short-term versus longer term trading; managing new crude oil grades; trading crude oil derivatives.
The book provides plenty of inspiration for current or prospective crude oil traders or analysts. It will also be valuable for academic researchers, business school case studies, and for anyone wanting to learn more about the individuals that shape the world's most important commodity market.
About the Author
---
Owain Johnson is the Global Head of Research of CME Group, and the author of The Price Reporters: A Guide To PRAs And Commodity Benchmarks.