The Blizzard: A Novel (Hardcover)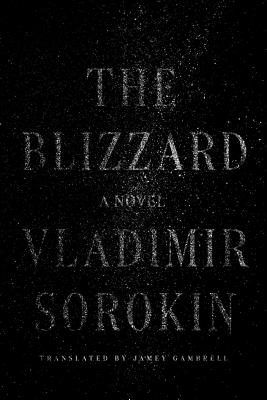 $23.00
Special Order - Subject to Availability
Staff Reviews
---
Picture the brains of Leo Tolstoy and Gabriel Garcia Marquez individually uncoiling, and then recoiling together to make a superbrain, and then injecting that superbrain with the slow-plotted, careful style of Cormac McCarthy and the mystical web-weaving of Salman Rushdie. Sorokin's The Blizzard - every bit as mysterious as its cover - is what you get. The Great Russian Novel meets Magical Realism meets zombie apocalypse in this newly translated novella of blunted surrealism. Featured are: Miniature horses that whinny like chipmunks; a drunkard the size of a milk jug who uses a pickle as a recliner; exotic drugs that make you hallucinate your own execution; oh, and zombies. But Sorokin's style is so devoid of heavy-handed fantastical description that it hardly requires any suspension of disbelief. He does what great Russians did before him - he makes the outlandish seem normal. He calls no unwanted attention to the strangenesses that live in this book, and they are more real, and more terrifying for it. Embrace the cold while it still lasts and round out your library with a novella that will delight you with a completely normal account of the completely abnormal.
—
Joel
Description
---
Long-listed for the 2016 PEN Translation Prize
A New York Times Book Review Editor's Choice

A dazzling, utterly distinctive saga from Russia's most celebrated and most controversial novelist

Garin, a district doctor, is desperately trying to reach the village of Dolgoye, where a mysterious epidemic is turning people into zombies. He carries with him a vaccine that will prevent the spread of this terrible disease, but is stymied in his travels by an impenetrable blizzard. A trip that should last no more than a few hours turns into a metaphysical journey, an expedition filled with extraordinary encounters, dangerous escapades, torturous imaginings, and amorous adventures.

Trapped in an existential storm, Vladimir Sorokin's characters fight their way across a landscape that owes as much to Chekhov's Russian countryside as it does to the postapocalyptic terrain of science fiction. Hypnotic, fascinating, and richly drawn, The Blizzard is a seminal work from one of the most inventive authors writing today. Sorokin has created yet another boldly original work, which combines an avant-garde sensibility with a taste for the absurd and the grotesque, all while delivering stinging truths about contemporary life and modern-day Russia.
About the Author
---
Vladimir Sorokin is the author of eleven novels, including Day of the Oprichnik (FSG, 2011), Ice Trilogy, and The Queue; thirteen plays, and numerous short stories and screenplays. He wrote the libretto for Leonid Desyatnikov's The Children of Rosenthal, the first opera to be commissioned by the Bolshoi Theater in a quarter century. His books have been translated into thirty languages. He has won the Andrei Bely and the Maxim Gorky prizes, and The Blizzard was the recipient of both the NOS Literature Prize and the Bolshaya Kniga prize. In 2013, Sorokin was a finalist for the Man Booker International Prize. He lives in Moscow.
Praise For…
---
"Vladimir Sorokin [is] Russia's most inventive contemporary author . . . Knowing when to pick one's battles is the mark of a great translator, and Gambrell is one. Her translation is as elegant, playful and layered as the original — and never appears labored." --Masha Gessen, The New York Times Book Review

"Following the dystopian nightmare of Day of the Oprichnik and the epic, genre-bending Ice Trilogy comes The Blizzard, a more accessible but no less imaginative novel encompassing a familiar Russian vista with splashy avant-garde flourishes . . . Jamey Gambrell has translated Sorokin before, but she deserves special mention here for her skillful rendering of the book's many voices . . . The colorful language, whether out-loud repartee or inner thoughts, together with several vibrant daydreams and psychedelic hallucinations, provide a neat contrast to the all-engulfing whiteness of the blizzard . . . Sorokin's storytelling is so mesmeric and so richly inventive that being snow-blinded is half the fun." --Malcolm Forbes, Star Tribune


"Vladimir Sorokin, the translatosphere's favorite contemporary Russian novelist, writes about, and with the pitilessness of, his country's unremitting cold . . . The Blizzard . . . is a crazed fantasia on Tolstoy's tale, with all the moralizing ingeniously whited out." --Joshua Cohen, Harper's

"Sorokin's torturous sense of citizenship, which has reached a fascinating impasse in his latest novel, The Blizzard, is the key to one of the most transfixing bodies of work in world literature . . . this astonishingly original writer, it seems safe to say, hasn't yet hit the limits of his madcap imagination." --Michael Lapointe, The New Republic

"An odyssey through a bizarre, irreverently-conceived world . . . This is a wild quest through both a snowy landscape and the author's imagination." --Heather Scott Partington, Electric Literature

"A dangerous and darkly fantastical expedition . . . You'll tear through this one in a thunderous heartbeat." --Melissa Ragsdale, Bustle

"Perhaps it's not surprising, given the weather, to find blizzards and snowstorms proliferating throughout Russian literature from Pushkin's magic tales to Vladimir Sorokin's mysterious 2010 novel, The Blizzard . . .The Blizzard is, for all that, an outwardly gentler novel than Day of the Oprichnik; but at its heart it is a chilling vision of Russia's fatally erratic journey." --Phoebe Taplin, Russia Beyond the Headlines