Down the Rabbit Hole: A Novel (Paperback)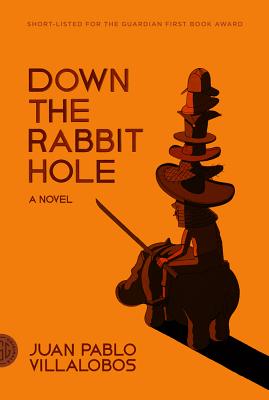 Staff Reviews
---
Remember childhood? Managing lemonade stands, playing sports in the street, swimming til your eyes caught fire from the chlorine? Or maybe you're not from Arizona, in which case I'll try to hide my jealousy as best as I can. But in spite of potentially differing backgrounds, there's a chance we both feel the same nostalgia for youth that occasionally reading can fulfill, or relieve. Books often provide a beautiful, transportive experience. This experience is one of the chief achievements of art. It's truly wondrous. Ergo it pains me to inform you that you will not find fulfillment, relief, or beauty in this vicious, crippling novella. Or maybe you will - maybe you'll be struck by an unexpected nostalgia - if your dad was a druglord psychopath and you spent your days trapped inside a prison/palace where beheadings were as common as breakfast, and you were as concerned about extradition as you were about action figures. Fret not, though. Villalobos filters this atmosphere of terror and violence through an innocent, endearing little boy whose youth still facilitates the boundless capacity to dream in a world punctuated by living nightmares.
—
Joel
Description
---
"A brief and majestic debut." —Matías Néspolo, El Mundo

Tochtli lives in a palace. He loves hats, samurai, guillotines, and dictionaries, and what he wants more than anything right now is a new pet for his private zoo: a pygmy hippopotamus from Liberia. But Tochtli is a child whose father is a drug baron on the verge of taking over a powerful cartel, and Tochtli is growing up in a luxury hideout that he shares with hit men, prostitutes, dealers, servants, and the odd corrupt politician or two. Long-listed for The Guardian First Book Award, Down the Rabbit Hole, a masterful and darkly comic first novel, is the chronicle of a delirious journey to grant a child's wish.
About the Author
---
Juan Pablo Villalobos was born in Guadalajara, Mexico, in 1973. He studied marketing and Spanish literature. He has researched such diverse topics as the influence of the avant-garde on the work of César Aira and the flexibility of pipelines for electrical installations. He is the author of books including Down the Rabbit Hole and Quesadillas. He lives in Barcelona, Spain.
Praise For…
---
"Perfectly formed . . . Although easily devoured in one sitting, this clever little book is to be contemplated at length afterwards." —The Guardian

"Showing how a child absorbs violence without awareness that something is wrong is a tricky endeavor. Mr. Villalobos nails it." —Susannah Meadows, The New York Times

"Down the Rabbit Hole is a miniature high-speed experiment with perspective . . . A deliberate, wild attack on the conventions of literature." —Adam Thirlwell

"Juan Pablo Villalobos brilliantly encapsulates the chaos of a lawless existence in which, under the sway of drug lords, anything might happen and everything goes . . . Down the Rabbit Hole is an astonishing debut." —Lucy Popescu, The Independent

"If you're going to have an imprisoned child narrate a novel, then not so much as a word should be out of place. There are no such slips in Juan Pablo Villalobos's debut novella. We have here a control over the material which is so tight it is almost claustrophobic . . . This is a novel about failing to understand the bigger picture, and in its absence we can see it more clearly." —Nicholas Lezard, The Guardian, Choice of the Week

"Villalobos creates Tochtli's half-corrupt, half-innocent world . . . with a brilliant, tragi-comic light touch." —Jane Shilling, Daily Mail

"Juan Pablo Villalobos has done a masterful job creating a child narrator . . . Down the Rabbit Hole is, on the surface, innocent, clever and lovable, but its implications are deeply disturbing . . . [it] is a remarkable reflection on the uncontrollable narco violence that defines contemporary Mexico. And it's an absolute must read." —The Coffin Factory

"The riveting voice of Tochtli grasps our hearts as we realize that this is a world where even fate can be governed by power. In this miasma of pathos and politics, Down the Rabbit Hole brilliantly incorporates dreams, loyalty and the loss of innocence." —Alice Tao, The Houston Chronicle

"With this book we have discovered Juan Pablo Villalobos, a linguistic virtuoso able to penetrate the elusive world of literature, shedding light on many of its mysteries." —José Antonio Aguado, Diari de Terrassa

"With Down the Rabbit Hole, Juan Pablo Villalobos has made a dramatic entrance into the literary world. It is a book that must be read for its great aesthetic value and darkly humorous tone. A book that throws a clear light on a dark subject." —Teresa García Díaz, Amerika