Not Pretty Enough: The Unlikely Triumph of Helen Gurley Brown (Hardcover)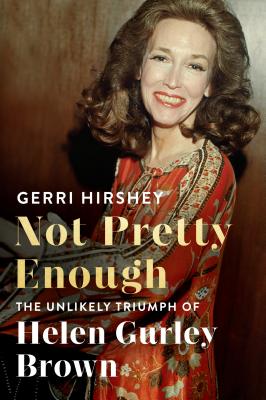 Description
---
When Helen Gurley Brown's Sex and the Single Girl first appeared in 1962, it whistled into buttoned-down America like a bombshell: Brown declared that it was okay— even imperative—for unmarried women to have and enjoy a sex life, and that equal rights for women should extend to the bedroom and the workplace. "How dare you?" thundered newspapers, radio hosts, and (mostly male) citizens. But more than two million women bought the book and hailed her as a heroine. Brown was also pilloried as a scarlet woman and a traitor to the women's movement when she took over the failing Hearst magazine Cosmopolitan and turned it into a fizzy pink guidebook for "do-me" feminism. As the first magazine geared to the rising wave of single working women, it sold wildly. Today, more than 68 million young women worldwide are still reading some form of Helen Gurley Brown's audacious yet comforting brand of self-help.
"HGB" wasn't the ideal poster girl for secondwave feminism, but she certainly started the conversation. Brown campaigned for women's reproductive freedom and advocated skill and "brazenry" both on the job and in the boudoir—along with serial plastic surgery. When she died in 2012, her front-page obituary in The New York Times noted that though she succumbed at ninety, "parts of her were considerably younger."
Her life story is astonishing, from her roots in the Ozark Mountains of Arkansas, to her single-girl decade as a Mad Men–era copywriter in Los Angeles, which informed her first bestseller, to her years at the helm of Cosmopolitan. Helen Gurley Brown told her own story many times, but coyly, with plenty of camouflage. Here, for the first time, is the unvarnished and decoded truth about "how she did it"—from her comet-like career to "bagging" her husband of half a century, the movie producer David Brown.
Full of firsthand accounts of HGB from many of her closest friends and rediscovered, little-known interviews with the woman herself, Gerri Hirshey's Not Pretty Enough is a vital biography that shines new light on the life of one of the most vibrant, vexing, and indelible women of the twentieth century.
About the Author
---
For more than thirty years, Gerri Hirshey has worked as a features writer, columnist, reporter, and essayist at The Washington Post, The New York Times Magazine, Vanity Fair, GQ, Esquire, and New York, among others. She has also written for O, The Oprah Magazine, More, The Nation, Food & Wine, Ladies' Home Journal, and Parade. Beginning in the 1980s, Hirshey was the first female contributing editor toRolling Stone--she wrote celebrity profiles of numerous artists, musicians, actors, authors, and fashion designers. She is the author of several books, including Nowhere to Run: The Story of Soul Music, which is now in its seventh reprint incarnation, and We Gotta Get Outta This Place: The True, Tough Story of Women in Rock. Hirshey lives in New York City with her husband, Mark Zwonitzer, a writer and documentary filmmaker; they have two young adult children.
Praise For…
---
"[Not Pretty Enough is] like a novel in its attention to narrative tension and pacing and smooth writing. Moreover, Hirshey cleverly transforms her final pages into something akin to an oral history, with several of Brown's good friends—from the playwright Eve Ensler to Barbara Walters—chiming in." —Lorrie Moore, The New York Review of Books
"[Hirshey] is a studious and generous biographer . . . a compassionate, psychologically complex biography . . . Ms. Hirshey writes with energy and swing, and she's great at capturing the sound of her subject's cooing speech. There are some hilarious stories here . . . Ms. Hirshey's meticulous re-creation of Brown's single-girl years in Los Angeles, where she went through 19 secretarial jobs and juggled boyfriends like plates, are alone worth the price of admission to this circus."—Jennifer Senior, The New York Times
"This rollicking, masterful biography celebrates a woman who had the audacity to tell us something we secretly already knew: Sex matters."—People magazine
"Hirshey's psychological insights into Brown's childhood . . . deepen and complicate the plucky image that Brown projected in public." —The New York Times Book Review
"This engrossing biography of Helen Gurley Brown, the legendary editor of Cosmopolitan, who shook up the sixties with her book 'Sex and the Single Girl,' is written in a style worthy of its subject."—The New Yorker
"Instructive, entertaining, and briskly told . . . The Helen Gurley Brown who will be remembered is the one who beams from the cover of Hirshey's book, a bony dynamo with missionary zeal and pep-rally enthusiasm who left her lipstick mark on history."—James Wolcott, Vanity Fair
"Vivid, funny, and terrifically entertaining."—Kate Tuttle, Newsday
"Simply the best, brimming with fresh dish and insight . . . If you truly have to choose only one item from the Helen Gurley Brown biography buffet, this is definitely your selection." —Deirdre Donahue, The AARP magazine
"[Hirshey] delivers us Helen as a pioneer of female assertiveness and dream-realization . . . You can read this book for a look at how far we have come, how much we have changed, how absurd we were in our 'civilized' middle-class superiority . . . This is a wonderful deep read for those willing to study yesterday's history and popular culture and also willing to entertain a new realization . . . And if you only read for fun, you will have a simply hilarious time with a really influential 'character' who was an unbelievable woman (although she famously preferred 'girl')—a woman more realistic and intelligent than many of her detractors. Helen more than deserves this splendid re-examination."—Liz Smith, New York Social Diary
"Hirshey offers a well-researched, in-depth look at Helen Gurley Brown . . . With numerous firsthand accounts from acquaintances and close friends, including Gloria Vanderbilt and Barbara Walters, Hirshey takes readers on a rags-to-riches journey of Brown's life . . . This account sheds lights on a complex woman whose controversial personality helped form both second-wave feminism and the magazine industry." —Mattie Cook, Library Journal
"Gerri Hirshey delivers a fascinating portrayal of the ultimate fun, fearless female." —Cosmopolitan
"[A] precise, explicit, true-life picaresque . . . Hirshey is entrancing and enlightening throughout this detailed chronicle of Brown's brimming life . . . A pointillistic portrait essential to understanding the seemingly endless fight for women's equality." —Donna Seaman, Booklist (starred review)
"Thoroughly researched and reported . . . Compelling" —Publishers Weekly
"In Not Pretty Enough, Gerri Hirshey brings to life the mass of contradictions that was Helen Gurley Brown—a poor, acne-scarred girl from the other side of the tracks who transformed herself into a glamour girl and one of the top magazine editors in the world. Was she a feminist or a traitor to feminist ideals? Did she prostitute herself to succeed, objectify women to sell her brand? In what was still a man's world, Helen did what she had to do to get ahead. And in this lively, deeply researched, and entertaining book, Hirshey humanizes the ongoing struggle of women everywhere through the tale of this iconic firebrand." —Nancy Jo Sales, bestselling author of American Girls: Social Media and the Secret Lives of Teenagers
"Deeply researched . . . Before the author narrates Brown's unlikely ascension to influence and fame in New York City, she relates remarkable, telling details about her subject's childhood and young adulthood in rural Arkansas and then Los Angeles . . . Hirshey vividly relates how [Helen's] husband, David Brown, parlayed his experience in both publishing and cinema into helping Helen conceive her bestselling books and turn around Cosmopolitan. Unlike numerous other biographers, Hirshey never falls into the trap of reductionism. Although Brown sometimes presents contradictions that cannot be easily resolved, the author portrays the complexities with skill." —Kirkus Reviews