Kraft: A Novel (Hardcover)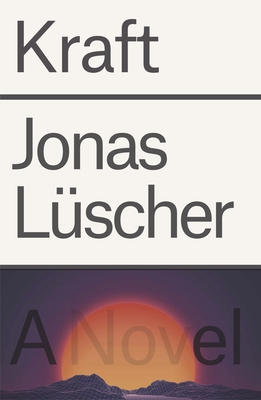 $26.00
Email or call for price.
Description
---
Jonas Lüscher, the author of Barbarian Spring—"a most humorous and convincing satire of the ridiculous excesses of those responsible for the financial crisis" (The New York Times Book Review)—returns to the topic of neoliberal arrogance in his Swiss Book Prize-winning, hilarious, and wicked novel about a man facing the ruins of his life, and his world.

Richard Kraft, a German professor of rhetoric and aging Reaganite and Knight Rider fan, is unhappily married and badly in debt. He sees no way out of his rut until he is invited to participate in a competition to be held in California and sponsored by a Silicon Valley tycoon and "techno-optimist." The contest is to answer a literal "million-dollar question": each competitor must compose an eighteen-minute lecture on why our world is still, despite all evidence, the best of all possible worlds, and how we might improve it even further through technology.

Entering into a surreal American landscape, Kraft soon finds what's left of his life falling to pieces as he struggles to justify as "best" a planet in the hands of such blithe neoliberal cupidity as he encounters on his odyssey to California. Still, with the prize money in his pocket, perhaps Kraft could finally buy his way to a new life . . . But what contortions—physical and philosophical—will he have to subject himself to in order to claim it?

Jonas Lüscher's second novel, Kraft, is a hilarious and wicked tale about a man facing the ruins of his life, and his world.
About the Author
---
Jonas Lüscher was born in Switzerland in 1976, and now lives in Munich. His bestselling debut novel, Barbarian Spring, was long-listed for the German Book Prize and nominated for the Swiss Book Prize. It has been translated ino twenty languages and was adapted for the stage. Kraft was ranked first in the February 2017 "SWR Bestenliste," a list of the best fiction chosen by twenty-six prominent German critics, and went on to win the Swiss Book Prize in 2017.

Tess Lewis is a writer and translator from the French and German. Her translations include works by Peter Handke, Walter Benjamin, Klaus Merz, Hans Magnus Enzensberger, Christine Angot, Pascal Bruckner, and Jean-Luc Benoziglio.
Praise For…
---
"An exceedingly cerebral comic novel . . . These long winter nights offer a chance to burrow into literary challenges—this winter especially. And though Kraft may sound far afield from your usual reading choices, much of it takes place in America and revolves around the promise of Reaganomics."
—Ron Charles, The Washington Post

"A finely handled, comic dramatization of the microcompromises, stifled shame and bad-faith gymnastics of sham writers who tell the Culture whatever it wants to hear . . . Lüscher is a perceptive commentator on Silicon Valley's heady and hubristic ideological climate, with its smug boasts of "disruption" and death-denying (or rather "posthuman transtheotechnist") longings . . . Lüscher sniffs out the fraudulence in the very roots of his characters' political stances."
—Rob Doyle, The New York Times Book Review

"A pitch-perfect social satire . . . an allegory for our techno-crazed, consumption-addicted, soul-crushing times . . . An alternative, perhaps, to the simplistic formula underlying so many best-sellers today, which it pretends to apply."
—Kai Maristed, The Arts Fuse

"An arch, fascinating satire of world-weary European skepticism and irrational American hopefulness . . . [written with] gloomy humor and dense but never arid ruminations. This is a wonderfully strange novel, and one not to be missed." —Publishers Weekly (Starred)

"A sly and witty satire on philosophical bad faith the age of neoliberalism." –Shaun Whiteside, New Books in German

"Jonas Lüscher's Kraft is a pitch-perfect comedy of manners about the search for meaning in Silicon Valley, a brilliant, bemused expedition to a land we have come to know all too well." –Adrian Daub, author of What Tech Calls Thinking

"A German professor meets Silicon Valley. This tragicomic encounter discharges a bunch of neoliberal myths, startup fantasies, techno-optimistic visions, and religions of the market. Jonas Lüscher's Kraft is a thrilling campus novel, a sparkling comedy on human flaws, and a brilliant essay about the burlesque spectacle of ideas in recent capitalism." –Joseph W. Vogl, professor of Modern German Literature, Cultural and Media Studies at Humboldt University Berlin and Princeton University

"The author of the much-praised Barbarian Spring . . . presents a clever, science-skeptical, contemporary novel, unparalleled in the new vanguard of Germany literature." –Gerrit Bartels, Deutschlandradio Kultur

"The book of the hour, the book for our time." –Deutschlandfunk

"A highly intelligent, deeply enjoyable read that offers hilarious twists and turns." –Holger Ehling, Buchkultur