Only the Animals: Stories (Hardcover)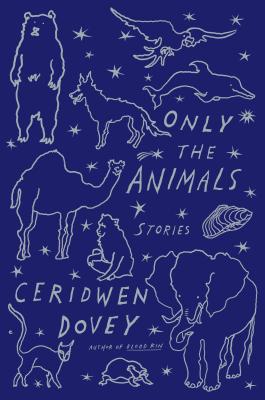 Staff Reviews
---
It's hard being a person. It won't do your ego any good to take an objective look back at the history of the human being, especially if you take into consideration the impact our species has had on other species, and on the planet. We all, to some degree, understand the ruin we have wrought upon the world. A few of us are still stupid enough to be able to ignore it. But someday we'll be extinct. I'll be gone. You'll be gone, too. We all will be. You'll have wished you read this book before that happens. It's an eccentric and beautiful fictionalization of the relationships between individual, historical animals (like Tolstoy's tortoise) and how they experienced the world, its joys and sorrows, its triumphs and subjugations. If you've ever wondered what your pets are thinking, this is the closest you'll come to understanding their points of view, and it may just change yours with regard to them. It's an almost unthinkably sad book - ten short stories narrated by animals killed as afterthoughts in the great human drama that is life. But it will help you understand the meaning of the word "we" a little more clearly. That "we" are not separate from our earthly animal counterparts. That "they" are an integral part of "us." It will make you understand that in enacting the mass enslavement, torture, and slaughter of our animal compadres, "we" have really been killing ourselves the whole time.
—
Joel
Description
---
Perhaps only the animals can tell us what it is to be human

The souls of ten animals caught up in human conflicts over the last century and connected to both famous and little-known writers in surprising ways tell their astonishing stories of life and death. In a trench on the Western Front, a cat recalls her owner Colette's theatrical antics in Paris. In Nazi Germany, a dog seeks enlightenment. A Russian tortoise once owned by the Tolstoys drifts in space during the Cold War. During the Siege of Sarajevo, a starving bear tells a fairy tale. And a dolphin sent to Iraq by the U.S. Navy writes a letter to Sylvia Plath.
Exquisitely written, playful, and poignant, Ceridwen Dovey's Only the Animals is a remarkable literary achievement by one of our brightest young writers. An animal's-eye-view of humans at our brutal, violent worst and our creative, imaginative best, it asks us to find our way back to empathy not only for animals but for other people, and to believe again in the redemptive power of reading and writing fiction.
About the Author
---
Ceridwen Dovey's debut novel, Blood Kin, was published around the world and selected for the National Book Foundation's prestigious 5 Under 35 honors list. The Wall Street Journal named her one of their "artists to watch." Her short story collection, Only the Animals, was published by FSG in 2015 and described by The Guardian as a "dazzling, imagined history of humans' relationship with animals." She lives in Sydney, Australia.
Praise For…
---
"These stories are strange and richly imagined, well researched and at times haunting and atmospheric . . . Dovey is a gifted prose stylist . . . This collection unflinchingly illuminates human nature, and makes clear that the rest of the natural world can only bear witness." —Megan Mayhew Bergman, The New York Times Book Review
"Inventive . . . Dovey has daringly shrugged off the constraints of conventional fiction. These stories are alternately funny and distressing . . . In Only the Animals, Dovey has tried something audacious. Aiming to see the world anew, she's crafted an unusual and beguiling ode to the feathered, the four-legged, and the fearless creatures of the sea." —Kevin Canfield, Minneapolis Star-Tribune
"Dazzling." —Stephanie Cross, The Guardian
"The book doesn't come across as contrived, in part because Dovey's prose is so sharp and unsentimental, in part because she is able to use the same premise to such different effects . . , Only the Animals' doesn't simplify or sentimentalize, but it does suggest that there is something irreducibly powerful about our imaginative bonds with animals. As long as there are humans, there will be animals, and as long as there are animals, we will think and write and dream about them." —Anthony Domestico, The Boston Globe
"Wonderfully weird and profoundly witty . . . Dovey's stories, at once charming and haunting, are something else altogether. "Absorbing" is not quite the right word for them--their poetic oddness keep them at arm's length--but they are intoxicating nonetheless. As unsettling as they are beautiful, these quietly wise stories wedge themselves into your mind--and stay there." —Kirkus Reviews (starred review)
"Dovey succeeds in providing original bittersweet tales with the hard-edged truths of history. An essential collection, enthusiastically recommended." —Donna Bettencourt, Library Journal (starred review)
"By appropriating history, mythology, folklore, and even astrology, Dovey finds impressive depth and complexity in the souls of an array of animals . . . Dovey finds humanity in her diverse protagonists, and the stories are full of surprises, warmth, and insight." —Publishers Weekly
"A beautifully wrought, disconcerting collection." —Nell Porter Brown, Harvard Magazine
"I remember being told once that there are bioluminescent plankton; these stories remind me of that fantastic, startling and real illumination. The animal narrators are not mythic, or naive--they are psychologically full. And though the humans in these stories often act like beasts, having actual beasts tell the stories give the reader a broadened sense of what we affectionately term humanity." —Rivka Galchen, author of Atmospheric Disturbances
"I have been waiting, since Blood Kin, for another work of fiction by Ceridwen Dovey. Only the Animals is filled with knowledge and wisdom and beauty. It leaves a strange and striking trace on its reader." —Rachel Kushner, author of The Flamethrowers
"The life stories related by these very civilized animals are in some cases touching (the elephant), in others amusing (the mussel), but all are absorbing. They are transmitted to us with a light touch and no trace of sentimentality." —J. M. Coetzee
"An audacious work of the imagination . . . An extraordinary series of fabulist tales . . . The yarns are funny, tragic, smart, arch, poignant and playful all at once." —The Saturday Age (Australia)