Perv: The Sexual Deviant in All of Us (Hardcover)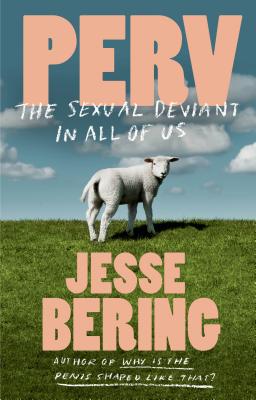 Staff Reviews
---
A few nights while on break at work, I read this over at First Draft, and some of the double takes I got were enough to make me snicker (which may have looked suspect, given the title of the book). This book also prompted the question "what are you reading?" from a customer when I was leaving the store with the book under my arm. Don't just read Perv for the hilarious, inevitable double takes and questions you'll get when reading out in public, however. Read it because of the things you'll learn that you might never have otherwise. Bering gives us a great, cerebral look at all things that make us "deviants," and the psychology behind the way our culture has come to shame certain sexual behaviors. Just what makes a "perv?" Read this book and find out. The answer may surprise you.
—
STAFF PICKS BY HEATHER H.
Description
---

"As a sex writer, Jesse Bering is fearless—and peerless." —Dan Savage

"You are a sexual deviant. A pervert, through and through." We may not want to admit it, but as the award-winning columnist and psychologist Jesse Bering reveals in Perv, there is a spectrum of perversion along which we all sit. Whether it's voyeurism, exhibitionism, or your run-of-the-mill foot fetish, we all possess a suite of sexual tastes as unique as our fingerprints—and as secret as the rest of the skeletons we've hidden in our closets.
Combining cutting-edge studies and critiques of landmark research and conclusions drawn by Sigmund Freud, Alfred Kinsey, and the DSM-5, Bering pulls the curtain back on paraphilias, arguing that sexual deviance is commonplace. He explores the countless fetishists of the world, including people who wear a respectable suit during the day and handcuff a willing sexual partner at night. But he also takes us into the lives of "erotic outliers," such as a woman who falls madly in love with the Eiffel Tower; a pair of deeply affectionate identical twins; those with a particular penchant for statues; and others who are enamored of crevices not found on the human body.
Moving from science to politics, psychology, history, and his own reflections on growing up gay in America, Bering confronts hypocrisy, prejudice, and harm as they relate to sexuality on a global scale. Humanizing so-called deviants while at the same time asking serious questions about the differences between thought and action, he presents us with a challenge: to understand that our best hope of solving some of the most troubling problems of our age hinges entirely on the amoral study of sex.
As kinky as it is compassionate, illuminating, and engrossing, Perv is an irresistible and deeply personal book. "I can't promise you an orgasm at the end of our adventure," Bering writes, "but I can promise you a better understanding of why you get the ones you do."
About the Author
---
Jesse Bering, Ph.D. is a frequent contributor to Scientific American and Slate. His writing has also appeared in New York magazine, The Guardian, and The New Republic, among others, and has been featured by NPR, Playboy Radio, and more. The author of The Belief Instinct, Bering is the former Director of the Institute of Cognition and Culture at the Queen's University, Belfast, and began his career as a professor at the University of Arkansas. He lives in Ithaca, New York.
Praise For…
---
"As informative as it is entertaining . . . Bering's latest is a delightful, intelligent, and thought-provoking addition to the growing body of our sexual knowledge of self." —Publishers Weekly (starred review)
"Bering's a supple, witty writer, and praiseworthy terms like wry and irreverent suggest themselves readily. The book is a humane flirtation with the often-strange intimacies that drive people's lives." —Michael Washburn, The Boston Globe
"A master craftsman at refashioning reproductive biology into provocative composition, Bering nimbly probes 'the darkest corners of our sexual nature" with no illicit aftertaste.'" —Kirkus Reviews
"Against a colorful backdrop of science, history, and psychology, Bering calls on human society to stop judging people's sexual preferences based on a personal belief about what's normal or natural, instead asking what is harmful. [He] throws a bucket of ice-cold water on topics that often become overheated by the fires of morality, religion, and politics." —The Scientist
"[A] lively exploration of sexual perversion . . . Bering has a very entertaining writing style, but don't let that distract you from the serious stuff he's talking about: this isn't just a list of so-called perversions but, instead, an exploration of the way the human mind and body work and the way we are all just a little bit unusual." —Booklist
"As a sex writer, Jesse Bering is fearless--and peerless." —Dan Savage
"Like a slightly kinky friend, Perv is sometimes weird, often revelatory, and always enthralling. You'd expect a book about sexual perversions to be at least interesting, but in Jesse Bering's hands it's also smart, humorous, and eminently humane." —Florence Williams, author of Breasts: A Natural and Unnatural History
"Perv is a deeply fascinating and surprisingly insightful peek into the weird world of human sexuality. With his shocking examples and unique evolutionary approach, Jesse Bering provides perhaps the best testament out there to Mark Twain's immortal quip that man is the only animal that blushes--or needs to." —Laurie Santos, Associate Professor of Psychology and Director of the Comparative Cognition Laboratory, Yale University
"Come to gawk, stay to learn. Jesse Bering has written a fascinating, funny, and scientifically literate book about all the aspects of sex you didn't want to think about. Perv will change the way you see yourself and everyone around you." —Art Markman, Ph.D., author of Smart Thinking and Habits of Leadership
"IIf truth be told--and Jesse Bering urges us to be honest--we're all perverts. And if you're not, then most around you are. Bering pulls no punches in this engrossing romp through the history, cultural relativism, politics, and science of sexuality. He brings shadowy taboos out to the front stage for a juicy, humorous, and nonjudgmental outing. Perv is a page-turner that is hard to put down." —Bruce Hood, Chair of Developmental Psychology in Society, University of Bristol, and author of The Self Illusion
"Jesse Bering's Perv is a copiously researched, scientifically solid, fascinating and fun ride through a museum of sexual oddities that makes a strong argument for why we need to ease up on our sneers at the 'erotic outliers' and admit the reality: To perv is human." —Amy Alkon , author of I See Rude People
"In this unusual and wonderful book, Jesse Bering makes a persuasive case that we are all perverts. Bering is funny, brave, and deeply compassionate toward those whose desires cause suffering to themselves and others. This brilliant book will appeal to anyone who wants to learn more about the most unruly and intimate aspects of our lives." —Paul Bloom, Brooks and Suzanne Ragen Professor of Psychology, Yale University, and author of Just Babies: The Origins of Good and Evil
"I have yet to come away from reading one of [Bering's] essays and not feel considerably better informed than I was just minutes before." —Forbes on Why Is the Penis Shaped like That?
"Excellent in its entirety, woven of Bering's rare tapestry of scientific rigor and a powerful, articulate social point of view." —Brain Pickings on Why Is the Penis Shaped like That?