This Song Will Save Your Life: A Novel (Hardcover)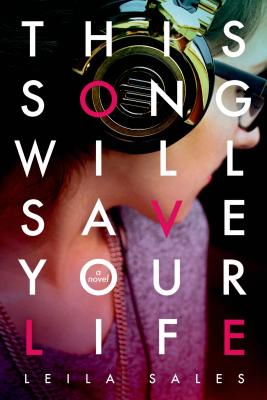 Staff Reviews
---
"I don't believe that anyone who is a legitimately interesting person can be popular as a teenager," says Leila Sales. She gets what it means to be a young, the ups and downs - the feeling of perpetually being an outsider and that high school is never actually going to end.This Song Will Save Your Life, about a girl who hasn't found her niche yet, but discovers a passion for DJ-ing, is exactly the sort of book I would have loved when I was in high school (and still enjoy now!). It's the kind of book teens will relate to and draw comfort from: it really does get better.
—
Lauren's Staff Picks
Description
---
Making friends has never been Elise Dembowski's strong suit. All throughout her life, she's been the butt of every joke and the outsider in every conversation. When a final attempt at popularity fails, Elise nearly gives up. Then she stumbles upon a warehouse party where she meets Vicky, a girl in a band who accepts her; Char, a cute, yet mysterious disc jockey; Pippa, a carefree spirit from England; and most importantly, a love for DJing.
Told in a refreshingly genuine and laugh-out-loud funny voice, Leila Sales' THIS SONG WILL SAVE YOUR LIFE is an exuberant novel about identity, friendship, and the power of music to bring people together.
About the Author
---
Leila Sales is the author of the novels Mostly Good Girls and Past Perfect. She grew up outside of Boston, Massachusetts, and graduated with a degree in psychology from the University of Chicago. Much like the characters in This Song Will Save Your Life, Leila regularly stays up too late and listens to music too loud. When she's not writing, she spends her time thinking about sleeping, kittens, chocolate, and the meaning of life. But mostly chocolate. Leila lives and writes in Brooklyn, New York, and works in children's book publishing.
Praise For…
---
"The emotional resonance of Elise's journey . . . feels very much of the moment." —The New York Times

"*Pulsates with hope for all the misfits." —Kirkus Reviews, starred review

"*What sets this apart from so many problem novels is how honestly and deeply Sales probes the life of a miserable 16-year-old, from her cringe-worthy attempt at "learning" how to be popular to the observational, rather than emotional, look at what it feels like to be with a guy." —Booklist, starred review

"*Pulsates with hope for all the misfits." —Kirkus Reviews, starred review