I'll Tell You No Lies (Hardcover)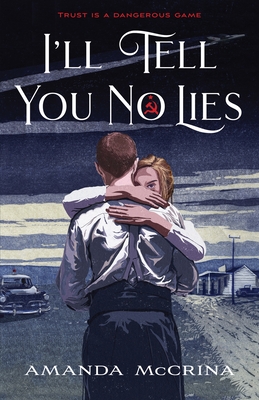 $18.99

Not Available In-Store - Usually Ships from Warehouse in 1-5 Days
Description
---
From Amanda McCrina, the acclaimed author of Traitor and The Silent Unseen, I'll Tell You No Lies is a riveting YA novel of the Cold War era about a girl in post-World War II America who becomes entangled with an escaped Soviet pilot and must learn to decipher truth from lies.

New York, 1955. Eighteen-year-old Shelby Blaine and her father, an Air Force intelligence officer, have just been wrenched away from their old life in West Germany to New York's Griffiss Air Force Base, where he has been summoned to lead the interrogation of an escaped Soviet pilot. Still in shock from the car accident that killed her mother barely a month earlier, Shelby struggles with her grief, an emotionally distant father, and having to start over in a new home.

Then a chance meeting with Maksym, the would-be defector, spirals into a deadly entanglement, as the pilot's cover story is picked apart and he attempts to escape his military and intelligence handlers—with Shelby caught in the middle. The more she learns of Maksym's secrets, including his detention at Auschwitz during the war, the more she becomes willing to help him. But as the stakes become more dangerous, Shelby begins to question everything she has been told, even by her fugitive friend. Allies turn into enemies, and the truth is muddled by lies. Can she trust a traitor with her life, or will it be the last mistake she ever makes?
About the Author
---
Amanda McCrina is a writer, historian, and bookseller. She holds a degree in history and political science from the University of West Georgia. Her novels include Traitor, The Silent Unseen—named a School Library Journal Best Book of the Year 2022—and I'll Tell You No Lies, a Junior Library Guild Gold Standard Selection. She lives outside Nashville, Tennessee.
Praise For…
---
Junior Library Guild Selection
Amazon Best Book of the Month
Fully Booked by Kirkus Reviews Editors' Pick of the Week

"A fast-paced, twisty story that keeps readers on their toes . . . This spy thriller is peppered with rich period details. Shelby's character feels like an authentic portrayal of an intelligent, college-bound teenager of the time, lending the book the realistic air of the past come to vivid life. A fascinating dive into a segment of history that reverberates today." —Kirkus Reviews

"Tensely wrought . . . A high-stakes spy thriller that features period-relevant intrigue and simmering romance." —Publishers Weekly

"The ingenious McCrina (The Silent Unseen, 2022) ensures that readers will have a field day with this well-plotted, engaging thriller, and that's no lie." —Booklist

"McCrina develops an exciting, engrossing plot—as an unknown Soviet mole and known American operatives close in, Shelby and Maksim must choose what secrets to share, whether to trust one another, and how to save each other . . . Thrilling, historically accurate, and morally complex, this title is sure to please readers of Elizabeth Wein." —School Library Journal

"McCrina provides fascinating details about the Cold War era . . . Her characters, authentic development, and sharp dialogue keep the reader glued to the page." —The Historical Novel Society

"A thrilling dive into the complexities of the Cold War, I'll Tell You No Lies also provides a heartbreaking glimpse of lesser-known Ukrainian experiences during WWII. With unexpected twists and vibrant characters, McCrina's sharp, powerful prose shines in this brilliantly researched, fast-paced novel." —Erin Litteken, author of The Memory Keeper of Kyiv

"Amanda McCrina has hit it out of the ballpark with this tense and lean Cold War thriller, meticulously researched and tightly written. What I loved most about this novel is that it relied on no tropes nor stereotypes, but instead plunged the reader into a breathless time and place with authenticity and nuance. Brava." —Marsha Forchuk Skrypuch, author of Winterkill

"Tense, thrilling, and well-researched, Amanda McCrina's I'll Tell You No Lies immerses the reader into the fever pitch of the Cold War with captivating twists and turns." —Adrian Lysenko, author of Five Stalks of Grain

"McCrina's writing soars in this masterfully built Cold War-era thriller that will keep readers on the edge of their seats with its astonishing twists and turns. Start to finish a compulsive and emotional read." —Marina Scott, author of The Hunger Between Us