Hemlock Grove: A Novel (Paperback)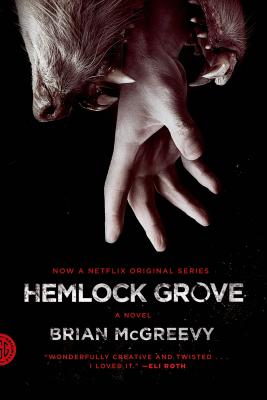 $17.00

Not Available In-Store - Usually Ships from Warehouse in 1-5 Days
Staff Reviews
---
What is it that haunts Hemlock Grove? Mystery rolls over everything like a cold thick fog. Chaos ensues as the body count of young girls piles up among the ruins of Godfrey Steel, threatening to illuminate secrets carefully locked up by a town that has passed on. Suspicion quickly falls on the most likely suspects: Peter Runancet, who wears his troubles and passions like a set of fangs, and Roman Godfrey whose strange powers and family name work to destroy him. Together they must find a way to break the curse of their namesakes, forge their true selves, and save what matters most. Everything you want out of a fast paced gothic thriller: sex, gore, werewolves, and the promise of more to come. Nothing is safe or sacred with Brain McGreevy behind the wheel, and I plan to be there for all of the stops. With a full series planned to air next year we will all be hearing more from this rising talent.
—
Drew
Description
---
An exhilarating reinvention of the gothic novel, inspired by the iconic characters of our greatest myths and nightmares. Hemlock Grove is now a hit television series on Netflix.

The body of a young girl is found mangled and murdered in the woods of Hemlock Grove, Pennsylvania, in the shadow of the abandoned Godfrey Steel mill. A manhunt ensues—though the authorities aren't sure if it's a man they should be looking for.

Some suspect an escapee from the White Tower, a foreboding biotech facility owned by the Godfrey family—their personal fortune and the local economy having moved on from Pittsburgh steel—where, if rumors are true, biological experiments of the most unethical kind take place. Others turn to Peter Rumancek, a Gypsy trailer-trash kid who has told impressionable high school classmates that he's a werewolf. Or perhaps it's Roman, the son of the late JR Godfrey, who rules the adolescent social scene with the casual arrogance of a cold-blooded aristocrat, his superior status unquestioned despite his decidedly freakish sister, Shelley, whose monstrous medical conditions belie a sweet intelligence, and his otherworldly control freak of a mother, Olivia.

At once a riveting mystery and a fascinating revelation of the grotesque and the darkness in us all, Hemlock Grove has the architecture and energy to become a classic in its own right—and Brian McGreevy the talent and ambition to enthrall us for years to come.
About the Author
---
Brian McGreevy grew up near Pittsburgh, Pennsylvania, and received his MFA from the Michener Center for Writers at the University of Texas. Now a screenwriter who has had two screenplays featured on the best of the year Black List, he is working on an adaptation of Dracula for Leonardo DiCaprio's production company. He lives in Los Angeles.
Praise For…
---
"It takes a rare stroke of genius to reconfigure the gothic novel within the postindustrial barrens of steel country, and another entirely to upstage this conceit with a mythic and ambitious story of adolescence and alienation. Like a collaboration between Edgar Allan Poe and J. D. Salinger, this is a real emerging talent." —Philipp Meyer, author of American Rust

"A wonderfully creative and twisted reinvention of classic monster archetypes, wrapped up in a mysterious thriller. I loved it. Brian McGreevy is a welcome new voice in horror literature, but be warned: it's not for the faint of heart, or stomach." —Eli Roth, director of Hostel

"This is . . . horror with a respect for its literary antecedents." —Yvonne Zipp, The Washington Post