On Earth as It Is in Heaven: A Novel (Paperback)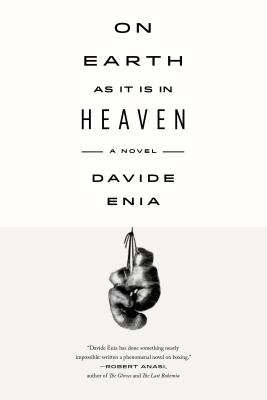 $22.00
Not Available In-Store - Usually Ships from Warehouse in 1-5 Days
Staff Reviews
---
There is a lot of testosterone in this novel. You've got boxing, the Mafia, World War II, vengeance, daggers, beautiful women, fist fights, bombs, blood, sweat, tears,.......and did I mention boxing? But underneath all that bravado, you also have some very fine story telling here. Enia weaves a tale of three generations of boxers on the island of Sicily. Those lives span the time from World War II to the 1970's. If it was just about all that machismo, this book would belong on the pages of one of those old True Men magazines of the 1950's. But there is an undercurrent of love, friendship, empathy, and valor that runs through the narrative of all these tough guys. There is a lot of the Paladin and the Poet in all these characters. (And I am speaking of the women in this tale, as well.) You don't have to be a big boxing fan or even knowledgeable of the sport to enjoy this book.
—
WALT'S STAFF PICKS
Description
---
A dark, gripping coming-of-age tale that explores violence, friendship, family, and what it means to be a man

Summer, Palermo, early 1980s. The air hangs hot and heavy. The Mafia-ruled city is a powder keg ready to ignite. In a boxing gym, a fatherless nine-year-old boy climbs into the ring to face his first opponent.

So begins On Earth as It Is in Heaven, a sweeping multigenerational saga that reaches back to the collapse of the Italian front in North Africa and forward to young Davidù's quest to become Italy's national boxing champion, a feat that has eluded the other men of his family.

But Davide Enia, whose layered, lyrical, nonchronological novel caused a sensation when it was published in Italy in 2012, has crafted an epic that soars in miniature as well. The brutal struggles for dominance among Davidù's all male circle of friends; his strict but devoted grandmother, whose literacy is a badge of honor; his charismatic and manipulative great-uncle, who will become his trainer—the vicious scenes and sometimes unsympathetic characters Enia sketches land hard and true.

On Earth as It Is in Heaven is both firmly grounded in what Leonardo Sciascia liked to call "Sicilitude" - the language and mentality of that eternally perplexing island - and devastatingly universal. A meditation on physical violence, love and sex, friendship and betrayal, boxing and ambition, Enia's novel is also a coming-of-age tale that speaks - sometimes crudely, but always honestly - about the joys and terrors of becoming a man.
About the Author
---
Davide Enia was born in 1974 in Palermo. He has written, directed, and performed in plays for the stage and the radio, and has been honored with the Ubu Prize, the Tondelli Award, and the ETI Award, Italy's three most prestigious theater prizes. He lives and cooks in Rome. On Earth as It Is in Heaven is his first novel.

Antony Shugaar is a writer and translator. Aside from Giorgio Faletti's A Pimp's Notes, his recent translations include books by Simonetta Agnello Hornby, Silvia Avallone, Nanni Balestrini (with an NEA translation fellowship), Fabio Bartolomei, Massimo Carlotto, Giancarlo De Cataldo, Diego De Silva, Marco Mancassola, Gianni Rodari, and Paolo Sorrentino. He is the author of  Coast to Coast and I Lie for a Living and the coauthor, with the late Gianni Guadalupi, of Discovering America and Latitude Zero. He has published with the Washington Post, the Boston Globe, and online with the New York Times, among other publications. He is currently at work on a book about translation for the University of Virginia Press.
Praise For…
---
"Interspersed throughout are rich stories of family history: his father's childhood and boxing career, his grandfather surviving a North African P.O.W. camp and life lessons from the grandmother Davidù adores and reveres . . . Enia, a playwright, is as adept at capturing the chaotic vibe of his native city ('Arteries that turn into piazzas, alleys that dovetail at diagonal angles') as he is at depicting the quick, furious violence of the boxing ring and the casual brutalities of boyhood." —Carmela Ciuraru, The New York Times Book Review

"[On Earth As it Is in Heaven] is proof that few stories resonate more powerfully than the most primal one: how a boy becomes a man and learns to negotiate his environment on his own . . . In Enia's capable hands, boxing looks like a path to manhood not because of some crude equation of violence and masculinity . . . but because it is damned difficult and demands self-denial and discipline of the highest order. 'Boxer' is not an identity one pulls on like a pair of pants. It is earned by blood and sweat, if not, in the gladiatorial arena that is Palermo, luxurious tears . . . Enia's book has a remarkable sense of history . . . The narrative skips around so wantonly that it is at times difficult to make sense of it, but this serves not only to keep the reader on his toes but also to remind him that life is chaos and that the price of manhood is a readiness to live through even the most terrifying circumstances and tragedies: 'The truth is that there are times when hard knocks in the head can be good for you.' Enia writes with passion and, though his savage subject matter rarely permits it, humor . . . Enia's accounts of fights pack the from-the-hips punch of vivid sportswriting, but he is just as successful narrating the turbulent emotional life of boys and men alike. He gives his readers a fully realized world. He also delineates the difference, and it is an all-important one, between being yourself, trying to be something you're not, and the business of all aspiring men--trying to become something you're not yet." —Stefan Beck, The New Criterion

"Davide Enia has done something nearly impossible: written a phenomenal novel on boxing." —Robert Anasi, author of The Gloves: A Boxing Chronicle and The Last Bohemia: Scenes from the Life of Williamsburg, Brooklyn

"Enia's unusual novel about a teenage Sicilian boxer in a family of boxers was a critical and commercial success when it was published in Italy in 2012, and it's easy to see why. Not only does the author offer a gripping multigenerational saga about an Italian family living in the shadow of war--two world wars and the Mafia gang wars that gripped Palermo in the 1980s--but he also layers an intense look at the insular world of boxing into a moving coming-of-age story about young Davide's attempt to claim the crown that was denied to both his father and his uncle: the Italian national boxing championship. On one hand, the boxing story recalls Robert Lipsyte's groundbreaking YA novel, The Contender (1967), with a touch of Chuck Palaniuk's Fight Club (1996); but on the other hand, the almost surrealistic account of the collapse of the Italian front in Africa during WWII suggests Haruki Murakami. Somehow, in Shugaar's nimble translation, the disparate themes and story lines come together naturally. Above all, Enia's exploration of the many sides of masculinity, Sicilian style--some crippling, some inspiring--is challenging and intensely emotional. " —Bill Ott, Booklist

"There is an honesty about this book that beggars explanation . . . The payoff is a picture of a real if disturbing world laid bare. There is a lot of 'laid bare' in this book. It is, among other things, about what men do to women in acts of aggression disguised as misbegotten 'manliness.' . . . The novel can be read as a punch-out from start to finish." —Michael D. Langan, The Buffalo News

"This Sicilian novel encompasses a multigenerational family--against a backdrop of war and the Mafia--as it tells the story of how a boy becomes a boxer and a man. This debut by an Italian novelist with previous playwriting experience shows the maturation of a 9-year-old boy into a champion-caliber boxer, following in the footsteps of the father he never knew and the uncle who has trained him. It's also a story of sexual awakening, as the protagonist's lifelong attraction to a girl he met when she was 9 becomes complicated by his involvement with her friend. The first-person narrative leaps around chronologically while rarely straying far from Palermo, where Enia was raised. 'Palermo has always been a powder keg,' he writes of the Sicilian capital, devastated by war and then terrorized by Mafia blood baths. Since all boxers have nicknames, the boy becomes known as Poet, a reflection of his sensitive, literary side, which will distinguish him from the brutishness surrounding him. Throughout the novel, the men are exceedingly macho, the women exaggeratedly sensual: '[H]er mouth, dripping with lipstick, prominent, fleshy, a living invitation to sin. When she swung her hips down the street, men went home with sprained necks . . . Heads of households went head over heels for her. Between her legs, months of hard-won savings were abandoned. Her cleavage was strewn with the wreckage of mortgages.' Though the price for such a woman is a comparatively straightforward transaction, the protagonist learns that 'everything has a price, not even death comes for free, you have to pay for it with your life.' Though it can be a struggle to keep the narrative strands straight and see how they connect, a virtuoso climax ties everything together . . . The novel explores just what it means to be a man." —Kirkus

"Davide Enia tells a compelling story, set in his native Sicily, of violence and love. It is about a young boxer pursuing a championship but faced with distractions that his ancestors knew all too well. The writing is spectacular." —William Gildea, author of The Longest Fight: In the Ring with Joe Gans, Boxing's First African American Champion

"A feint, a dodge, a strike, you back away and then you land the decisive punch. As entertaining as a bout, as powerful as a direct hit: a book that leaves you as breathless as a punch in the gut . . . Enia, a man of the theater as well as of music, tells--in language that's sometimes like ballet and sometimes like hand-to-hand combat, dense and graceful by turns--the sentimental and pugilistic education of a young native of Palermo in the 1990s . . . Enia strikes and leaves a mark." —Giorgio Maimone, Gioia

"The style here is essential, the dialogue is lightning quick, the characters and scenes are as vivid as if the reader were watching a play instead of reading a book." —Angiola Codacci-Pisanelli, L'Espresso

"Truth and simplicity . . . [and] furious talent. On Earth as It Is in Heaven, Davide Enia's debut novel, has these three powers . . . The fury of Enia's writing is tied to his authenticity, his telling things how they are . . . which lends the novel the rhythm of the ring. One intuits that there's something lived and indelible, something true, in this book . . . A powerful novel." —Marco Missiroli, Vanity Fair (Italy)