The Correspondence: Essays (Hardcover)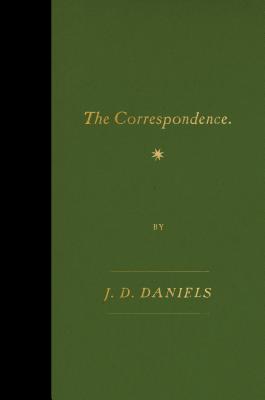 Staff Reviews
---
Generally I don't care for non-fiction. Using my brain to hold factual information is a lot like using a fishnet stocking as a water balloon. But this book has such narrative swagger that it's hard to believe it's a chronicle of real events in a man's life. And this man will be your brain's new resident badass, and this will be the only misanthropic self-help book you ever read. It's not corny, woo-woo nonsense. It promises no health or happiness. It proffers no multi-step formula for any variety of actualization. It's just a gut-punch of sometimes darkly humorous, sometimes shockingly insightful life experience that will unzip your body and hold your withered soul up in front of your face for your own appraisal, which is the best and truest thing a book can do.
—
Joel
Description
---
The first collection from a Whiting Writers' Award winner whose work has become a fixture of The Paris Review and n+1
Can civilization save us from ourselves? That is the question J. D. Daniels asks in his first book, a series of six letters written during dark nights of the soul. Working from his own highly varied experience—as a janitor, a night watchman, an adjunct professor, a drunk, an exterminator, a dutiful son—he considers how far books and learning and psychoanalysis can get us, and how much we're stuck in the mud.
In prose wound as tight as a copper spring, Daniels takes us from the highways of his native Kentucky to the Balearic Islands and from the Pampas of Brazil to the rarefied precincts of Cambridge, Massachusetts. His traveling companions include psychotic kindergarten teachers, Israeli sailors, and Southern Baptists on fire for Christ. In each dispatch, Daniels takes risks—not just literary (voice, tone, form) but also more immediate, such as spending two years on a Brazilian jiu-jitsu team (he gets beaten to a pulp, repeatedly) or participating in group psychoanalysis (where he goes temporarily insane).
Daniels is that rare thing, a writer completely in earnest whose wit never deserts him, even in extremis. Inventive, intimate, restless, streetwise, and erudite, The Correspondence introduces a brave and original observer of the inner life under pressure.
About the Author
---
J. D. Daniels is the recipient of a 2016 Whiting Writers' Award and The Paris Review's 2013 Terry Southern Prize. His "Letter from Majorca" was selected for The Best American Essays 2013. He lives in Cambridge, Massachusetts. The Correspondence is his debut book.
Praise For…
---
"[A] stunning debut . . . Delivered with the storytelling talents of John Jeremiah Sullivan and brimming with the folkloric, true-life tales of Breece D'J Pancake, these tales are funny; unrepentantly realist; and, in their way, awfully elegant . . . With careful wit, an attention to emotional nuance that reaches down to the gut, and an astounding ear for dialogue, Daniels writes with a kind of brutal authenticity that is not easily faked, whichever side of auto-fiction's hyphen he's writing from." —Diego Báez, Booklist (starred review)
"A fascinating correspondence . . . Throughout the book, Daniels masterfully hints at other stories just off the page, revealing much about himself but never too much . . . The letters here represent a bold and daring contribution to belles lettres; Daniels is an essayist to watch." —Publishers Weekly
"An essayist who writes like a rattlesnake, his sentences coiled yet always ready to strike with venomous impact . . . [Daniels's] spare, elemental prose conjures old haunts, old hurts, and old friends who are dead or are in prison . . . extraordinary . . . An uncommonly auspicious debut." —Kirkus Reviews (starred review)
"The Correspondence is one of the best things I've read in a long time, a whole new music that changes the score of masculinity, and a new kind of writing too, one that pushes form and sentence into radical, contemporary shapes. The word 'honesty' has become something of an irritant in contemporary literary culture: J. D. Daniels does something more moral than be simply honest. He invokes the grandeur and abasement of experience with a tactility of language that makes a psychological landscape of it, rather as the ancient Greeks did, and his notions of justice and truth are as richly textured as theirs. I have lent this slim, meaningful book to one person after another, and received the confirmation that it has changed their view of the world with its economy, its potency, its different fall of light."
—Rachel Cusk, author of TRANSIT
"Masculinity as vulnerable, smelly smackdown, personal failure as syntactic delight: In this volatile, brilliant collection, Daniels recollects in not-quite tranquility a series of synesthesiac rearrangements of the self. The riveting swerves of his sentences and of his geographic and spiritual wanderings will make you keep asking what "here" might be. These essays pay tribute to 'the world… our common property.'"
—Lisa Cohen, author of ALL WE KNOW

"The Correspondence gives off the unmistakeable crackle of an original writer who has found a new form. It's hard to say who or what is meant to be on the receiving end of these "letters," but if you care about modern life you need to read them."
—John Jeremiah Sullivan, author of PULPHEAD
"Daniels sees what others don't, feels what others won't, and writes what others can't. He is a blazing virtuoso of the English sentence, an oracle with a vulnerable and willing heart, and he has produced a shockingly perfect book."
—Sarah Manguso, author of ONGOINGNESS
"J. D. Daniels's The Correspondence is an epic in fragments: masterly, comic, wise, daring. It is a book for everyone, from Kentucky to Cambridge to Kathmandu, though as a reader you may feel that Daniels is trafficking in secrets, meant for you alone. It is occult. It is so strong, it will melt the books on the shelves around it. This is a book that will become a legend, introducing one of the very best writers in the country. If I could thrust it into every true reader's hands, I would."
—Mark Greif, author of THE AGE OF THE CRISIS OF MAN
"What a nutjob! Increasingly these three words constitute my highest praise for – almost my ideal of – a writer, and in this regard J. D. Daniels takes the biscuit. I love the way he throws out everything, both in the sense of throwing it all at us, and the opposite: discarding everything that might be deemed necessary to the seemly construction of narrative. So The Correspondence gives us the best of both worlds."
—Geoff Dyer, author of WHITE SANDS
"Questions that occurred to me as I read this brilliant, baffling book: What the hell is this? Who the hell is this? Is this poetry? How can that sentence be so good? Can I steal that later? In 130 pages, Daniels shows you just about everything great prose can do. Books like this are why I read."
—Tom Bissell, author of APOSTLE
"Through the speed and shocking cuts of his prose, Daniels shows us what it is to be a writer now. Each of these six letters is a modern expression of Baudelaire's tortured prayer: 'O Lord God grant me the grace to produce a few good verses, which shall prove to myself that I am not the lowest of men, that I am not inferior to those whom I despise.'"
—Michael Clune, author of GAMELIFE
"J.D. Daniels is a scourge to an America drunk on fraudulent images of masculinity and to a literary scene enamored of dainty exhibitionism. A writer so rigorously on guard against complacency that he's likely to take any compliment paid him like a slap in the face."
—Marco Roth, author of THE SCIENTISTS