Annihilation: A Novel: Movie Tie-In Edition (The Southern Reach Trilogy #1) (Paperback)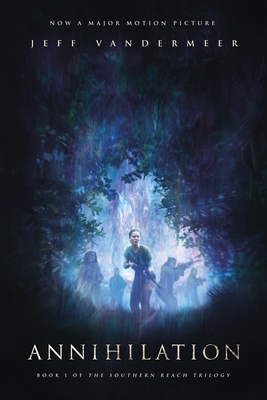 Staff Reviews
---
Living up to its namesake, Annihilation, this novel is permeated by a sense of dread. An expedition of 4 scientists travel to Area X—long isolated from the rest of the continent after some type of environmental Event, or something peculiar, happened there. After every expedition before has ended in a shroud of mystery, from mass suicides to others returning vastly changed, this story follows the biologist of the 12th expedition. Shortly after crossing the border into Area X, her team finds a mysterious structure buried in the landscape that was not in any of their maps or other briefing materials. A mysterious and existential plot within, this novel contains great nods to the likes of H.P. Lovecraft and Stanley Kubrick along with the intense pacing of television dramas like LOST. Just enough is revealed about Area X in this first installment of the trilogy that I am very excited to learn more in forthcoming installments all to be released this year.
—
Jeremy's Staff Picks
Description
---
NOW A MAJOR MOTION PICTURE FROM ALEX GARLAND, STARRING NATALIE PORTMAN AND OSCAR ISAAC

The Southern Reach Trilogy begins with this Nebula Award-winning novel that "reads as if Verne or Wellsian adventurers exploring a mysterious island had warped through into a Kafkaesque nightmare world" (Kim Stanley Robinson).

Area X has been cut off from the rest of the continent for decades. Nature has reclaimed the last vestiges of human civilization. The first expedition returned with reports of a pristine, Edenic landscape; the second expedition ended in mass suicide; the third expedition in a hail of gunfire as its members turned on one another. The members of the eleventh expedition returned as shadows of their former selves, and within weeks, all had died of cancer. In Annihilation, the first volume of Jeff VanderMeer's Southern Reach trilogy, we join the twelfth expedition.
The group is made up of four women: an anthropologist; a surveyor; a psychologist, the de facto leader; and our narrator, a biologist. Their mission is to map the terrain, record all observations of their surroundings and of one another, and, above all, avoid being contaminated by Area X itself.
They arrive expecting the unexpected, and Area X delivers—they discover a massive topographic anomaly and life forms that surpass understanding—but it's the surprises that came across the border with them and the secrets the expedition members are keeping from one another that change everything.
About the Author
---
Jeff VanderMeer is the author of Dead Astronauts, Borne, and The Southern Reach Trilogy, the first volume of which, Annihilation, won the Nebula Award and the Shirley Jackson Award and was adapted into a movie by Alex Garland. VanderMeer speaks and writes frequently about issues relating to climate change. He lives in Tallahassee, Florida, with his wife, Ann VanderMeer, and their cats, plants, and bird feeders.
Praise For…
---
"I'm loving The Southern Reach trilogy by Jeff VanderMeer. Creepy and fascinating." —Stephen King

"VanderMeer's dreamy narrative, shot through with echoes of Lovecraft, Orwell, and Kafka, is compulsively readable." —Tina Jordan, Entertainment Weekly

"Chilling." —Julie Bosman, New York Times

"VanderMeer masterfully conjures up an atmosphere of both metaphysical dread and visceral tension . . . Annihilation is a novel in which facts are undermined and doubt instilled at almost every turn. It's about science as a way of not only thinking but feeling, rather than science as a means of becoming certain about the world. . . . Ingenious." —Laura Miller, Salon

"A clear triumph for Vandermeer . . . a compelling, elegant, and existential story . . . The solitary voice of its post-humanist narrator is both deeply flawed and deeply trustworthy—a difficult and excellent balance in a novel whose world is built seamlessly and whose symbols are rich and dark." —Lydia Millet, LA Times

"A book about an intelligent, deadly fungus makes for an enthralling read—trust us." —Tara Wanda Merrigan, GQ

"[An] altogether fantastic book . . . Annihilation is a book meant for gulping--for going in head-first and not coming up for air until you hit the back cover." —Jason Sheehan, NPR Books

"Successfully creepy, an old-style gothic horror novel set in a not-too-distant future. The best bits turn your mind inside out." —Sara Sklaroff, The Washington Post

"If J.J. Abrams-style by-the-numbers stories of shadowy organizations and science magic have let you down one too many times, then Annihilation will be more like a revelation. VanderMeer peels back the skin of the everyday, and gives you a glimpse of a world where science really is stretching the bounds of our knowledge—sometimes to the point where we can't ever be the same . . . [Annihilation] will make you believe in the power of science mysteries again." —Annalee Nevitz, io9

"Fans of the Lost TV series . . . this one is for you." —Molly Driscoll, Christian Science Monitor

"What frightens you? According to many psychologists, our most widely shared phobia is the fear of falling. Jeff VanderMeer's novel Annihilation taps into that bottomless terror . . . VanderMeer ups the book's eeriness quotient with the smoothest of skill, the subtlest of grace. His prose makes the horrific beautiful." —Nisi Shawl, Seattle Times

"Much of the flora and fauna seem familiar, but that's what's so fascinating about the carnage that VanderMeer sets loose. He has created a science fiction story about a world much like our own." —John Domini, Miami Herald

"Annihilation feels akin to isolated sci-fi terrors of Alien . . . teases and terrifies and fascinates." —Kevin Nguyen, Grantland

"The plot moves quickly and has all the fantastic elements you'd ever want--biological contaminants, peculiar creatures, mysterious deaths--but it's the novel's unbearable dread that lingers with me days after I've finished it." —Justin Alvarez, The Paris Review
"It's been a long time since a book filled me with this kind of palpable, wondrous disquiet, a feeling that started on the first page and that I'm not sure I've yet shaken." —Matt Bell, author of In the House upon the Dirt between the Lake and the Woods

"A tense and chilling psychological thriller about an unraveling expedition and the strangeness within us. A little Kubrick, a lot Lovecraft, the novel builds with an unbearable tension and a claustrophobic dread that linger long afterward. I loved it." —Lauren Beukes, author of The Shining Girls

"One of those books where it all comes together--the story and the prose and the ideas, all braided into a triple helix that gives rise to something vibrant and alive. Something that grows, word-by-word, into powerful, tangled vines that creep into your mind and take hold of it. Annihilation is brilliant and atmospheric, a novel that has the force of myth." —Charles Yu, author of How to Live in a Science Fictional Universe

"In much of Jeff VanderMeer's work, a kind of radiance lies beating beneath the surface of the words. Here in Annihilation, it shines through with warm blazing incandescence. This is one of a grand writer's finest and most dazzling books." —Peter Straub, author of Lost Boy, Lost Girl

"A dazzling book . . . haunted and haunting." —Kelly Link, author of Magic for Beginners

"The great thing about Annihilation is the strange, elusive, and paranoid world that it creates . . . I can't wait for the next one." —Brian Evenson, author of Last Days

"This swift surreal suspense novel reads as if Verne or Wellsian adventurers exploring a mysterious island had warped through into a Kafkaesque nightmare world. The reader will want to stay trapped with the Biologist to find the answers to Area X's mysteries." —Kim Stanley Robinson, author of the Mars trilogy

"After their high-risk expedition disintegrates, it's every scientist for herself in this wonderfully creepy blend of horror and science fiction . . . Speculative fiction at its most transfixing." —Kirkus Reviews (starred review)

"A gripping fantasy thriller, Annihilation is thoroughly suspenseful. In a manner similar to H. G. Wells's in The Island of Dr. Moreau (1896), VanderMeer weaves together an otherworldly tale of the supernatural and the half-human. Delightfully, this page-turner is the first in a trilogy." —Heather Paulson, ALA Booklist (starred review)