Annihilation: A Novel: Movie Tie-In Edition (The Southern Reach Trilogy #1) (Paperback)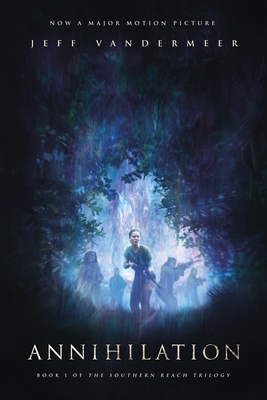 $14.00
Not Available In-Store - Usually Ships from Warehouse in 1-5 Days
Staff Reviews
---
Living up to its namesake, Annihilation, this novel is permeated by a sense of dread. An expedition of 4 scientists travel to Area X—long isolated from the rest of the continent after some type of environmental Event, or something peculiar, happened there. After every expedition before has ended in a shroud of mystery, from mass suicides to others returning vastly changed, this story follows the biologist of the 12th expedition. Shortly after crossing the border into Area X, her team finds a mysterious structure buried in the landscape that was not in any of their maps or other briefing materials. A mysterious and existential plot within, this novel contains great nods to the likes of H.P. Lovecraft and Stanley Kubrick along with the intense pacing of television dramas like LOST. Just enough is revealed about Area X in this first installment of the trilogy that I am very excited to learn more in forthcoming installments all to be released this year.
—
Jeremy's Staff Picks
Description
---
NEW YORK TIMES BESTSELLER

The Southern Reach Trilogy begins with this Nebula Award-winning novel that "reads as if Verne or Wellsian adventurers exploring a mysterious island had warped through into a Kafkaesque nightmare world" (Kim Stanley Robinson).

Area X has been cut off from the rest of the continent for decades. Nature has reclaimed the last vestiges of human civilization. The first expedition returned with reports of a pristine, Edenic landscape; the second expedition ended in mass suicide; the third expedition in a hail of gunfire as its members turned on one another. The members of the eleventh expedition returned as shadows of their former selves, and within weeks, all had died of cancer. In Annihilation, the first volume of Jeff VanderMeer's Southern Reach trilogy, we join the twelfth expedition.
The group is made up of four women: an anthropologist; a surveyor; a psychologist, the de facto leader; and our narrator, a biologist. Their mission is to map the terrain, record all observations of their surroundings and of one another, and, above all, avoid being contaminated by Area X itself.
They arrive expecting the unexpected, and Area X delivers—they discover a massive topographic anomaly and life forms that surpass understanding—but it's the surprises that came across the border with them and the secrets the expedition members are keeping from one another that change everything.
About the Author
---
Jeff VanderMeer's NYT-bestselling Southern Reach trilogy has been translated into over 35 languages. The first novel, Annihilation, won the Nebula Award and Shirley Jackson Award, and was made into a movie by Paramount in 2018. Recent works include Dead Astronauts, Borne (a finalist for the Arthur C. Clarke Award), and The Strange Bird. These novels, set in the Borne universe, are being developed for TV by AMC. Called "the weird Thoreau" by The New Yorker, VanderMeer frequently speaks about issues related to climate change and storytelling. He lives in Tallahassee, Florida, with his wife Ann, cat Neo, and a yard full of native plants.
Praise For…
---
"It's been a long time since a book filled me with this kind of palpable, wondrous disquiet, a feeling that started on the first page and that I'm not sure I've yet shaken." —Matt Bell, author of In the House upon the Dirt between the Lake and the Woods

"A tense and chilling psychological thriller about an unraveling expedition and the strangeness within us. A little Kubrick, a lot Lovecraft, the novel builds with an unbearable tension and a claustrophobic dread that linger long afterward. I loved it." —Lauren Beukes, author of The Shining Girls

"Original and beautiful, maddening and magnificent." —Warren Ellis

"One of those books where it all comes together--the story and the prose and the ideas, all braided into a triple helix that gives rise to something vibrant and alive. Something that grows, word-by-word, into powerful, tangled vines that creep into your mind and take hold of it. Annihilation is brilliant and atmospheric, a novel that has the force of myth." —Charles Yu, author of How to Live in a Science Fictional Universe

"In much of Jeff VanderMeer's work, a kind of radiance lies beating beneath the surface of the words. Here in Annihilation, it shines through with warm blazing incandescence. This is one of a grand writer's finest and most dazzling books." —Peter Straub, author of Lost Boy, Lost Girl

"A dazzling book . . . haunted and haunting." —Kelly Link, author of Magic for Beginners

"The great thing about Annihilation is the strange, elusive, and paranoid world that it creates . . . I can't wait for the next one." —Brian Evenson, author of Last Days

"This swift surreal suspense novel reads as if Verne or Wellsian adventurers exploring a mysterious island had warped through into a Kafkaesque nightmare world. The reader will want to stay trapped with the Biologist to find the answers to Area X's mysteries." —Kim Stanley Robinson, author of the Mars trilogy

"After their high-risk expedition disintegrates, it's every scientist for herself in this wonderfully creepy blend of horror and science fiction . . . Speculative fiction at its most transfixing." —Kirkus Reviews (starred review)

"A gripping fantasy thriller, Annihilation is thoroughly suspenseful. In a manner similar to H. G. Wells's in The Island of Dr. Moreau (1896), VanderMeer weaves together an otherworldly tale of the supernatural and the half-human. Delightfully, this page-turner is the first in a trilogy." —Heather Paulson, ALA Booklist (starred review)