Wake, Siren: Ovid Resung (Paperback)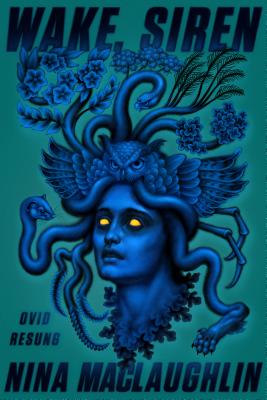 Description
---
In fierce, textured voices, the women of Ovid's Metamorphoses claim their stories and challenge the power of myth

I am the home of this story. After thousands of years of other people's tellings, of all these different bridges, of words gotten wrong, I'll tell it myself.

Seductresses and she-monsters, nymphs and demi-goddesses, populate the famous myths of Ovid's Metamorphoses. But what happens when the story of the chase comes in the voice of the woman fleeing her rape? When the beloved coolly returns the seducer's gaze? When tales of monstrous transfiguration are sung by those transformed? In voices both mythic and modern, Wake, Siren revisits each account of love, loss, rape, revenge, and change. It lays bare the violence that undergirds and lurks in the heart of Ovid's narratives, stories that helped build and perpetuate the distorted portrayal of women across centuries of art and literature.

Drawing on the rhythms of epic poetry and alt rock, of everyday speech and folk song, of fireside whisperings and therapy sessions, Nina MacLaughlin, the acclaimed author of Hammer Head, recovers what is lost when the stories of women are told and translated by men. She breathes new life into these fraught and well-loved myths.
About the Author
---
Nina MacLaughlin is the author of the acclaimed memoir Hammer Head: The Making of a Carpenter. Formerly an editor at The Boston Phoenix, she is a books columnist for The Boston Globe and has written for publications including The Paris Review Daily, The Believer, the Los Angeles Review of Books, The Wall Street Journal, Bookslut, The Daily Beast, Cosmopolitan, andThe Huffington Post. She was also recognized in Refinery29's list of "21 New Authors You Need to Know." She lives in Cambridge, Massachusetts.
Praise For…
---
A Most Anticipated Book of 2019 at Lit Hub

"More than thirty women from Ovid's Metamorphoses . . . reclaim their stories in this stirring collection of vignettes. The women of MacLaughlin's retelling drink kombucha, dabble in oxycodone, wear jeans and sneakers, and call the King of Thebes "this asshole jock." Above all, they both suffer and find strength at the hands of lascivious men and wrathful gods."
—The New Yorker

"Old myths translated into bright and glorious colors. I loved this."
—Kelly Link, author of Get in Trouble

"Wake, Siren manages to feel uniquely close to Metamorphoses while recasting it totally—a real feat of writing . . . MacLaughlin's words feel additive, creative, something good pulled from difficult source material. Her stories about rape are complicated and multidimensional, avoiding the flatness that can come with stories we think we already know . . . Wake, Siren is a powerful artistic answer to a question of our time: What are we supposed to do with all these myths that take rape as their starting point?"
—Sophie Haigney, The Nation

"Nina MacLaughlin has done something audacious. She has invited the female characters in Ovid—daughter, mother, sister, wife, widow, queen, nymph, maenad, monster, even the blind seer Tiresias—to sing through her, and now we know how it feels to be stalked by Polyphemus, to be raped by Neptune, to be pregnant with Hercules, to be transformed into a reed, a cow, a fountain, a spider, a constellation. Wake, Siren is a stunning and sustained performance, in language bold and lyrical, direct yet sensual, and loaded with natural beauty."
—Mary Norris, author of Greek to Me

"Provocative reinterpretations of some very old stories . . . [Nina MacLaughlin] sets herself apart is by focusing on female characters, many of them less well known to a contemporary audience . . . MacLaughlin succeeds in making these stories fresh and distinct by allowing her protagonists to speak in their own voices. Vital, vivid, and angry."
—Kirkus, starred review

"MacLaughlin skillfully elevates what could have been merely a writerly exercise, instead composing a chorus of women's justifiable rage echoing down through the millennia."
—Publishers Weekly

"Venture back into myth, to Ovid's Metamorphoses, to hear from the seductresses, the nymphs, and the goddesses. Finally."
—Katie Yee, Lit Hub

"Wake, Siren is by turns sensual and searing, a gorgeous book that completely enthralls its readers. Each page is a revelation, and their combined effect is a stunning and welcomed new perspective on Ovid's myths. Nina MacLaughlin's vision approaches clairvoyance and her voice is powerful, provocative, and, at this moment in history, undeniably necessary."
—Bret Anthony Johnston, author of Remember Me Like This

"Wake, Siren is the book I've been waiting for since I was ten years old and reading The D'Aulaires' Book of Greek Myths. Savage, cheeky, incisively aware of the social-domestic-economical-political thorninesses that prick (and mortally or immortally wound) interactions between power unequals, MacLaughlin opens a pressure valve that's been sealed shut for centuries. With Wake, Siren, MacLaughlin proves she is a writer of unparalleled versatility, formal daring, and political imagination."
—Heidi Julavits, author of The Folded Clock

"Ever since I first read Ovid's Metamorphoses, I've been waiting to hear from the sirens, goddesses, and nymphs in its pages. Nina MacLaughlin has granted my wish, in electric prose both modern and ancient, giving voice to the victims and villains whose only crime often was being female. Wake, Siren is a must-read for anyone who grew up reading myth but identified with the monsters."
—Amber Sparks, author of The Unfinished World

"Nina MacLaughlin's first book taught me how to successfully grade a tile shower floor, and now she's gone and reimagined Ovid's mythical women, insinuating the rage of our contemporary moment into stories freshly alive with rumblings of gender and power. Weird, often hilarious, and consistently beautiful, Wake, Siren offers portraits of the likes of Medusa, Callisto, and Sibyl, but above all, it provides a breathless look inside a razor-sharp mind."
—Kristen Radtke, author of Imagine Wanting Only This

"Wake, Siren is ferocious and fun, full of tenderness and bravado. Nina MacLaughlin's curiosity and imagination will drive you back to ancient texts (or at least to Wikipedia), and make you look at literature differently, imagining what else could be transformed by the voices of women, speaking for themselves."
—Meaghan O'Connell, author of And Now We Have Everything