Biography of X: A Novel (Hardcover)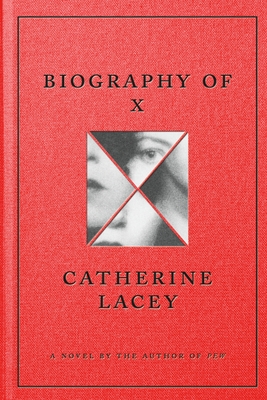 Description
---
Named one of the Best Books of 2023 by The New York Times, the New Yorker, Vulture, NPR, the Los Angeles Times, Esquire, Time, Publishers Weekly, Kirkus, Lit Hub, and Amazon. National Bestseller. Winner of the 2023 Brooklyn Library Prize. A New York Times Book Review Editors' Choice.

"A major novel, and a notably audacious one." —Dwight Garner, The New York Times

"It feels fairly rare for a novel to be hugely intelligent and moving and fun in equal measure, but with Biography of X, Catherine Lacey somehow—magically—makes the nearly impossible look easy." —Lauren Groff

From one of our fiercest stylists, a roaring epic chronicling the life, times, and secrets of a notorious artist.

When X—an iconoclastic artist, writer, and polarizing shape-shifter—falls dead in her office, her widow, CM, wild with grief and refusing everyone's good advice, hurls herself into writing a biography of the woman she deified. Though X was recognized as a crucial creative force of her era, she kept a tight grip on her life story. Not even CM knows where X was born, and in her quest to find out, she opens a Pandora's box of secrets, betrayals, and destruction. All the while, she immerses herself in the history of the Southern Territory, a fascist theocracy that split from the rest of the country after World War II, and which finally, in the present day, is being forced into an uneasy reunification.

A masterfully constructed literary adventure complete with original images assembled by X's widow, Biography of X follows CM as she traces X's peripatetic trajectory over decades, from Europe to the ruins of America's divided territories, and through her collaborations and feuds with everyone from Bowie and Waits to Sontag and Acker. At last, when she finally understands the scope of X's defining artistic project, CM realizes her wife's deceptions were far crueler than she imagined.

Pulsing with suspense and intellect while blending nonfiction and fiction, Biography of X is a roaring epic that plumbs the depths of grief, art, and love. In her most ambitious novel yet, Catherine Lacey pushes her craft to its highest level, introducing us to an unforgettable character who, in her tantalizing mystery, shows us the fallibility of the stories we craft for ourselves.
About the Author
---
Catherine Lacey is the author of the novels Nobody Is Ever Missing, The Answers, and Pew, and the short story collection Certain American States. She has received a Guggenheim Fellowship, a Whiting Award, the New York Public Library's Young Lions Fiction Award, and a New York Foundation for the Arts fellowship. She has been a finalist for the Dylan Thomas Prize and the PEN/Jean Stein Book Award, and was named one of Granta's Best of Young American Novelists. Her essays and short fiction have appeared in The New Yorker, Harper's Magazine, The New York Times, The Believer, and elsewhere.
Praise For…
---
"This is a major novel, and a notably audacious one. Lacey is pulling from a deep reservoir. Beneath the counterfactuals, and the glamour and squalor of Manhattan nightlife, and the mythologies bought and sold, she's telling a love story of a broken sort. C.M. is flinging rope between her present and past. This book is about facing, and accepting, the things you didn't want to know." —Dwight Garner, The New York Times

"Lacey imposes a truly outstanding narrative authority on her pseudo-biography . . . the audacity of this book . . . seems likely to bring her to a much wider audience. If this does mark Ms. Lacey's deserved elevation to mainstream attention, she has accomplished it without diluting the vital qualities of confusion, yearning and mystery." —Sam Sacks, The Wall Street Journal

"[A] staggering achievement . . . [a] masterpiece about the slippery nature of art, identity, and truth." —Adrienne Westenfeld, Esquire

"Brilliant, astonishing . . . The book is a marvelous centrifuge, in which political and cultural histories of the American 20th century collapse." —Chris Kraus, The Washington Post

"Genre-quaking . . . A true magnum opus . . . [X is] an unstable new element in the periodic table of literature." —Hillary Kelly, The Atlantic

"In its boldness of premise and execution, Biography of X goes above and beyond, under the river and through the woods. It flaunts world-building skills that the writers of HBO's "Game of Thrones" wish they'd had . . . Lacey is one of the most fearless novelists writing today." —Jessica Ferri, Los Angeles Times

"Haunting, genre-bending . . . It's like looking at a family photograph in which something truly extraordinary – an avalanche or alien invasion – is taking place in the background . . . A lovingly made facsimile of a nonfiction book, Biography of X resembles a Tlönian artefact from a parallel reality. Though it may not change the world, it will leave the reader altered." —Marcel Theroux, The Guardian

"Lacey has done such a brilliant job of making X impossible to envision, impossible to feel or grasp . . . There is an ambition in The Biography of X that's thrilling not least because it shows how endless, how elastic and expansive—at a time when so much storytelling feels constricted, tight and close on a single consciousness—fiction can be." —Lynn Steger Strong, The New Republic

"A Scheherazade-like sequence of stories. Most of these stories are about the charismatic X's life and fabrications; all of them are arresting in their originality; and, the final story that CM is led to, housed in a storage facility, is devastating . . . Just when you think you have a handle on Biography of X, it escapes the stack of assumptions where you thought you'd put it, like a profile or an obituary you'd started reading in yesterday's tossed-out paper." —Maureen Corrigan, NPR's Fresh Air

"Lacey's fifth book bursts with urbane vitality. The author convinces us by the sheer inventiveness of her artifice . . . Biography of X is the author's most ambitious and enjoyable novel yet, filled with the subversive humour and verve only hinted at in her previous books . . . Catherine Lacey is clear-eyed about human dependency and self-delusion." —Jude Cook, TLS

"a towering work that comments on, among things, art-world ridiculousness, the elasticity of identity, culture divides in the United States, and the fool's errand of compressing a life into narrative . . . Beyond the book-as-book exercise, Lacy's inventiveness when describing X's various attention-grabbing exhibitions, and the genius visual annotations, Biography of X consistently stuns on a sentence-to-sentence basis. This is a wise, wise work." —Rich Juzwiak, Jezebel

"Lacey artfully blends historical anecdotes—X is seen penning songs for David Bowie and attending openings with Richard Serra—into her fictional universe, making uncomfortable connections between X's fragile world and our own." —The New Yorker

"Bold and exhilarated, figuring itself out as it moves forward, an act of raucous creativity." —Jackie Thomas-Kennedy, Minneapolis StarTribune

"Brimming with negative capability, intrigue, and erudition, Biography of X is at once a tense, tongue-in-cheek cautionary tale for the United States and a robustly supported argument for the idea that biographical knowledge alters the reading of an artwork." —Jenny Wu, Los Angeles Review of Books

"Lacey is brilliant. As in her earlier fiction, she is thinking deeply about what we give up to other people when we love them . . . in Biography of X, she has reached a new level of understanding." —Emma Alpern, Vulture

"Biography of X is criminally good, building on [Lacey's] previous five books' fascination with the mutability of self with kaleidoscopic depth and astonishing propulsion . . . What is most spectacular is Lacey's sleight of hand, inviting us to become engrossed in the unknowability of others, while gently reminding us that we, too, are unknowable—even and especially to ourselves." —Ayden LeRoux, BOMB

"Sweeping, ambitious . . . too expansive to simply be called a novel . . . The book is a provocative project—one that mirrors and refracts our own cultural obsession with celebrity and our nation's broken politics." —Sammy Loren, Document

"One of the most inventive works I've read in a long time, Catherine Lacey's latest novel is a must-read for fans of ambitious, genre-bending literary fiction." —David Vogel, Buzzfeed

"Breathtaking in its scope and rigor, this unforgettable novel pushes contemporary fiction to dizzying heights. A triumph." —Kirkus (starred review)

"An audacious novel of art and ideas . . . The author also perfectly marries her [character's] history with her study of a shape-shifting artist, with X refashioning herself both to escape her ultraconservative homeland and to build a vehicle for her creative expression. This is brilliant." —Publishers Weekly (starred review)

"A dazzling literary chimera, at once an epic and chilling alternate history of the United States and an intimate portrait of a woman coming apart at the seams." —BookPage (starred review)

"A tour-de-force in literary and artistic realms, this engrossing story of breakaway artist X will challenge readers on many levels." —Library Journal (starred review)

"Lacey's tale is a lovely meditation on not only the mysteries of grief and love but also the equally mysterious ways of the creative process." —Booklist

"Sly, brilliant, philosophically acute, bitingly funny, and a pure joy to spend hours with . . . Suffice it to say that it feels fairly rare for a novel to be hugely intelligent and moving and fun in equal measure, but with Biography of X, Catherine Lacey somehow—magically—makes the nearly impossible look easy." —Lauren Groff, author of Matrix

"I'm not sure I know another novel that manages to be so many books at once: a biography revealing masks beneath masks and faces beneath faces, a quest narrative unsure of what it's seeking, an impossibly ambitious parable about art and the enigma of others, an alternate history of America that serves as an X-ray of our own fractured country. Biography of X is a profound novel about love and what it can license, about the toll—and maybe the con—of genius. Only Catherine Lacey could have written it." —Garth Greenwell, author of Cleanness and What Belongs to You

"Biography of X is the most ambitious book I've ever read from a writer of my own generation. Epic world-building revealed through intimate emotion and dangerously honed sentences; a story that mixes fact and fiction to create a new register of truth, a register that belongs entirely to Catherine Lacey. I'm awed." —Torrey Peters, author of Detransition, Baby

"Biography of X is a triumphant high-wire act: all the breadth of a 19th century classic with the propulsiveness of a psychological thriller. I stayed up too late, wishing to uncover X's secrets alongside the narrator." —Sara Nović, author of True Biz