Too Close to Call: The Thirty-Six-Day Battle to Decide the 2000 Election (Paperback)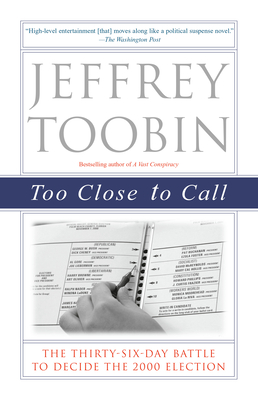 $14.95

Special Order - Subject to Availability
Description
---
From the best-selling author of A Vast Conspiracy and The Run of His Life comes Too Close to Call--the definitive story of the Bush-Gore presidential recount. A political and legal analyst of unparalleled journalistic skill, Jeffrey Toobin is the ideal writer to distill the events of the thirty-six anxiety-filled days that culminated in one of the most stunning Supreme Court decisions in history.

Packed with news-making disclosures and written with the drive of a legal thriller, Too Close to Call takes us inside James Baker's private jet, through the locked gates to Al Gore's mansion, behind the covered-up windows of Katherine Harris's office, and even into the secret conference room of the United States Supreme Court. As the scene shifts from Washington to Austin and into the remote corners of the enduringly strange Sunshine State, Toobin's book will transform what you thought you knew about the most extraordinary political drama in American history.

The Florida recount unfolded in a kaleidoscopic maze of bizarre concepts (chads, pregnant and otherwise), unfamiliar people in critically important positions (the Florida Supreme Court), and familiar people in surprising new places (the Miami relatives of Elián González, in a previously undisclosed role in this melodrama). With the rich characterization that is his trademark, Toobin portrays the prominent strategists who masterminded the campaigns--the Daleys and the Roves--and also the lesser-known but influential players who pulled the strings, as well as the judges and justices whose decisions determined the final outcome. Toobin gives both camps a treatment they have not yet received--remarkably evenhanded, nonpartisan, and entirely new.

The post-election period posed a challenge to even the most zealous news junkie: how to keep up with what was happening and sort out the important from the trivial. Jeffrey Toobin has now done this--and then some. With clarity, insight, humor, and a deep understanding of the law, he deconstructs the events, the players, and the often Byzantine intricacies of our judicial system. A remarkable account of one of the most significant periods in our country's history, Too Close to Call is endlessly surprising, frequently poignant, and wholly addictive.
About the Author
---
Jeffrey Toobin is the bestselling author of True Crimes and Misdemeanors, The Oath, The Nine, Too Close to Call, The Run of His Life, which was made into the critically acclaimed FX series American Crime Story: The People v. O.J. Simpson, and A Vast Conspiracy, the inspiration for Impeachment: American Crime Story. He is the chief legal analyst at CNN.

Praise For…
---
Praise for Jeffrey Toobin's national bestseller
A Vast Conspiracy: The Real Story of the Sex Scandal That Nearly Brought Down a President


"An admirably clear, vigorously written, plain-spoken and common-sensical book."
--The New York Times Book Review

"A superb work of factual and legal analysis. . . . Few novels are as gripping."
--The New York Review of Books

"A story as taut and surprising as any thriller. . . . Unimpeachable page-turner."
--People

"A superlatively researched and written book."
--The New York Observer

"An irresistibly readable new overview of the whole ugly case."
--The Boston Globe

"A good read . . . a brave book."
--The Economist

"A rich and readable reprise . . . by the New Yorker writer who shows brilliantly how the American legal system spun out of control."
--Chicago Sun-Times

"Compulsively readable. . . . A Vast Conspiracy delivers new information, provides arresting perspective and is a helluva read for all that."
--New York Daily News