manicpixiedreamgirl (Paperback)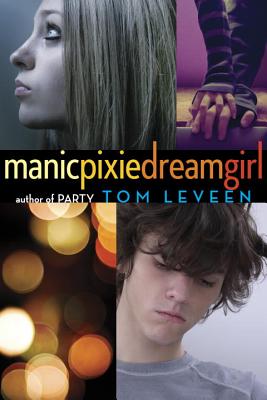 Description
---
Sometimes the most dramatic scenes in a high school theater club are the ones that happen between the actors and crew off stage.

Seventeen-year-old Tyler Darcy's dream of being a writer is starting to feel very real now that he's sold his first short story to a literary journal. He should be celebrating its publication with his two best friends who've always had his back, but on this night, a steady stream of texts from his girlfriend Sidney keep intruding. So do the memories of his dream girl, Becky, who's been on his mind a little too much since the first day of high school. Before the night is over, Ty might just find the nerve to stop all the obsessing and finally take action.
About the Author
---
TOM LEVEEN has been involved in theater since 1988, directing over 30 plays. As the artistic director and a co-founder of an all-ages, nonprofit visual and performing venue in Scottsdale, Arizona, he frequently works with young adults at various events including theater, visual art exhibits, and especially the live music scene. Tom is an Arizona native, where he lives with his wife and young son.
Praise For…
---
"I can't say enough about this book. It's 256 pages of real people with real emotions, actions and reactions that is nothing short of absolutely compelling. Every character is unique and steps outside of some of the stereotypical teenage characters you see in fiction. If you're looking for a fantastic read that nixes the melodrama of high school and overblown archetypes associated with it then your search ends with manicpixiedreamgirl. Simultaneously quick-witted and achingly real, Leveen's latest work is not to be missed." --Wastepaper Prose blog

"The time shifts give the story a cinematic sense of tension, but it's the relationships between the novel's teenage characters that are the real standouts. Tyler's crass banter with his buddies, his snarky but supportive relationship with his sister, and his botched dealings with both Becky and Sydney are entirely realistic." --Publishers Weekly

"Narration alternates between the present, where Ty is drinking in the park with his best friends while Syd finally breaks up with him, and Ty's recollections of the previous two years, which have been defined by his crush on Becca. He has written endless stories to exorcise his romantic demons and further idealize his dream girl, and even though he knows that his fantasized Becca is very different from the Becca who smokes pot and is always "open for business," he can't give up his hopes. This is therefore an examination of the Manic Pixie Dream Girl trope rather than reiteration of it, but any readers who have lost their hearts to a troubled waif or watched while someone else did will relate to Ty's obsession. In fact, it is the watchers in this tale that carry a lot of the interest; Syd, Ty's sister, and his zany best buds all provide admirable support in different ways for their lovelorn pal as he works very hard to break his own heart." --The Bulletin

"In this spare, well-written romance, Leveen points out the many ways in which we, often unwittingly, deceive ourselves and those around us when we fall in love. Teens will recognize themselves in the course of their own early romances, and possibly begin to realize what a messy business love can be." --School Library Journal


From the Hardcover edition.