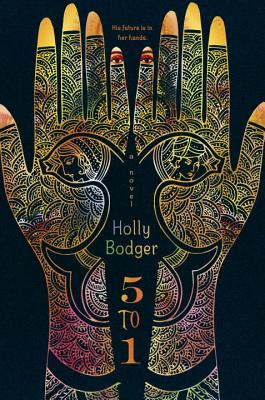 Staff Reviews
---
After years of discarding female babies in favor of boys, men now out populate women 5 to 1. Thus making women the more valuable gender, choosing husbands who will be the most likely to carry on the female gene through a series of tests. Told in alternating voices, Sudasa, in verse, and Kiran, in prose, are forced to participate in these tests, not knowing they have the same agenda. To defy the system and leave this backward society behind. Rife with many great discussion points, 5 to 1 is perfect for book clubs. Of course, you don't have to be in a book club to enjoy this beautiful debut.
—
Brandi
Description
---
Part
Homeless Bird
and part
Matched
, this is a dark look at the near future told through the alternating perspectives of two teens who dare to challenge the system.
In the year 2054, after decades of gender selection, India now has a ratio of five boys for every girl, making women an incredibly valuable commodity. Tired of marrying off their daughters to the highest bidder and determined to finally make marriage fair, the women who form the country of Koyanagar have instituted a series of tests so that every boy has the chance to win a wife.
Sudasa, though, doesn't want to be a wife, and Kiran, a boy forced to compete in the test to become her husband, has other plans as well. As the tests advance, Sudasa and Kiran thwart each other at every turn until they slowly realize that they just might want the same thing.
This beautiful, unique novel is told from alternating points of view--Sudasa's in verse and Kiran's in prose--allowing readers to experience both characters' pain and their brave struggle for hope.
From the Hardcover edition.
About the Author
---
Holly Bodger has a BA in English literature and has spent her entire career in publishing. She is an active member of Romance Writers of America and is a 2013 Golden Heart finalist in the Young Adult category. She lives in Ottawa, Canada.