Against the Machine: How the Web Is Reshaping Culture and Commerce -- and Why It Matters (Paperback)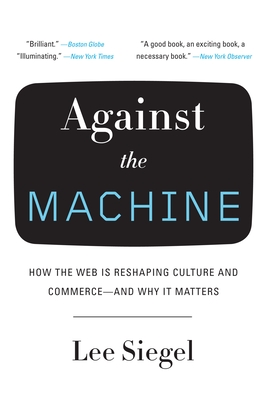 $16.00
Special Order - Subject to Availability
Staff Reviews
---
The Internet makes life easier; no one can dispute that. But why are critics of the web so harshly silenced these days? Lee Siegel offers a brilliant critique of this technology, and how it is affecting our culture in his new book, Against the Machine. Proponents of the Internet argue that it offers us "freedom" and "access." They co-opt the language of idealism and revolution to describe the web, which essentially acts as a commercial, consumerist machine. Are we really gaining freedom, or are all our interactions being shaped into one basic transaction—point, click, and repeat? Should shopping for a watch and looking for a girlfriend be essentially the same experience, happening from the same chair, and looking at the same screen? Against the Machine is a must read for old and young alike—those of us who are disturbed by the transformation of our culture, and those who are so immersed they can't see it happening. - Sarah B.
— From
Social Sciences (page 1)
Description
---
From the author hailed by the New York Times Book Review for his "drive-by brilliance" and dubbed by the New York Times Magazine as "one of the country's most eloquent and acid-tongued critics" comes a ruthless challenge to the conventional wisdom about the most consequential cultural development of our time: the Internet.

Of course the Internet is not one thing or another; if anything, its boosters claim, the Web is everything at once. It's become not only our primary medium for communication and information but also the place we go to shop, to play, to debate, to find love. Lee Siegel argues that our ever-deepening immersion in life online doesn't just reshape the ordinary rhythms of our days; it also reshapes our minds and culture, in ways with which we haven't yet reckoned. The web and its cultural correlatives and by-products—such as the dominance of reality television and the rise of the "bourgeois bohemian"—have turned privacy into performance, play into commerce, and confused "self-expression" with art. And even as technology gurus ply their trade using the language of freedom and democracy, we cede more and more control of our freedom and individuality to the needs of the machine—that confluence of business and technology whose boundaries now stretch to encompass almost all human activity.

Siegel's argument isn't a Luddite intervention against the Internet itself but rather a bracing appeal for us to contend with how it is transforming us all. Dazzlingly erudite, full of startlingly original insights, and buoyed by sharp wit, Against the Machine will force you to see our culture—for better and worse—in an entirely new way.
About the Author
---
LEE SIEGEL is the author of the essay collections Falling Upwards, Not Remotely Controlled and winner of the 2002 National Magazine Award for Reviews and Criticism. He lives in Montclair, New Jersey with his wife and son.
Praise For…
---
Acclaim for Lee Siegel

"Mr. Siegel is a zigzagging cultural omnivore…a confrontational enthusiast… an expert demolisher of critical group-think."
--New York Observer

"One of the country's most eloquent and acid-tongued cultural critics."
-Deborah Solomon, New York Times

"To read him is to be reminded of what criticism used to aspire to in terms of range, learning, high standards, and good writing and--dare one say it?--values."
-- David Rieff

"Savor his vigorous prose, and prepare to be surprised."
--Pete Hamill

"In every case, Siegel is wildly and satisfyingly unpredictable."
--Janet Malcolm

"One of the heroic few."
-- The Guardian