The Patriots: A Novel (Hardcover)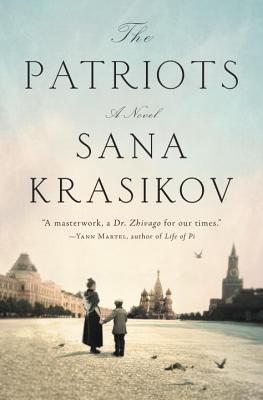 $28.00
Special Order - Subject to Availability
Staff Reviews
---
A book about the former Soviet Union? Sign me up! In the hands of a skilled writer or even a merely mediocre one, the brutality, illogical thought processes, and general train-wreckiness of life under the rule of Stalin, especially, provide fertile ground for story-telling. This young author is VERY skilled and in this debut novel she writes in the voices of several members of one family whose lives have been ground under the Soviet heel into a fine powder. Find out how they came to be so. It was actually VOLUNTARY...
—
Georgeann
Description
---
A sweeping multigenerational novel about idealism, betrayal, and family secrets set in the U.S. and Russia, from one of Granta's Best of Young American Novelists

When the Great Depression hits, Florence Fein leaves Brooklyn College for a job in Moscow—and the promise of love and independence. But once in Russia, she quickly becomes entangled in a country she can't escape. Many years later, Florence's son, Julian, immigrates back to the United States, though his work in the oil industry takes him on frequent visits to Moscow. When he learns that Florence's KGB file has been opened, he arranges a business trip to uncover the truth about his mother, and to convince his son, Lenny—trying to make his fortune in Putin's cutthroat Russia—to return home. What Julian discovers is both chilling and heartbreaking: an untold story of a generation of Americans abandoned by their country, and the secret history of two rival nations colluding under the cover of enmity.

The Patriots is a riveting evocation of the Cold War years, told with brilliant insight and extraordinary skill. Alternating between Florence's and Julian's perspectives, it is at once a mother-son story and a tale of two countries bound in a dialectic dance; a love story and a spy story; both a grand, old-fashioned epic and a contemporary novel of ideas. Through the history of one family moving back and forth between continents over three generations, The Patriots is a poignant tale of the power of love, the rewards and risks of friendship, and the secrets parents and children keep from one another.

Praise for The Patriots

"The Patriots is a historical romance in the old style: multigenerational, multi-narrative, intercontinental, laden with back stories and historical research, moving between scrupulous detail and sweeping panoramas, the first-person voice and a kaleidoscopic third, melodrama and satire, Cleveland in 1933 and Moscow in 2008."—Nathaniel Rich, The New York Times Book Review

"Dazzling and addictive . . . an outstanding family saga."—The Spectator (U.K.)

"Extraordinary . . . The Patriots has the weight of a classic."—Commentary Magazine

"I found on every page an observation so acute, a sentence of such truth and shining detail, that it demanded re-reading for the sheer pleasure of it. The Patriots has convinced me that Krasikov belongs among the totemic young writers of her era."—Khaled Hosseini, author of And the Mountains Echoed and The Kite Runner
About the Author
---
Sana Krasikov's debut short story collection, One More Year, was named a finalist for the 2009 Hemingway Foundation/PEN Award and the New York Public Library's Young Lions Fiction Award, received a National Book Foundation 5 Under 35 Award, and won the 2009 Sami Rohr Prize for Jewish Literature. Her stories have appeared in The New Yorker and The Atlantic, among other publications. Born in Ukraine, Krasikov grew up in the former Soviet republic of Georgia and New York, where she currently lives with her husband and their two children.
Praise For…
---
"The Patriots is a historical romance in the old style: multigenerational, multi-narrative, intercontinental, laden with back stories and historical research, moving between scrupulous detail and sweeping panoramas, the first-person voice and a kaleidoscopic third, melodrama and satire, Cleveland in 1933 and Moscow in 2008. It contains a wartime romance, a gulag redemption story, a kleptocratic comedy of manners, a family saga. . . . Krasikov had no way of knowing that her novel would be published just as America is witnessing the ascension of a ruler who calls for jailing his opponents, proposes to weaken the First Amendment and uncritically quotes Russian propaganda. But this turn of events gives urgency to her main theme—the insidious influence of totalitarianism on the lives of those trapped under its boot. . . . [and her scenes of corruption and impossible struggle belong] to a rich tradition of Russian writing about the petty absurdities of life under totalitarian rule. "—Nathaniel Rich, The New York Times Book Review

"Extraordinary . . . The Patriots has the weight of a classic. . . . [Sana] Krasikov's research has an exemplary thoroughness, whether describing a Stalin rally, or a Thai sex parlour, or listing the parts of a jet fighter. . . . [Krasikov] has a sardonic eye and ear, and there is occasional humor. . . . The mechanics of the plot are more or less faultless. . . . This is a book that informs as it questions. It has moral purpose. It gives us essentially the entire history of the USSR. It challenges readers to wonder what decisions they would have made in similar circumstances. And it tells us of how hope can be used against a population. Its fiction tells a true story that should be heard more often. It is also a deep meditation on the relationship between parent and child. . . . [a] great and greatly necessary novel."—Commentary Magazine

"Dazzling and addictive . . . an outstanding family saga."—The Spectator (U.K.)

"A thoroughly researched and deeply felt historical novel . . . Krasikov skillfully moves between voices and decades, never neglecting the moral difficulties of life under a totalitarian regime. There is compassion here, as well as humor, but most of all, a keen awareness of how people strive to be good in dire circumstances. The Patriots is an ambitious, unsentimental and astonishingly masterful first novel with a singular portrayal of living by conviction, no matter the cost."—BookPage

"The Patriots is a sustained feat of brilliance, weaving eight decades, three generations, and two continents of historical tumult and personal struggle into a remarkable tapestry. Sana Krasikov deserves comparison to the Russian masters whose novels her own so often evokes."—Anthony Marra, author of The Tsar of Love and Techno and A Constellation of Vital Phenomena

"I admit I had high expectations for The Patriots. Fortunately, I had only to read the prologue to suspect that the hugely gifted Sana Krasikov may have leapt over them. What followed, a sweeping, ambitious kaleidoscope of family, faith, identity, idealism, and displacement, only confirmed my early impression. I found on every page an observation so acute, a sentence of such truth and shining detail, that it demanded re-reading for the sheer pleasure of it. The Patriots has convinced me that Krasikov belongs among the totemic young writers of her era."—Khaled Hosseini, author of And the Mountains Echoed and The Kite Runner

"The Patriots is a masterwork, a Dr. Zhivago for our times. It is a novel rooted in characters so real you weep over their tragic fates, so realized you think you're watching a movie, with sentences so sharp and wise they stop you in your tracks. The story of dreamy Florence Fein, from Flatbush, Brooklyn, will break your heart."—Yann Martel, author of The High Mountains of Portugal and Life of Pi