Union Atlantic (Hardcover)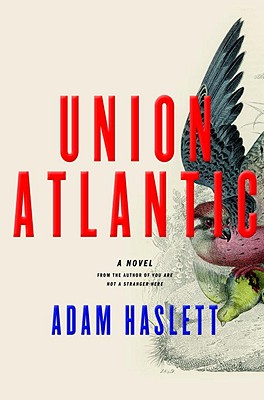 $26.00

Special Order - Subject to Availability
Staff Reviews
---
Much has been made of Adam Haslett's zeitgeist-capturing prescience in Union Atlantic (the New York Times, for example, noted an "eerie overlap of its narrative with current events in the American economy"), but ultimately this is a story about people. Wealthy businessman Doug Fanning is a despicable but compelling protagonist, Charlotte Graves and her unusual dogs are unforgettable, and Nate Fuller's emotionally brutal coming-of-age story ends on a grace note whose poignancy is among the most heartbreaking I've read. Highly recommended.
—
Brandon
February 2010 Indie Next List
---
"Adam Haslett's debut novel is the story of four diverse characters -- a banker, a retired teacher and her brother, and a high school student -- who are thrown together in unexpected ways. Through this powerful and prescient novel, Haslett is asking what it means to be American today."
— Susan Fox, Red Fox Books, Glens Falls, NY
Description
---
The eagerly anticipated debut novel from the author of the Pulitzer Prize finalist You Are Not a Stranger Here: a deeply affecting portrait of the modern gilded age, the first decade of the twenty-first century.

At the heart of Union Atlantic lies a test of wills between a young banker, Doug Fanning, and a retired schoolteacher, Charlotte Graves, whose two dogs have begun to speak to her. When Doug builds an ostentatious mansion on land that Charlotte's grandfather donated to the town of Finden, Massachusetts, she determines to oust him in court. As a senior manager of Union Atlantic bank, a major financial conglomerate, Doug is embroiled in the company's struggle to remain afloat. It is Charlotte's brother, Henry Graves, the president of the New York Federal Reserve, who must keep a watchful eye on Union Atlantic and the entire financial system. Drawn into Doug and Charlotte's intensifying conflict is Nate Fuller, a troubled high-school senior who unwittingly stirs powerful emotions in each of them.

Irresistibly complex, imaginative, and witty, Union Atlantic is a singular work of fiction that is sure to be read and reread long after it causes a sensation this spring.
About the Author
---
ADAM HASLETT's short-story collection "You Are Not a Stranger Here" was a "New York Times" bestseller and a finalist for both the Pulitzer Prize and the National Book Award. It has been translated into fifteen languages. He lives in New York.
Praise For…
---
"It's remarkable how successfully Union Atlantic — so unlike [his] stories in structure and style, and so much broader in scope — continues the nuance of Haslett's earlier characterizations. . . Swiftly and confidently, Haslett unwinds the ball of yarn that is the global financial crisis to reveal its core: a knot of ineluctable yearnings and individual needs."
—New York Times Book Review

"Adam Haslett . . . may be our F. Scott Fitzgerald, an author capable of memorializing our crash in all its personal cost and lurid beauty. Hist first novel, Union Atlantic, is a strange, elegant story that illuminates the financial and moral calamity of the young 21st century. . . [A] profound, strikingly intelligent story about the cost of living in a world in which real values have been supplanted by a fiat currency of self-interest and empty promises."
—Washington Post Book World

"An ambitious literary work, filled with compelling characters, evocative prose and finely drawn portraiture. . . Union Atlantic is the first serious fictional portrait of the bailout era. . . Decades from now, this fine novel will help readers understand the period we've just been through."
—Wall Street Journal

"Exceedingly well written. . . a high-spirited, slyly astute exploration of our great bottoming out."
—Boston Globe

"The first great novel of the new century. It's big and ambitious, like novels used to be. It's about us, now. All of us."
—Esquire

"Union Atlantic is an indispensable book of the new century, because no book has nailed the new century so squarely."
—GQ

"Adam Haslett's page-turner of a debut novel ranges brilliantly from the Strait of Hormuz to the outskirts of Boston to the belly of the financial beast—New York's Federal Reserve. It explains to me, with humor and style and generosity, how we became America in the year 2009. A must read."
—Gary Shteyngart

"Adam Haslett has the rarest of talents: the ability to combine a powerful intelligence with storytelling that is both elegant and suspenseful, and to break your heart in the process. Union Atlantic is a masterful portrait of our age."
—Malcolm Gladwell

"This is the rare novel that is both urgently of its time and fully true to itself. Adam Haslett saw it all coming: our particular moment, our particular crisis. And because he was so far ahead of our leaders and our opinion-makers—because he's a true writer—he could take the time to fashion a book of exceptional maturity, completeness, compassion, comedy, and suspense."
—Jonathan Franzen

"[A] rare novel—an honest, unflinching statement that rouses our passions and challenges our intellect."
—Pittsburgh Post-Gazette

"Excellent. . . Haslett's novel is smart and carefully constructed, and his characters are brilliantly flawed. . . This book should be of interest to readers fascinated but perplexed by the current financial crisis, as it is able to navigate the oubliette of Wall Street trading to create searing and intimate drama."
—Publishers Weekly, starred review
Coverage from NPR