Griftopia: A Story of Bankers, Politicians, and the Most Audacious Power Grab in American History (Paperback)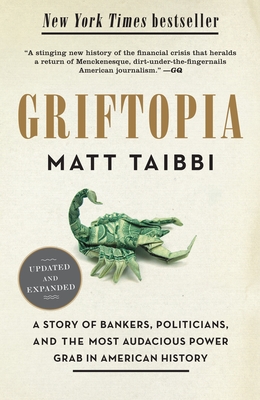 $18.00
Not Available In-Store - Usually Ships from Warehouse in 1-5 Days
Staff Reviews
---
Matt Taibbi is the most astute political writer out there (and the most hilarious), and for the past two years he has been covering the financial shell-game that has brought a once powerful economy to its knees. Griftopia: Bubble Machines, Vampire Squids, and the Long Con That Is Breaking America is a must-read for anyone who wants financial reform—in order to reform a system, you first have to understand it, and no one explains our complex financial and political systems better than Matt Taibbi. - Sarah B.
— From
Social Sciences (page 1)
Description
---
A brilliantly illuminating and darkly comic tale of the ongoing financial and political crisis in America.
 
The financial crisis that exploded in 2008 isn't past but prologue. The grifter class—made up of the largest players in the financial industry and the politicians who do their bidding—has been growing in power, and the crisis was only one terrifying manifestation of how they've hijacked America's political and economic life.

Matt Taibbi has combined deep sources, trailblazing reportage, and provocative analysis to create the most lucid, emotionally galvanizing account yet written of this ongoing American crisis. He offers fresh reporting on the backroom deals of the bailout; tells the story of Goldman Sachs, the "vampire squid wrapped around the face of humanity"; and uncovers the hidden commodities bubble that transferred billions of dollars to Wall Street while creating food shortages around the world.

This is essential reading for anyone who wants to understand the labyrinthine inner workings of this country, and the profound consequences for us all.
About the Author
---
Matt Taibbi is a contributing editor for Rolling Stone and the author of four previous books, including the New York Times bestseller The Great Derangement. He lives in Jersey City, New Jersey. 
Praise For…
---
"A stinging new history of the financial crisis that heralds a return of Menckenesque, dirt-under-the-fingernails American journalism."—GQ

"A relentlessly disturbing, penetrating exploration of the root causes of the trauma that upended economic security in millions of American homes . . . a full-scale indictment of Wall Street and Washington."—The New York Times Book Review
 
"Matt Taibbi is [Hunter S.] Thompson's heir. . . . [Griftopia] is the most lucid, justifiably angry description of what happened and what continues to happen to our nation's economy."—Seattle Post-Intelligencer
 
"Taibbi chronicles the corruption of the political process with indignation and dark humor. The takeaway? Be angry, but blame the right culprits."—Time