The Underground Railroad (Pulitzer Prize Winner) (National Book Award Winner) (Oprah's Book Club): A Novel (Hardcover)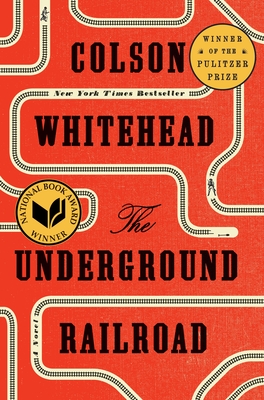 $27.95

Not Available In-Store - Usually Ships from Warehouse in 1-5 Days
Staff Reviews
---
"[Cora] had seen men hung from trees and left for buzzards and crows. Women carved open to the bones with the cat-o'-nine-tails. Bodies alive and dead roasted on pyres. Feet cut off to prevent escape and hands cut off to stop theft." The raw imagery of the horrors of slavery resonates throughout time, and that's clearly no mistake. Reminiscent of the imagery of walker and Morrison infused with the stark bleakness of Ellison and Wright, The Underground Railroad is one of those literary works that spurs on an understanding of our past, and hopefully by way of that, our present.
 
—
Scott
Summer 2018 Reading Group Indie Next List
---
"In The Underground Railroad, Whitehead captures the quotidian horror of slavery in a way that I've never read. The banality of evil is on full display—but so is the human spirit. Cora's escape and life on the run is both terrifyingly real and uncomfortably familiar. The way the author plays fast and loose with time and elements of magical realism, such as making the Underground Railroad a literal thing, gives this story an otherworldly quality. This may be Colson Whitehead's masterpiece."
— James Wilson, Octavia Books, New Orleans, LA
Description
---
#1 NEW YORK TIMES BESTSELLER • PULITZER PRIZE WINNER • NATIONAL BOOK AWARD WINNER • A magnificent tour de force chronicling a young slave's adventures as she makes a desperate bid for freedom in the antebellum South. • Now an original Amazon Prime Video series directed by Barry Jenkins.

Cora is a slave on a cotton plantation in Georgia. Life is hell for all the slaves, but especially bad for Cora; an outcast even among her fellow Africans, she is coming into womanhood—where even greater pain awaits. When Caesar, a recent arrival from Virginia, tells her about the Underground Railroad, they decide to take a terrifying risk and escape. Matters do not go as planned—Cora kills a young white boy who tries to capture her. Though they manage to find a station and head north, they are being hunted.

In Whitehead's ingenious conception, the Underground Railroad is no mere metaphor—engineers and conductors operate a secret network of tracks and tunnels beneath the Southern soil. Cora and Caesar's first stop is South Carolina, in a city that initially seems like a haven. But the city's placid surface masks an insidious scheme designed for its black denizens. And even worse: Ridgeway, the relentless slave catcher, is close on their heels. Forced to flee again, Cora embarks on a harrowing flight, state by state, seeking true freedom.

Like the protagonist of Gulliver's Travels, Cora encounters different worlds at each stage of her journey—hers is an odyssey through time as well as space. As Whitehead brilliantly re-creates the unique terrors for black people in the pre–Civil War era, his narrative seamlessly weaves the saga of America from the brutal importation of Africans to the unfulfilled promises of the present day. The Underground Railroad is at once a kinetic adventure tale of one woman's ferocious will to escape the horrors of bondage and a shattering, powerful meditation on the history we all share.

Look for Colson Whitehead's new novel, Crook Manifesto, coming soon!
About the Author
---
COLSON WHITEHEAD is the #1 New York Times bestselling author of The Underground Railroad, winner of the 2016 Pulitzer Prize in Fiction, the 2016 National Book Award, and named one of the Ten Best Books of the Year by the New York Times Book Review, as well as The Noble Hustle, Zone One, Sag Harbor, The Intuitionist, John Henry Days, Apex Hides the Hurt, and The Colossus of New York. He is also a Pulitzer Prize finalist and a recipient of the MacArthur and Guggenheim fellowships. He lives in New York City.
Praise For…
---
WINNER OF THE PULITZER PRIZE, THE NATIONAL BOOK AWARD, THE ALA ANDREW CARNEGIE MEDAL AND THE HURSTON/WRIGHT AWARD ** NAMED A BEST BOOK OF THE YEAR BY NEW YORK TIMES BOOK REVIEW, WALL STREET JOURNAL, WASHINGTON POST, TIME, PEOPLE, NPR AND MORE ** #1 NEW YORK TIMES BESTSELLER

"Get it, then get another copy for someone you know because you are definitely going to want to talk about it once you read that heart-stopping last page."
--Oprah Winfrey (Oprah's Book Club 2016 Selection)

"[A] potent, almost hallucinatory novel... It possesses the chilling matter-of-fact power of the slave narratives collected by the Federal Writers' Project in the 1930s, with echoes of Toni Morrison's Beloved, Victor Hugo's Les Misérables, Ralph Ellison's Invisible Man, and brush strokes borrowed from Jorge Luis Borges, Franz Kafka and Jonathan Swift…He has told a story essential to our understanding of the American past and the American present."
--Michiko Kakutani, The New York Times

"Think Toni Morrison (Beloved), Alex Haley (Roots); think 12 Years a Slave…An electrifying novel…a great adventure tale, teeming with memorable characters…Tense, graphic, uplifting and informed, this is a story to share and remember."
--People, (Book of the Week)
 
"With this novel, Colson Whitehead proves that he belongs on any short list of America's greatest authors--his talent and range are beyond impressive and impossible to ignore. The Underground Railroad is an American masterpiece, as much a searing document of a cruel history as a uniquely brilliant work of fiction."
--Michael Schaub, NPR

"Far and away the most anticipated literary novel of the year, The Underground Railroad marks a new triumph for Whitehead…[A] book that resonates with deep emotional timbre. The Underground Railroad reanimates the slave narrative, disrupts our settled sense of the past and stretches the ligaments of history right into our own era...The canon of essential novels about America's peculiar institution just grew by one."
--Ron Charles, Washington Post
Coverage from NPR