The Castle on Sunset: Life, Death, Love, Art, and Scandal at Hollywood's Chateau Marmont (Hardcover)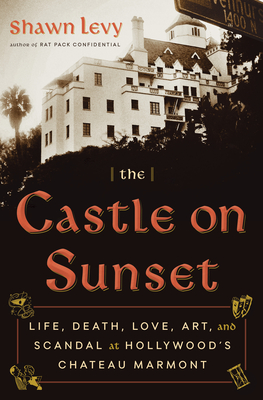 $28.95
Email or call for price.
Description
---
The definitive—and salacious—history of the iconic hotel that Hollywood stars have called a home away from home for almost a century.

"Fascinating, dishy, and glimmering with insight.... This is the definitive book about Hollywood's most storied hotel." —Cheryl Strayed, bestselling author of Wild

Since 1929, Hollywood's brightest stars have flocked to the Chateau Marmont as if it were a second home. An apartment building-turned-hotel, the Chateau has been the backdrop for generations of gossip and folklore: where director Nicholas Ray slept with his sixteen-year-old Rebel Without a Cause star Natalie Wood; Jim Morrison swung from the balconies; John Belushi suffered a fatal overdose; and Lindsay Lohan got the boot after racking up nearly $50,000 in charges in less than two months.

But despite its mythic reputation, much of what has happened inside the Chateau's walls has eluded the public eye—until now. With wit and insight, Shawn Levy recounts the wild revelries and scandalous liaisons, the creative breakthroughs and marital breakdowns, the births and deaths to which the hotel has been a party. Vivid, salacious, and richly informed, The Castle on Sunset is a glittering tribute to Hollywood as seen from inside the walls of its most hallowed hotel.
About the Author
---
Shawn Levy is the former film critic of The Oregonian and KGW-TV. His writing has appeared in Sight and Sound, Film Comment, American Film, The New York Times, the Los Angeles Times, The Guardian, The Hollywood Reporter, and The Black Rock Beacon. He is the bestselling author of Rat Pack Confidential, Paul Newman: A Life, and Dolce Vita Confidential. He jumps and claps, and sings for victory in Portland, Oregon. www.shawnlevy.com
Praise For…
---
"Fascinating, dishy, and glimmering with insight, The Castle on Sunset is a must-read for anyone interested in the rich and racy history of Tinseltown. Shawn Levy's entertaining and deeply researched biography of a building chronicles experiences both glamorous and sordid, historical and contemporary. This is the definitive book about Hollywood's most storied hotel."
—Cheryl Strayed, #1 New York Times bestselling author of Wild 

"Reading The Castle on Sunset, I felt like I was sneaking around the hallways of the Chateau after midnight and peering through keyholes in history. Shawn Levy pulls back the velvet curtains to reveal all the decadence, glamour, ghosts and gossip of a fabled and dreamy Hollywood. Lovingly researched and wonderfully dishy."
—Joe Hagan, author of the national bestseller Sticky Fingers: The Life and Times of Jann Wenner and Rolling Stone Magazine

"Alongside an endless supply of famous guests, Levy has managed to make the hotel itself a living, breathing, and wonderfully endearing character. The Castle on Sunset is thoughtfully researched and gorgeously executed."
—Jacob Tomsky, New York Times bestselling author of Heads in Beds: A Reckless Memoir of Hotels, Hustles, and So-Called Hospitality 

"I want to live inside this book!"
—Taylor Jenkins Reid, author of Daisy Jones & The Six

"The great chronicler of films and pop culture has done it again. With The Castle on Sunset Shawn Levy uncovers one of Hollywood's most elusive, and delicious, sagas—the life and times of the Chateau Marmont. For ninety years the grand, intimate hotel perched above Los Angeles'  Sunset Strip has been the respite of choice for the world's most famous and notorious celebrities to sleep, work and indulge themselves in something like solitude.... As elegant and naughty as the hotel's guests, The Castle on Sunset tells a secret history of American film, fame, and decadence. It's a spellbinding read."
—Peter Ames Carlin, New York Times bestselling author of Bruce and Homeward Bound

"An irresistible, deliciously dishy deep-dive into the many lives of the storied Chateau Marmont, told in prose so witty and alive, you feel you're sitting at the bar with Dominick Dunne. This is a book worthy of its glamorous, alluring subject."
—Wednesday Martin, #1 New York Times bestselling author of Primates of Park Avenue and Untrue

"It seems half of Hollywood, past and present, have either lived, worked, had an affair, drugged, or died at the Chateau Marmont.  Filled with show business stories and lore, etched against the backdrop of an ever-changing L.A., The Castle on Sunset gives the Marmont the splendid biography it deserves." 
—Steven Gaines, New York Times bestselling author of Philistines at the Hedgerow: Passion and Property in the Hamptons and The Sky's the Limit: Passion and Property in Manhattan

"For years, Shawn Levy has been shaming the rest of us who write about movies with his contagious high spirits, elegant phrasemaking, Stakhanovite appetite for research, and maddeningly natural reader rapport. As I write this, I am illegally parked on Sunset across from the Chateau Marmont, and—thanks to Levy's louchely addictive history of the place—the old girl looks lovelier than ever. Check in, call room service, draw yourself a hot bath and luxuriate!"
—David Kipen, author of Dear Los Angeles: The City in Diaries and Letters

"A fabulously fizzy account."
—Vanity Fair

"Witty [and] intimate."
—BBC

"The Castle on Sunset is stitched through with savory anecdotes that navigate us through an ever-shifting city, as the building's own story arc mirrors Hollywood's various transitions."
—Los Angeles Times

"[An] engrossing account of the L.A. hotel's 90-year history of decadence. Weaving together historical research and firsthand accounts, the author examines the transformation of the high-end apartment building into a world-famous hotel often inhabited by itinerant Hollywood directors and actors…This eye-popping and entertainingly lurid tale of Hollywood scandal and intrigue will delight readers."
—Publishers Weekly

"In his latest forary into Hollywood history, [Shawn Levy] explores one of Los Angeles' most famous landmarks, the Chateau Marmont hotel…A genuinely fascinating look at how Hollywood supports its stars."
—Booklist

"Levy delivers all the goods on Hollywood's iconic, storied, and scandalous hotel."
—The Portland Tribune
 
"Fantastic…This dishy, breezy tome is a condensed history of pop culture with copious actors, rock stars, filmmakers, scenesters, and troublemakers wandering through.  Nearly every famous and infamous figure from the last 90 years makes a small or large appearance. The Castle on Sunset plays like a riff on Kenneth Anger's legendary Hollywood Babylon, but consigned to one key locale."
—The Stranger
 
"Dishy and deep diving...A refreshing portrait of the Chateau emerges, more bohemian oasis than seedy skeleton closet."
—Los Angeles Review of Books

"[An] absorbing account that is breezy yet substantial, entertaining yet sober-minded, judicious yet empathetic."
—Screen Anarchy

"If the walls in the Chateau could talk, they'd tell the stories in this book. I couldn't put it down. READ THIS BOOK!"
—Monster Children

"Levy digs deep into scandals, wild parties, births, and deaths in retelling the history of iconic Los Angeles hotel the Chateau Marmont."
—Boston.com
 
"In this very fun and informative read, Levy chronicles one of Hollywood's most famous addresses."
—Milwaukee Journal Sentinel
 
"Dishy…Levy traces the tumultuous history of the legendary apartment house turned luxury hotel."
—Vulture

"So wild that even Hollywood's best screenwriters couldn't make this stuff up."
—Fortune