Pizza Girl: A Novel (Hardcover)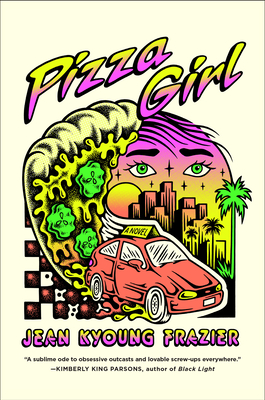 Staff Reviews
---
Stirring. Finishing this novel in bed was a terrible idea that I just couldn't escape. I tried but I couldn't stop reading, unwilling to leave these characters and their stories unfinished. I was up for hours afterward thinking about the pizza girl that I had loved and hated and loved. Jean Kyoung Frazier writes a beautiful narrative. We cannot escape our own minds and sometimes, when we have good things in our lives, we are determined to destroy them. Sometimes we know why. Other times we do not. Sometimes we can fixate on something that we know will never be our reality and sometimes we will let that destroy us. I do not believe anyone is immune from relating to one or all of the players in this story. I know I wasn't.
— From
Alison's picks

Pizza Girl follows a pregnant 18-year-old girl who delivers pizzas and is constantly smothered with love and support by her boyfriend and mother. In Frazier's debut novel, she is a master at causing all your muscles to tense up as you follow Pizza Girl's ever-growing obsession with struggling housewife, Jenny, after delivering the very common, pizza with pickles. Pizza Girl explores what it means to realize that we are flawed human beings and the bumpy path that we take to figure out who we are in the end. — From Quinn's picks
June 2020 Indie Next List
---
"Jean Kyoung Frazier's Pizza Girl breathes honesty into narratives surrounding pregnancy and motherhood, and faces the desperate ambivalence that often accompanies these experiences but is left unspoken. We explore this through characters who cling to one another in an attempt to escape the disappointment and stresses of their own personal lives. Pizza Girl presents us with an important sentiment: You cannot outrun the fact that the people who created you will always be a part of you to some degree or another. But you can work to grasp the ways in which you manifest that into who you are as an individual."
— Jack Hawthorn, Raven Book Store, Lawrence, KS
Description
---
*LAMBDA LITERARY AWARD FINALIST*

"Fresh, funny, bittersweet...This book delivers humor, humanity and hubris."--New York Times Book Review

Named an NPR, Marie Claire, and Teen Vogue best book of the year and a most anticipated book of 2020 by Vogue, Harper's Bazaar, Elle, Time, People, BuzzFeed, Bustle, and more

In the tradition of audacious and wryly funny novels like The Idiot and Convenience Store Woman comes the wildly original coming-of-age story of a pregnant pizza delivery girl who becomes obsessed with one of her customers.

Eighteen years old, pregnant, and working as a pizza delivery girl in suburban Los Angeles, our charmingly dysfunctional heroine is deeply lost and in complete denial about it all. She's grieving the death of her father (whom she has more in common with than she'd like to admit), avoiding her supportive mom and loving boyfriend, and flagrantly ignoring her future.

Her world is further upended when she becomes obsessed with Jenny, a stay-at-home mother new to the neighborhood, who comes to depend on weekly deliveries of pickled-covered pizzas for her son's happiness. As one woman looks toward motherhood and the other toward middle age, the relationship between the two begins to blur in strange, complicated, and ultimately heartbreaking ways.

Bold, tender, propulsive, and unexpected in countless ways, Jean Kyoung Frazier's Pizza Girl is a moving and funny portrait of a flawed, unforgettable young woman as she tries to find her place in the world.
About the Author
---
JEAN KYOUNG FRAZIER lives in Los Angeles. Pizza Girl is her debut novel.
Praise For…
---
"Explosive...[Pizza Girl] bristles with biting wit and optimism, each page a feast of Cheeto-fingered heart, humor, and lyricism."
—Esquire

"This quirky, moody novel delivers in unexpected ways."
—People

"Sharp and surprising, Pizza Girl shows us how obsession can fill the empty spaces in a young woman's life. Jean Kyoung Frazier will make you laugh with one sentence and break your heart with the next. A delicious debut."
—Julia Phillips, author of Disappearing Earth

"In fearless, propulsive prose, Jean Kyoung Frazier perfectly captures the listless ache of a grieving, aimless teen on the cusp of terrifying responsibility. A sublime ode to obsessive outcasts and lovable screw-ups everywhere, Pizza Girl is irresistible and bold, brutal and sweet, with an ending that will thrash your heart."
—Kimberly King Parsons, author of Black Light

"Pizza Girl is luminous, brooding, and, frankly, awe-inspiring. It's a joy to spend time in Frazier's world, an experience that only illuminates our own. The novel that teaches you something about yourself is a rare thing, and Frazier has given us a gift."
—Bryan Washington, author of Lot

"Jean Kyoung Frazier, a blazing new voice in fiction, has given us a sly, poignant glimpse into the wilds of suburbia, where intergenerational queer love and alienation from labor go hand  in hand. And who doesn't want to read about that?"
—Andrea Lawlor, author of Paul Takes the Form of a Mortal Girl

"To Pizza Girl, Jean Kyoung Frazier brings a flawless ear for language, great inventiveness, unfailing intelligence and empathy, and best of all a rare and shimmering wit. This novel has immense appeal."
—Richard Ford

"Pizza Girl is a funny and moving debut, full of wry observation and deep humanity. Jean Kyoung Frazier's incredibly winning protagonist delivers laughter and grief with all the toppings. A wonderful novel from a new writer with talent and heart."
—Sam Lipsyte, author of Hark

"Frazier's darkly comic, unsentimental, subversive debut novel, Pizza Girl, heralds the debut of a wholly-original new kind of American hero, a pregnant, teetering-on-alcoholic Korean-American teenager, as well as the arrival of a wildly gifted writer."
—Elissa Schappell, author of Blueprints for Building Better Girls

"[A] playful and unflinching debut…This infectious evocation of a young woman's slackerdom will appeal to fans of Halle Butler and Ottessa Moshfegh, and will make it difficult not to root for the troubled and spirited pizza girl."
—Publishers Weekly (starred review)

"[A] quirky and emotionally resonant L.A.-set debut…Offbeat, polished, and heartfelt."
—Booklist