Rogues: True Stories of Grifters, Killers, Rebels and Crooks (Hardcover)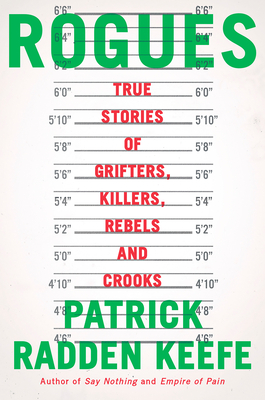 $30.00

Not Available In-Store - Usually Ships from Warehouse in 1-5 Days
Description
---
NEW YORK TIMES BESTSELLER • From the award-winning author of Empire of Pain and Say Nothing—and one of the most decorated journalists of our time—twelve enthralling true stories of skulduggery and intrigue

"An excellent collection of Keefe's detective work, and a fine introduction to his illuminating writing." —NPR

"Fast-paced...Keefe is a virtuoso storyteller." —The Washington Post

Patrick Radden Keefe has garnered prizes ranging from the National Magazine Award to the Orwell Prize to the National Book Critics Circle Award for his meticulously-reported, hypnotically-engaging work on the many ways people behave badly. Rogues brings together a dozen of his most celebrated articles from The New Yorker. As Keefe says in his preface "They reflect on some of my abiding preoccupations: crime and corruption, secrets and lies, the permeable membrane separating licit and illicit worlds, the bonds of family, the power of denial."

Keefe brilliantly explores the intricacies of forging $150,000 vintage wines, examines whether a whistleblower who dared to expose money laundering at a Swiss bank is a hero or a fabulist, spends time in Vietnam with Anthony Bourdain, chronicles the quest to bring down a cheerful international black market arms merchant, and profiles a passionate death penalty attorney who represents the "worst of the worst," among other bravura works of literary journalism.

The appearance of his byline in The New Yorker is always an event, and collected here for the first time readers can see his work forms an always enthralling but deeply human portrait of criminals and rascals, as well as those who stand up against them.
About the Author
---
PATRICK RADDEN KEEFE is a staff writer at The New Yorker and the author of the New York Times bestsellers Empire of Pain, winner of the 2021 Baillie Gifford Prize, and Say Nothing: A True Story of Murder and Memory in Northern Ireland, which received the National Book Critics Circle Award for Nonfiction, was selected as one of the ten best books of 2019 by The New York Times Book Review, The Washington Post, the Chicago Tribune and The Wall Street Journal, and was named one of the "10 Best Nonfiction Books of the Decade" by Entertainment Weekly. His previous books are The Snakehead and Chatter. His work has been recognized with a Guggenheim Fellowship, the National Magazine Award for Feature Writing and the Orwell Prize for Political Writing. He is also the creator and host of the eight-part podcast Wind of Change.

Praise For…
---
NEW YORK TIMES BESTSELLER • A BEST BOOK OF THE YEAR: The New Yorker, GOODREADS 

"The journalist Patrick Radden Keefe has made a career out of deep dives into fascinating characters — and he's very good at it. In between his regular contributions to The New Yorker, he has published an exposé of the Sackler family and an account of the Troubles in Northern Ireland…With ROGUES: True Stories of Grifters, Killers, Rebels and Crooks we're treated to the same level of journalistic rigor, and the same passion for breaking open mysteries, in an unmistakably bingeable package."
— New York Times Book Review

"A new book by Keefe means drop everything and close the blinds; you'll be turning pages for hours. "Rogues" is a collection of Keefe's New Yorker articles about criminals and con artists and more. It's highly entertaining, of course, but what shines through most brightly is Keefe's fascination with what makes us human even when we're at our most imperfect." 
— Los Angeles Times

"Rogues is a wonderful book, not only because Keefe's prose is masterful, but because he has a preternatural gift for reading people."
— NPR

"Rogues is a fast-paced and frequently suspenseful read...Keefe is a virtuoso storyteller, able to create suspense with his descriptions of how those crimes unfolded."
— The Washington Post

"Extraordinary"
— Wall Street Journal

"Patrick Radden Keefe is the Sherlock Holmes of long-form nonfiction, a relentless investigator who turns his reporting into irresistible storytelling."
— Tampa Bay Times

"One of the finest non-fiction writers of his generation."
— Toronto Star

"A king of contemporary nonfiction."
— Entertainment Weekly

"Iconic...Keefe delivers masterpieces."
— Oprah Daily

"[Keefe] excels at shining a beam into the murky inner workings of the world and the human psyche. It's a superpower that produces riveting and revealing tales that, as Keefe writes in the preface, may help us better fathom our own inner workings."
— Nashville Scene

"[Keefe] makes full use of journalistic tools for fact-finding: keen observation, meticulous research and insightful interviews ... As a result, each essay is a taut, highly honed yet powerful reflection on the creative and corrosive effects of obsession."
— Bookpage (starred)

"From the prize-winning, bestselling author of Empire of Pain and Say Nothing—and one of the most decorated journalists of our time—twelve enthralling stories of skulduggery and intrigue."
— Bookshop