Steelheart (The Reckoners #1) (Hardcover)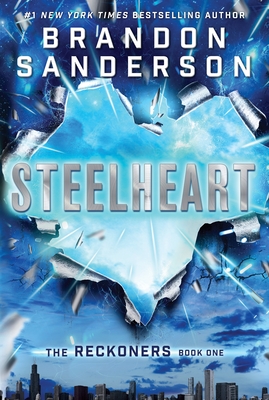 $19.99

Not Available In-Store - Usually Ships from Warehouse in 1-5 Days
Other Books in Series
This is book number 1 in the The Reckoners series.
Staff Reviews
---
Think you've read enough about dystopian futures and superheroes? No, you haven't. Sanderson takes those two genres and hits the ground running, constructing a post-apocalyptic world ruled by ruthless, invulnerable superhumans called "epics." Even though Steelheart is packed with enough gritty action scenes to please any adrenaline-junkie, there's still plenty of meaty world building and meaningful character development. I was thrilled to be taken aback by no less than three major plot twists; two I didn't see coming, and one I *thought* I did, until the big reveal. I knew that Sanderson was a brilliant epic fantasy writer. His first foray into young adult science fiction proves that he's just a brilliant writer, period.
—
Jennie's Staff Picks
Description
---
The #1 New York Times bestseller from Brandon Sanderson, the #1 New York Times bestselling author of Oathbringer, coauthor of Robert Jordan's The Wheel of Time series, and creator of the internationally bestselling Mistborn trilogy. And don't miss the rest of the Reckoners series: Firefight and Calamity!
   Ten years ago, Calamity came. It was a burst in the sky that gave ordinary people extraordinary powers. The awed public started calling them Epics.
   Epics are no friends of man. With incredible gifts came the desire to rule. And to rule man, you must crush his will.
   Now, in what was once Chicago, an astonishingly powerful Epic named Steelheart has installed himself as emperor. Steelheart possesses the strength of ten men and can control the elements. It is said that no bullet can harm him, no sword can split his skin, and no fire can burn him. He is invincible. Nobody fights back . . . nobody but the Reckoners.
   A shadowy group of ordinary humans, the Reckoners spend their lives studying Epics, finding their weaknesses, and then assassinating them. And David wants in.
   When Steelheart came to Chicago, he killed David's father. For years, like the Reckoners, David has been studying, and planning, and he has something they need. Not an object, but an experience.
   He has seen Steelheart bleed.
   And he wants revenge.

Praise for the Reckoners Series:

#1 New York Times Bestselling Series

"Another win for Sanderson . . . he's simply a brilliant writer. Period." —Patrick Rothfuss, author of the New York Times and USA Today bestseller The Name of the Wind
 
"Action-packed." —EW.com
 
"Compelling. . . . Sanderson uses plot twists that he teases enough for readers to pick up on to distract from the more dramatic reveals he has in store." —The A.V. Club
About the Author
---
Brandon Sanderson is the author of the #1 New York Times bestselling Reckoners series: Steelheart, Firefight, and Calamity, as well as the internationally bestselling books in the Stormlight Archive and the Mistborn trilogy. He was also chosen to complete Robert Jordan's The Wheel of Time series. His books have been published in more than twenty-five languages and have sold millions of copies worldwide. He lives and writes in Utah. To learn more about Brandon and his books, visit him at brandonsanderson.com and follow @BrandSanderson on Twitter.
Praise For…
---
Praise for the Reckoners series:

#1 New York Times Bestselling Series

"Another win for Sanderson . . . he's simply a brilliant writer. Period." —Patrick Rothfuss, author of the New York Times and USA Today bestseller The Name of the Wind
 
"Action-packed." —EW.com
 
"Compelling. . . . Sanderson uses plot twists that he teases enough for readers to pick up on to distract from the more dramatic reveals he has in store." —The A.V. Club

★"Snappy dialogue, bizarre plot twists, high-intensity action, and a touch of mystery and romance . . . leaves [readers] panting for the sequel." —Booklist, Starred

"An absolute page-turner.""—Publishers Weekly

"A straight-up Marvel Comics-style action drama."—Kirkus Reviews