Now That You're Here (Duplexity, Part I) (Hardcover)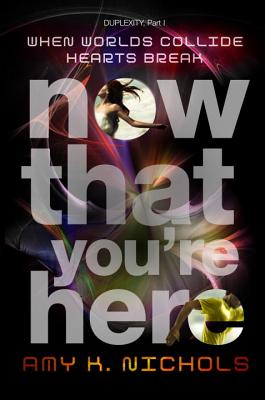 $16.99

Special Order - Subject to Availability
Description
---
In a parallel universe, the classic bad boy falls for the class science geek. "The perfect blend of sci-fi and swoons."—Amie Kaufman, New York Times bestselling author of These Broken Stars
 
One minute Danny was running from the cops, and the next, he jolted awake in an unfamiliar body—his own, but different. Somehow, he's crossed into a parallel universe. Now his friends are his enemies, his parents are long dead, and studious Eevee is not the mysterious femme fatale he once kissed back home. Then again, this Eevee—a girl who'd rather land an internship at NASA than a date to the prom—may be his only hope of getting home.
 
Eevee tells herself she's only helping him in the name of quantum physics, but there's something undeniably fascinating about this boy from another dimension . . . a boy who makes her question who she is, and who she might be in another place and time.
 
And don't miss Duplexity, Part II: While You Were Gone flips this story on its head and tells the tale of the alternate Danny and the alternate Eevee, living in Danny's parallel world.
About the Author
---
Amy K. Nichols lives on the edge of the Phoenix desert with her husband and children. In the evenings, she enjoys sitting outside, counting bats and naming stars. Sometimes she names the bats. NOW THAT YOU'RE HERE is her first novel. Visit her online at www.amyknichols.com.
Follow her on Twitter @AmyKNichols.
Praise For…
---
Publishers Weekly, October 2014, starred review:
"Riveting.... Nichols infuses the story with a smattering of science fiction and science fact, while making a welcome departure from the stereotype of the book-smart outcast trying to fit in."

Kirkus review, October 2014:
"While the world-jumping is fantastical, the personalities and characters (fully individual, without reaching trying-too-hard levels of quirkiness) ring true.... A debut with great characters and huge nerd appeal."

Booklist review, October 2014:
"A mysterious, sometimes tense, yet sweet story about young love and science gone awry."

VOYA review, December 2014:
"Debut novelist Nichols has such an engaging writing style that readers will have little problem accepting the premise of parallel worlds....Think of the intrigue in Cassandra Clare's Mortal Instruments series, softened by the romance of a Sarah Dessen novel."

School Library Journal review, November 2014
"A mystery set against a sweet romance that will envelop teens. String theory enthusiasts, as well as fans of the television series Fringe or Ann Brashares's The Here and Now will particularly enjoy this."

"With the flips between universes, this book will keep you on your toes the whole way through." —Bustle.com

"The perfect blend of sci-fi and swoons, Now That You're Here is like no other book I've read. Riveting, romantic and utterly original, it kept me up late!"  —Amie Kaufman, New York Times bestselling author of These Broken Stars

"Dynamic, dizzying, and downright daring, Now That You're Here kept me guessing until the end, and ready for the next." —Shannon Messenger, author of Let the Sky Fall