All the Bright Places (Hardcover)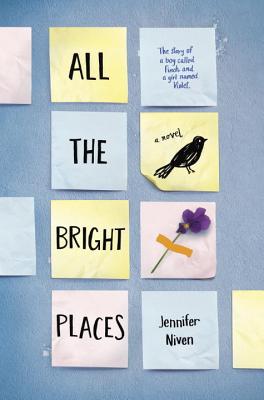 $20.99
Email or call for price.
Staff Reviews
---
Jennifer Niven has written arguably one of the most realistic and voice driven novels (in young adult or otherwise) that I have read in a long time. All the Bright Places alternates between two narrators: Violet Markey, a girl coping with the untimely loss of her sister, and Theodore Finch, a boy fascinated with death and dying. They begin an unconventional relationship that is sure to tug less than gently at your heartstrings and will have you riding that proverbial emotional roller coaster all the way until the end. Shelve the comparisons to books like The Fault in Our Stars or Eleanor and Park that you may hear; All The Bright Places stands tall on its own.
—
Heather H.
I don't want to give too much away, but here goes. If you pick up this novel by Jennifer Niven, you will be beginning a journey where you won't regret a single step (or page as it may be). Violet is the "extenuating circumstances" girl who is stumbling through surviving a tragic loss. Theodore Finch is the captivatingly clever, whimsical, and lost boy who is helping Violet find her feet. Their story, told from both perspectives, is filled with all the thoughts we have held through our lives about doubt, loss, labels, bullying, love, and All the Bright Placesin between. V+F will definitely stay with me. Hopefully, they will with you as well.  
—
Meghan
Description
---
"A do not miss for fans of Eleanor and Park and The Fault in Our Stars, and basically anyone who can breathe."--Justine Magazine

A New York Times bestseller

A 2016 Zoella Book Club Pick!
 
Theodore Finch is fascinated by death, and he constantly thinks of ways he might kill himself. But each time, something good, no matter how small, stops him.
 
Violet Markey lives for the future, counting the days until graduation, when she can escape her Indiana town and her aching grief in the wake of her sister's recent death.
 
When Finch and Violet meet on the ledge of the bell tower at school, it's unclear who saves whom. And when they pair up on a project to discover the "natural wonders" of their state, both Finch and Violet make more important discoveries: It's only with Violet that Finch can be himself—a weird, funny, live-out-loud guy who's not such a freak after all. And it's only with Finch that Violet can forget to count away the days and start living them. But as Violet's world grows, Finch's begins to shrink.
 
This is an intense, gripping novel perfect for fans of Gayle Forman, Jay Asher, Rainbow Rowell, John Green, and Jenny Downham from a talented new voice in YA, Jennifer Niven.

"At the heart—a big one—of "All the Bright Places" lies a charming love story about this unlikely and endearing pair of broken teenagers." 
 — New York Times Book Review 

"…this heartbreaking love story about two funny, fragile, and wildly damaged high school kids named Violet and Finch is worth reading. Niven is a skillful storyteller who never patronizes her characters—or her audience."
— Entertainment Weekly 
About the Author
---
Jennifer Niven is the New York Times and internationally bestselling author of All the Bright Places and Holding Up the Universe. Her books have been translated in over 75 languages, and have won literary awards around the world. When she isn't working on multiple book and TV projects, Jennifer also oversees Germ, a literary web magazine for high school age and beyond. Jennifer divides her time between coastal Georgia and Los Angeles. Find her at jenniferniven.com and on social.
Praise For…
---
"…this heartbreaking love story about two funny, fragile, and wildly damaged high school kids named Violet and Finch is worth reading. Niven is a skillful storyteller who never patronizes her characters – or her audience."
— Entertainment Weekly 

"Many teen novels touch on similar themes, but few do it so memorably."
—Kirkus Reviews, starred review  

"In her YA debut, adult author Niven creates a romance so fresh and funny. . . The journey to, through, and past tragedy is romantic and heartbreaking, as characters and readers confront darkness, joy, and the possibilities—and limits—of love in the face of mental illness."
—Publishers Weekly, starred review

"The writing in this heartrending novel is fluid, despite the difficult topics… Finch in particular will linger in readers' minds long after the last page is turned."
—School Library Journal, starred review

"Ultimately, the book, with narration that alternates between Finch and Violet, becomes Violet's story of survival and recovery, affirming the value of loving deeply, grieving openly, and carrying your light forward."
—The Bulletin of the Center for Children's Books 

"Have The Fault in Our Stars withdrawal? Pick up this heartrending novel about a girl who vows to live with purpose after bonding with a boy who plans to end his own life." 
— SELF Magazine

"It's touching, vibrant, and an impressively honest depiction of depression."
 — BuzzFeed

A Publishers Weekly Best Book of the Year

A Miami Herald Best Books for Children

GoodReads Choice Awards Young Adult Fiction Category Winner

A TIME Top Young Adult Book of the Year

A NPR Guide to Great Reads Book